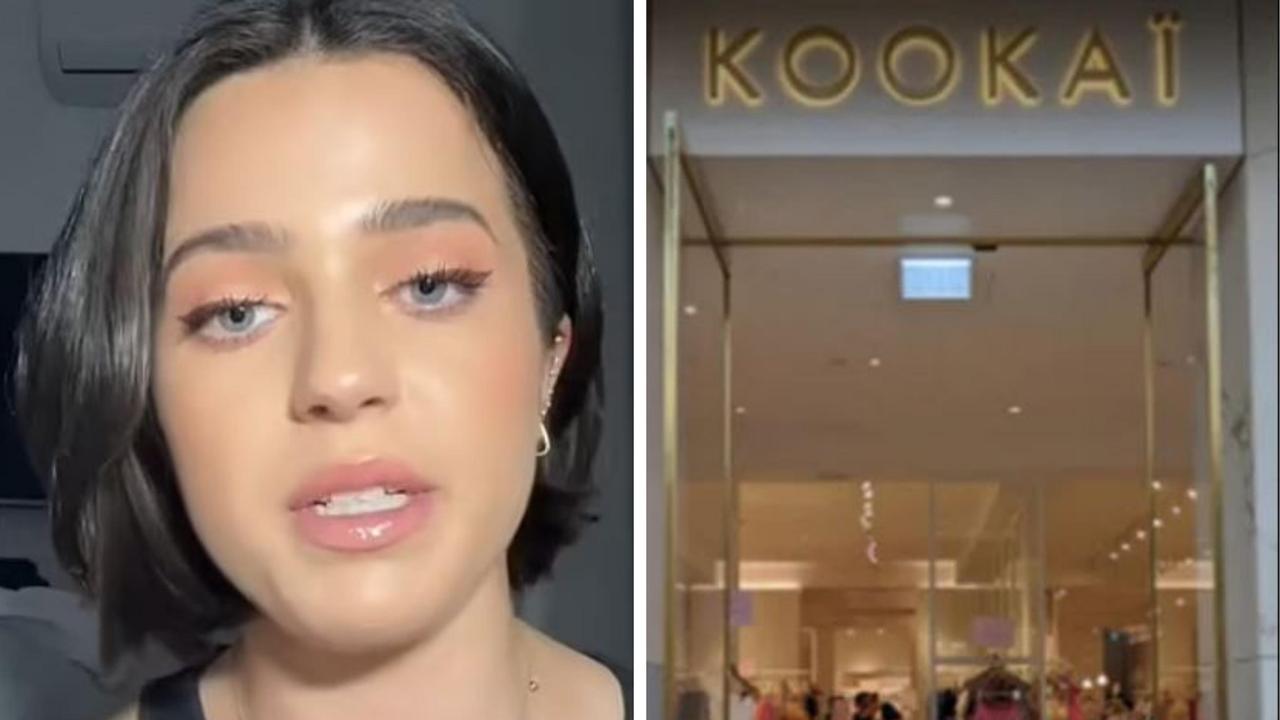 A Melbourne make-up artist has spoken out about her frustration with Australian clothing label Kookai after one of its staff treated her body in a "very disgraceful way".
Adele Petropoulos visited one of the brand's Victorian stores "on a whim" on Saturday and decided to try on a few pieces. But, according to her, in a TikTok detailing her experience, she was shocked at how she was treated there.
"I wouldn't necessarily say I'm skinny, [but] I wouldn't necessarily say I'm the bigger side. I'm kind of middle-of-the-road," said Ms. Petropoulos, who was subsequently contacted by Kookai, in her video.
"When I tell you that nothing fits me in this store, it's not a lie."
Typically a size 8 in tops and a size 12 in bottoms, when Ms. Petropoulos asked [the staff member] for the larger dress I wanted, she looked me over and literally said, "Doll, we don't have plus sizes."
"Now, in hindsight, I should have grilled her right then and there, but I wasn't going to rip the retail assistant apart because of her bad attitude, so I asked for her manager," she said.
"[The manager] kept going, "Well, I can recommend a couple of stores that sell larger sizes for larger girls." Is she real?"
Want to broadcast your news? Flash allows you to broadcast more than 25 news channels in one place. New to Flash? Try 1 month free. Offer valid until October 31, 2022 >
Ms Petropoulos said it was clear something "needs to be done" about the brand's treatment of women's bodies, adding her experience revealed a "huge problem" in the Australian fashion industry.
While she understands that "size is a company issue" and that individual employees "can't do anything about it," managers "can control employees' attitudes toward larger women who don't fit your size category."
"I said [to the manager]"The clothes are meant to fit us, we are not meant to fit the clothes, and if you have employees who understand that concept and respect everyone around them, you absolutely should not hire people like that," Ms. Petropoulos. reminded.
"I found this attitude very shameful. I will never shop there again."
In the following videoshe said she received a DM from a Kookai employee on Instagram about her experience at the store.
"We are very disappointed that you visited our store. Our customers' in-store experience is very important to us and we are very sorry to hear about your visit and interaction with our staff, so we would like to apologize and let you know that we will look into this further," the statement said.
The store in question said it would "investigate" and take "appropriate action."
Ms Petropoulos said she ultimately decided not to respond to the message because she did not want to "tear down other women" or have staff lose their jobs.
"I was a little pissed off about the situation, seeing the comments of all the people going through the same thing, I typed furiously. I deleted the message and did not send it," she said.
"No matter how I'm treated, because I know I'm really strong and I'm not insecure about how I look, I'm going to stand my ground. But I would never, ever, ever consider abusing another person's right to work, especially another woman's right to work."
She added that she hopes her experience will encourage stores to think about every customer's purchase "from the moment they walk in the door to the moment they walk out."
News.com.au has contacted Kookai for comment.
Viewers' reactions to Ms. Petropoulos' video suggest it wasn't a one-off experience, with dozens of women sharing that they, too, felt uncomfortable in the store.
"I [size] 6-8 that's how their clothes fit, they still comment on my weight and once said "wow that fits! It's amazing'. So I don't shop there," wrote one.
Another size 8 woman said she "never felt comfortable shopping there."
"It's an absolute joke that they classify a 12 as a large," commented a third person.
Stylist and non-binary influencer Dani Todarovic called Kukai in Augustamong other Australian brands, for the lack of inclusivity, saying it left them "positively confused".
Todarovic said the decision not to cater to larger bodies was "a conscious choice made by brands not to invite people into their brands, but rather to exclude them".
"Isn't it strange that anyone who isn't a straight size finds the idea of ​​shopping deflationary and dehumanizing," they added.
"Besides the fact that this is a missed business opportunity, it speaks to a broader, deeper, more insidious problem that fashion has always had.
"You are only allowed in if you look like the unrealistic beauty standards we will continue to set for you. Fashion should support self-expression, not self-hatred."
Originally published as A woman yells at Kukai for a "disgraceful" act in a store
https://www.ntnews.com.au/lifestyle/fashion/woman-calls-out-kookai-over-disgraceful-store-act/news-story/d347950a6d2b80ab2dfdff998549f0ee