Tax cuts debate is about whether Australians can trust the PM: Dutton
Opposition leader Peter Dutton is speaking on ABC Insiders now answering questions on the subject of – you guessed it – stage-three tax cuts.
Dutton is working hard to reframe the debate not one about the future of the stage-three tax cuts or how much funding for services may be lost and about whether Australians can trust Anthony Albanese.
What we've seen this week is a real split between the prime minister and treasurer and the treasurer has demonstrated his inexperience.

He is obviously close to Wayne Swan and studied Paul Keating very closely. He has been out there purring a particular argument and the prime minister I think sensibly has abandoned that.

He might be instinctive to abandon, but this is not about tax cuts, but whether you can trust Anthony Albanese and the Labor party […] I think most Australians would be astounded that Anthony Albanese was on the cusp of betraying them or may do in the next budget or the one after.
Key events
The Northern Territory's former chief minister Michael Gunner has landed a new job with a green energy company owned by mining billionaire Andrew Forrest.
The former NT Labor leader has been hired to head up the Northern Australia team at Fortescue Future Industries as the company looks to develop new projects in the territory and across Western Australia's north west.
Gunner said in a statement that he looked forward to working on projects aimed at addressing climate change and said he made the move "for the kids".
The pitch from Dr Forrest and FFI was simple and straight to the heart – do it for the kids.

By going hard commercially at real zero, at FFI we help make the genuine impacts on climate change that the world needs.

My message is clear: FFI is committed to aggressively reducing emissions, and FFI is here now.
Forrest said in a statement that Gunner's experience "working hand-in-hand with the people of northern Australia" would make the new hire a "valuable asset to FFI".
We see enormous potential in the Northern Territory, with abundant wind and solar energy, and a community enthusiastic to embrace renewable energy and the employment intensive industries that come with it.

The industry leading decarbonisation strategy we unveiled in New York in September provided clear evidence that Fortescue is leading the world in its transition to a global, green renewable and resources company.
Gunner is not the only former Labor leader to pick up a new gig with Forrest. Former South Australian Premier Jay Weatherill picked up a role as chief executive of the mining billionaire's philanthropic charity, the Minderoo Foundation.
Bathurst 1000 under way amid fine weather
Dry track conditions and fine weather prevailed as the Bathurst 1000 got under way, with the majority of teams opting for their co-drivers to begin the 1,000km race.
After three days of rain and overcast conditions, the sun finally arrived over Mount Panorama on Sunday with the weather set to be favourable throughout the day.
Australia's biggest domestic motorsport prize is up for grabs and the Tickford Racing pair of Cam Waters and co-driver James Moffat started from pole following the cancellation of Saturday's top-10 shootout.
Waters qualified fastest in Friday's first qualifying for his second Bathurst pole, but it was Moffat who got first crack at the mountain.
The pair were looking to go one better after consecutive second-placed finishes in the race in the previous two years.
Moffat was one of 19 co-drivers who started, with nine of the grid's top 10 all co-drivers.
The only lead driver among the top 10 starters was retirement-bound Lee Holdsworth in his 19th consecutive Great Race.
Fans swarmed the grid for Bathurst's first maximum-capacity event since the pandemic began.
Motorsport officials notified drivers in the two-minute warning that the circuit was still wet on the exit of turn one.
– from AAP
More rain for western and southern NSW
Bad news for those living in western and southern New South Wales – more rain on the way later in the week.
Fifth-highest September rainfall in NSW since 1900
New South Wales has experienced the fifth-highest September rainfall since records began in 1900, according to the Bureau of Meteorology.
Some regions recorded their highest September daily rainfall ever on the 18th or the 16th, when strong cold fronts moved across the state, or on the 3rd, 22nd, 23rd, 24th, or 29th, following offshore low pressure systems.
Political fundraisers axed ahead of budget
Political fundraisers at Parliament House are due to be canned in the lead-up to the federal budget, AAP reports.
The prime minister Anthony Albanese wrote to the parliament's speaker and president asking for the ban.
It's understood the House or Representatives speaker Milton Dick and Senate president Sue Lines agreed and it will come into effect on 17 October, a week ahead of the federal budget.
The shadow treasurer Angus Taylor told Sky News on Sunday he was yet to see the detail but branded the move "a political stunt".
Political fundraising is part of our system. It's how it works.

[The Coalition] don't have the ability to rely on the unions the way Labor does.

So for us, it's actually about going out to hardworking Australians and getting their support. And we have to do that all the time.
Frankston to be boom gate free by 2029 if Labor government re-elected
The Andrews government has pledged to make Melbourne's Frankston boom gate free by 2029 by removing seven level crossings.
The Victorian premier Daniel Andrews made the announcement on Sunday morning. As part of the project, there will be two road closures and new stations built at Highett, Mordialloc, Aspendale and Seaford.
Andrews said the pledge would ease road congestion and improve safety:
To be level crossing free means you can run more trains more often. It's safer and of course the road network is improved with people not being held up.
Residents in flood-affected areas of NSW urged to remain 'vigilant' as conditions ease
New South Wales state emergency services conducted 21 flood rescues overnight with the majority involving people who became stuck while attempting to drive through flood waters.
Speaking to ABC News this morning SES assistant commissioner Dean Storey urged residents of NSW to be cautious as rain eases across the state especially as conditions may be "deceptive".
Know the sun may be out in some locations, the rivers are still on the rise in many areas.

[We're] happy to see that the rain eased across much of the state, but that flooding risk remains in play.

A lot of water on the ground across roads. So [we're] urging people who are out on the roads in the coming days to be vigilant of that fact. Drive to conditions.
Storey said the SES is working with community members to help support them as they grappled with a "widespread flooding event".
We know there's been major flooding and will continue to be major flooding in inland NSW and the west and the south for the coming days, weeks and months.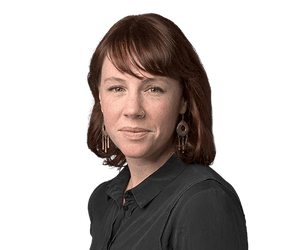 Stephanie Convery
Labor opposition promises overhaul to labour laws if elected in NSW
The NSW Labor party has vowed to modernise the state's employment law to better protect gig economy workers, if it is elected in March next year.
NSW Labor leader Chris Minns announced on Sunday that the party would introduce worker's compensation and what it called "a portable entitlement scheme" for gig workers and others in insecure employment.
They would also amend the Industrial Relations Act so that workers in the transport industry and food delivery services could access minimum rates and conditions, and establish enforceable codes of conduct for WHS work performed by on-demand platforms, among other measures.
In a statement, NSW Labor said the laws were designed to prevent more workers falling foul of "an out-of-date workers compensation system" that denied the families of four food delivery riders who died in NSW in 2020 any statutory compensation, as they were not hired as employees by the companies they worked for.
The policies would also assist workers in the disability, community and care sectors, Labor said.
Minns said in a statement:
The rise of the gig economy has revolutionised the way people can access work. But that shouldn't mean workers should be left more vulnerable. Every single worker in New South Wales has the right to feel safe and supported at work.
Shadow industrial relations and workplace safety minister Sophie Cotsis said:
After 12 years of this Liberal and National government we have seen an erosion of basic rights and entitlements of a growing segment of the working population, particularly women in these key care sectors.

For many have felt abandoned by this government which has created employment insecurity and hardship and feel deprived of basic entitlements which affects their ability to get a loan, secure rental accommodation and support their families.

NSW Labor's policy provides security, dignity and acknowledges the significant contribution of these workers to our society.
NSW Labor's election pledge comes in the wake of the federal Labor government promising to establish minimum pay and conditions for gig workers, saying they would legislate to give the Fair Work Commission the power to set minimum standards and allow them to bargain collectively for entitlements.
Flood and severe weather warnings continue across NSW
More rain and high winds are predicted for Sunday.
Residents of Gronos Point have been told to leave ahead of flooding.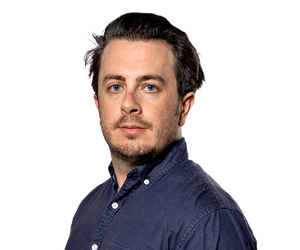 Josh Butler
On that last question, for those who missed what happened during the week it is worth reading the full story by Guardian Australia political reporter Josh Butler.
Dutton on the stoush between Tina McQueen and Simon Birmingham
Following comments by McQueen that the party should "rejoice" that the party's moderates were defeated at the last election.
Dutton:
There is a desire here to win the next election. We will only do that with discipline and the party that I lead is frankly having grown up under John Howard and Peter Costello and that's the approach that I take. A winner-takes-all approach in the Liberal party or Labor party doesn't work on a broad range of views.
Speers asks Dutton about the comments by Birmingham that McQueen should resigned.
No, I don't agree with that.

She has expressed a view, she has made a mistake. I've made it clear it won't happen again.
Did McQueen apologise?
That's what I expect on both sides.
Speers then asks whether McQueen should apologise.
I'm not going into internal matters beyond that.
Dutton on whether Essendon should reinstate Andrew Thorburn
Andrew Thorburn resigned over his links to a church that is anti-abortion and considers homosexuality a sin.
After backing in Thorburn who Dutton said "distanced" himself from the comments of his pastor, Speers asks: Should organisations be able to hire and fire based on someone's sexuality?
Dutton: Well, I don't support discrimination on any basis, to be honest.

Speers: So religious schools shouldn't sack a gay teacher?

Dutton: Again, we've had these debates over the last couple of years and…

Speers: What do you think?

Dutton: Go into Chris Bowen's electorate, obviously a lot of comment from local mayors there this week about different issues. Islamic schools, Jewish schools, Christian schools in our country who want to teach their faith and they should be free to do so. If they have children enrolled in that school by their parents, the parents expect that there will be an adherence to that doctrine…

Speers: So you don't support discrimination on any basis, except for religious schools and gay teachers?

Dutton: Again, David, if you are a person of a Jewish faith and you are sending your child to that school, it is for a reason. You've made a decision to send your child there to receive religious as part of a more general education and that should be unhindered, so any thought that somebody could be discriminated as in the circumstance of Mr Thorburn is completely unacceptable.
Bringing children home presents a security risk: Dutton
Dutton says there is a chance "indoctrination has occurred".
He is then asked why it was OK for the Morrison government to bring a child home but not Labor – and his own track record on this issue.
Dutton:
As much as I feel for those families, those kids, they are horrible scenes, and the fact that someone has taken their children or wife or family member into that theatre of war is tragic, but I've also got to think about the safety and security of other toddlers and families here, and if we think the threat has gone away, that they couldn't act out, that there wouldn't be an explosion in our country, that is a naive approach to what is a very difficult situation.
Dutton on whether bringing home families of Islamic State fighters is a security risk
Dutton is now asked on the plan to bring home the family's of Islamic State fighters who are stuck in refugee camps in Syria. He is specifically asked about whether he was told that bringing these family's back to Australia would be a security risk.
It's built on what I received when I was in the National Security Committee not that long ago, and it is clear to me that on what I know and what I've read and what I've heard and been informed on, that we can't provide the level of surety to the Australian public. Now, is it a terrible situation for the families? Absolutely.
Dutton goes on to express empathy but then highlights the cost of security.
If you are a parent or grandparent of a daughter … in that situation, of course you would want to bring them back home. Any person would have that feeling or emotion, that's perfectly logical, but we have to be careful of children and people in that setting, and mixing with people of terrorist attacks over a period of time. It costs $3.8m a year and 300 police officers to 24/7 monitor one individual.
Labor's instinct on economy is 'always the wrong one': Dutton
Dutton is again challenged to see if there's room to negotiation, but it seems he's leaving no room to negotiate at all in this interview – it's the Coalition's way or no way at all.
On taxation, on economic policy is all wrong. This is the problem. Governments have to deal with events as they come along. Labor's instinct on the economy and on the budget is always the wrong one.
https://www.theguardian.com/australia-news/live/2022/oct/09/australia-news-live-floods-nsw-evacuation-insiders-anthony-albanese-peter-dutton-politics-tax-cuts