Key events
Drone footage shows inundation in Forbes
Aged care funding to lift by 10% per resident, health minister says
Circling back to that interview with the health minister Mark Butler. After accounting firm StewartBrown surveyed more than 1,300 aged care homes and found two-thirds were operating at a loss last year, is Butler worried the sector could be at risk of collapse?
We have been saying for some years that the aged care system is in crisis.

The first piece of legislation that Anika Wells, the aged care minister, was able to get through the parliament on behalf of the government introduced a new funding system, which came into effect only a couple of weeks ago, which on average we're confident will lift the level of funding per resident by 10%. So we're confident what we've put in place already is going to alleviate that pressure.
Uncle Jack Charles to be honoured in state funeral
A state funeral will be held in Melbourne to honour the Indigenous elder and storyteller Uncle Jack Charles.
The service will be held at Hamer Hall this afternoon and will be open to the public and streamed online.
The actor, musician, activist and member of the Stolen Generations died at Royal Melbourne Hospital on 13 September after suffering a stroke. He was 79.
The event will be live streamed into prisons, remand centres and youth justice centres across Victoria, in recognition of Charles' work within the state's justice system.
The Boon Wurrung, Dja Dja Wurrung, Woiwurrung and Yorta Yorta man's career spanned decades and featured film roles in The Chant of Jimmie Blacksmith (1978) and Blackfellas (1993).
More recently he voiced the frilled-neck lizard character Greg in animated film Back to the Outback (2021).
His works also included touring his one-man show Jack Charles v The Crown based on his life, and the ABC TV series Cleverman and Preppers. He also appeared on SBS series Who Do You Think You Are.
A portrait of Charles by comedian and author Anh Doh won the People's Choice award at the 2017 Archibald Prize in NSW.
Earlier this year, Charles spoke at Victoria's truth-telling Yoorrook Justice Commission about being taken from his mother as a four-month-old and growing up in a Salvation Army Boys' Home in Box Hill, where he was sexually abused and taunted.
His family have given their permission to use his name and images.
– via AAP
External judge should decide if integrity commission hearings are public, Liberals say
The shadow attorney general Julian Leeser has followed Mark Butler on ABC Radio.
As the first day of the public inquiry into the government's national anti-corruption commission bill begins, Leeser is calling for a high-ranking judge to make the final decision on whether the commission's hearings should be public. The attorney general Mark Dreyfus says it could bog down the committee.
Leeser says:
We believe that the Nacc needs to have in place proper safeguards to ensure it functions.
Leeser says the federal commission benefits from the fact there is 30 years of experience from the states and territories on how these commissions operate. He says it's "important to learn from problems of state".
We think it's important to have an external personal determining whether the balance is right.
Butler criticises Morrison government's scrapping of mental health support for regions
The government yesterday announced it would restore funding for regional communities to be able to access bulk billed video telehealth psychiatry consultations.
Mark Butler said he was shocked by the former Morrison government's decision to cut the program at a time when Australians living outside capital cities were struggling with the effects of Covid-19 and natural disasters.
We think more than 100,000 consults every year will be delivered under this program.
Health minister says 'there has always been' fraud in Medicare system
Karvelas asks Butler if he can speak to whether there is fraud in the Medicare system, and how widespread it is. He replies:
Well there is fraud in the Medicare system unfortunately … There are 24 cases in front of the courts right now where prosecutions are being pursued for fraud.

There is and there has always been a small number of cases of fraud and they're pursued appropriately.

I'm not going to do anything other than defend the extraordinary hard work that tens of thousands of healthcare professionals deliver everyday, in a program of which all Australian's are proud – Medicare.
Butler acknowledges fraud in the Medicare system but says $8bn figure 'way out of whack'
ABC radio is speaking to the health minister Mark Butler about the findings of an ABC and Nine newspapers investigation that says health practitioners are rorting Medicare and distorting official statistics on bulk billing.
In the report, Dr Margaret Faux, a lawyer with a background in Medicare claims and compliance, estimated that up to $8bn a year was being lost from Medicare because of fraud and non-compliance, which represents nearly 30% of the $28bn annual cost of Medicare.
The story is similar to one that Guardian Australia's medical editor Melissa Davey brought to attention in May that gap fees often aren't recorded.
The Australian Medical Association has said the claims are unjustified.
ABC host Patricia Karvelas asked Butler which side he comes down on, and he said:
I want to come down on the side of truth obviously.
Butler says he has asked his department for an analysis of Faux's PhD thesis, which is the basis of the ABC and Nine investigation. He says he has also requested a report on the current audit compliance and professional services review process.
He says the figure of $8bn "does seem extraordinarily high" and is "way out of whack with any other figure provided to government". But he says he is taking it seriously.
It does seem extraordinarily high. I understand the reaction from the AMA to the concept that 30% of consults are inappropriately billed – because a figure like that has never been used, in spite of the pretty longstanding compliance and audit systems governments of both political persuasions have had.

It's way out of whack with any other figure that's ever been provided to government, including as I said by the national audit office, that only did a review of the program a few years ago.

But I'm taking it seriously, so I've asked the department for some formal analysis of the work.

It's a timely opportunity for us to have a thorough look at the way that the audit & compliance system is working and ensuring, particularly at a time where every single dollar going to Medicare is so precious, that we're getting the maximum value for that money.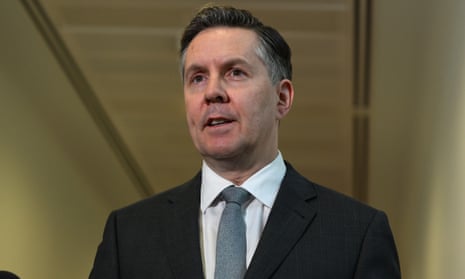 Echuca community keep spirits high at evacuation centre
With the community of Echuca told to evacuate, residents have been preparing their homes and moving to evacuation centres.
ABC Radio has shared the heartwarming story of Margie who celebrated her 83rd birthday with the entire centre singing Happy Birthday to her.
Rising Murray River puts towns on edge
Residents in Victoria's north are building walls from sandbags to protect thousands of homes as the Murray River rises, AAP reports.
Evacuation warnings are in place for people in Echuca and other towns along the river, with the Murray expected to peak from Wednesday. Emergency services are concerned the river levels could exceed the 94.77 metres recorded in Echuca during the 1993 floods.
People in the northern Victorian town spent most of Monday building a makeshift sandbag levy in an effort to protect thousands of homes and businesses. More than 1000 Echuca properties were already inundated with floodwaters on Sunday after the Campaspe River broke its banks.
There are also concerns the rural town of Kerang, about 95 kilometres northwest of Echuca, will become isolated due to floodwaters. Major flooding at Kerang along the Loddon River is expected overnight on Tuesday and into Wednesday, with the water forecast to peak around the January 2011 peak soon after.
A sandbag levee is expected to help keep the majority of the town dry but it could be cut off for up to seven days, Victoria's State Emergency Service warned.
A warning has also been issued for the Wimmera River, with Horsham residents told major flooding is possible on Tuesday.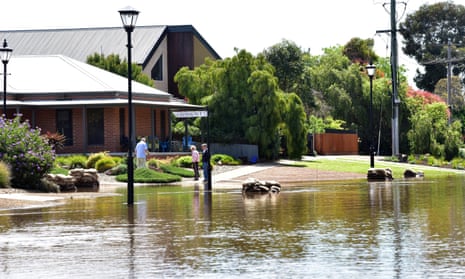 Four-day inquiry into anti-corruption bill begins today
The government's proposed national anti-corruption commission (Nacc) bill will come under examination as public hearings into the legislation start in Canberra today and will continue to Friday.
The Labor senator Linda White is chairing the parliamentary committee with the independent MP Helen Haines as deputy.
White said she wanted to hear as many voices as possible during the hearings, while Haines said there had been strong community interest in the bill.
The attorney general Mark Dreyfus introduced the legislation into the lower house and said he wanted it passed by Christmas. He said the body would bring trust and integrity back into politics after years of lies and rorts.
Our aim is to create a lasting body, one that not only causes our government to be better, but all future governments to be better too.
The bill will set aside $262m over four years for the independent body to investigate serious or systemic corrupt conduct across the commonwealth public sector.
The committee will hand down its report by 10 November.
The opposition has provided in-principle support for the commission, but leader Peter Dutton says he's waiting on the committee's report before making a final determination.
– with AAP
You can read more about the Greens' concerns about the bill from my colleague Paul Karp:
Widespread rain forecast for the coming eight days
Good morning! Natasha May now on deck with you.
Guardian Australia's economics correspondent (and weather enthusiast) Peter Hannam has shared this image from the Bureau of Meteorology which shows the rain isn't going away any time soon.
PM meeting with Singapore counterpart over decarbonisation push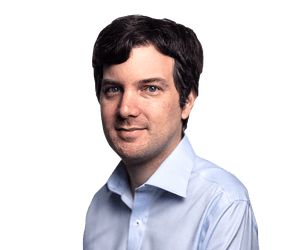 Daniel Hurst
A green economy agreement between Australia and Singapore will be top of the agenda when Anthony Albanese meets with his counterpart, Lee Hsien Loong, in Canberra today.
The two prime ministers had dinner at the Lodge last night before their formal meeting today:
They are expected to hold a press conference this afternoon, when they are likely to announce the signing of a deal to reduce barriers between the two countries in environmental goods and services as part of the push to decarbonise their economies. The agreement is expected to include a number of elements, including harmonising labelling standards for green certification.
And some of the key headlines from around the world:
In other news around Australia:
Good morning and welcome to the Guardian Australia's live news blog for Tuesday 18 October. Natasha May will be in shortly to take you through the morning, but here's an update on the continuing flood emergency in Victoria.
https://www.theguardian.com/australia-news/live/2022/oct/18/australia-news-live-victoria-floods-flooding-murray-river-melbourne-flemington-racecourse-politics-coalition-labor