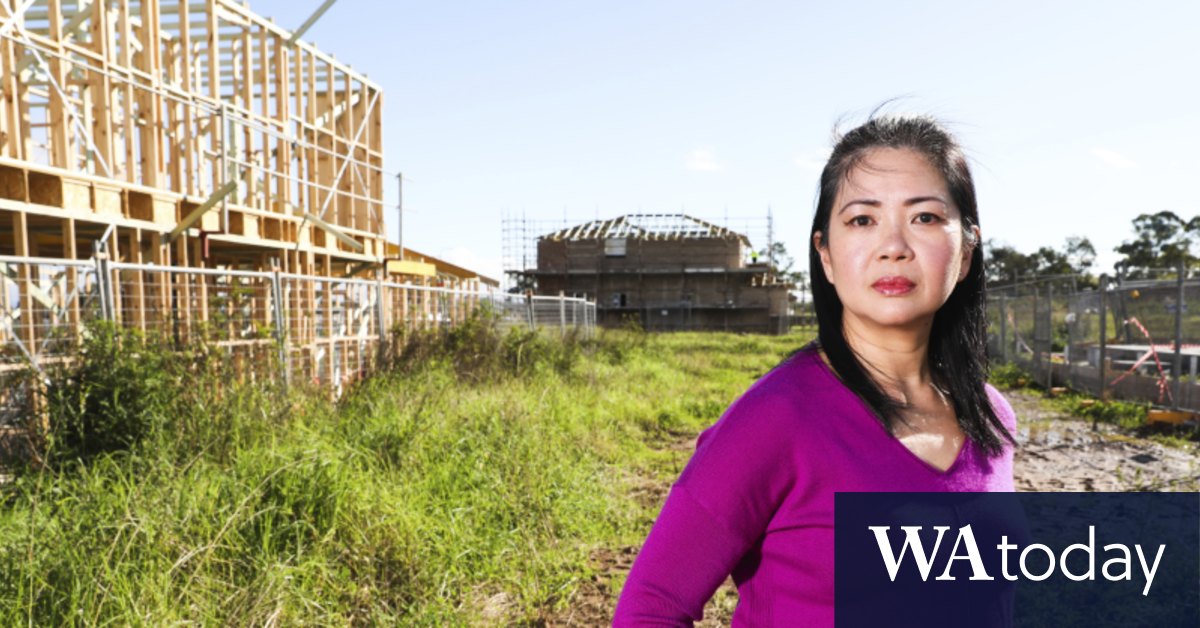 "They have contacts of everyone from whom they took money. It would be nice to warn a little. "
In a statement Metricon spokesman said: "Each client has a unique environment associated with building a new home. We always strive for clear, quality and timely communication with our customers.
"All of our clients have a specialized pre-placement manager who is their contact at this stage of the new home construction process. Our previous site managers need to call customers weekly to keep them informed of the progress of their new home on the site. "
The first buyers of housing in Melbourne Upasna Murti and her husband Navnesh found themselves in a similar situation with Emily Martin.
The couple bought a house and a land package in October at the Cornerstone Estate in Werribee, about 32 miles southwest of Melbourne, and said they were in a hurry to make a $ 1,000 deposit to secure a fixed price under the construction contract.
Murti said they were told construction would begin 8-10 weeks after land registration took place in April, but she is now concerned about information about possible delays and rising prices.
"They did not contact us personally, which is a cause for concern because there is no certainty," said the 27-year-old.
When she called to ask questions, she was told the claims were "unfounded" and nothing to worry about, but when asked when her construction would begin, she said Metricon could not give her an answer if they did not pay the 5 percent deposit.
A Metricon spokesman said: "It is important to note that Metricon cannot obtain a building permit until the land is issued. Due to severe weather and recent floods in QLD and NSW there have been significant delays with construction work on the new estates. These and a number of other factors contribute to delays in obtaining building permits and getting to the site. We try to work with our customers and support them through these delays. "
But other customers have caused more concern about the company's behavior.
Kim James was hoping to retire in Bundaberg, Queensland, and in July 2021 made an initial deposit for a construction contract that Metricon signed only in October.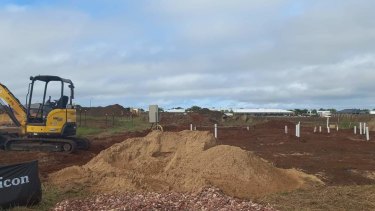 "They said if you register, your house will be built in 10 months. It was July last year, "the 51-year-old man said.
James said she spent months with Metricon on a number of issues, including false offers, that she refused to enter her land, which has no barriers to doing so, has no Metricon account despite paying them two separate deposits, and charges a large extra fee and not delivering them.
James said her contract was increased by $ 50,000 in March, which she successfully fought against, but has now been fined $ 3,000 for delaying construction.
"Eventually I cried. It was the most stressful and horrible experience. I'm worried I won't be home … I didn't think it would be that hard.
"It should have been over already. I thought I would give them a year because of the construction industry [pressures]. I believe that the Metricon was signed by too many people … they took away deposits and did not fulfill contracts, they took money from people. If you know you can't get supplies, why should you sign people home? "
Cecilia So withdrew from a construction contract in Riverstone, northwest of Sydney, two weeks ago and is fighting for the return of her $ 17,000 deposit, which she paid in October.
The only parent said she was charged a fee for items that were to be included in her contract, and she was charged an additional administrative fee of $ 1,500 each time she questioned quotes on her fixtures and fixtures.
"I was so tense that I had to look at my contract to compare it [their new] a contract to find all the discrepancies they made … I was so tense that I had sleepless nights ".
The 54-year-old woman said that despite being told construction would begin in February, she wanted to terminate the contract before her situation worsened.
"I think how many other customers have left their accounts and they have kept their deposits? Which means they don't even need to build, they just need to keep their deposits.
"I just want to get my deposit back. I am a single mother, working two jobs to support a family. The last two years I have worked so hard to save up on deposit to leave the lease.
"My question is: where is Metricon's ethical behavior? We are all working people, put a roof over our heads, and they – tear off.
Loading
A Metricon spokesman said: "It is [refund] The process takes some time to reconcile the time spent to date, the costs involved, the applications made, etc., and we are working on this as quickly as we can.
"At the national level, the record pace of construction activities combined with delays in supply chains, shortages of goods and rising material costs are putting pressure on builders and the industry as a whole.
"We work every day to overcome these problems. However, these conditions do not threaten Metricon and do not prevent us from delivering hundreds of new homes to Australians every week.
"We are not looking forward to our new deposits for housing, as Metricon has a very strong position to complete all work, and continues to accept and maintain a large number of new customer assemblies. It is important that all our contracts are profitable, and we are aware of all our payments: contractors, suppliers, employees and entrepreneurs.
https://www.watoday.com.au/property/news/sleepless-nights-the-metricon-customers-whose-dream-homes-became-nightmares-20220523-p5ann1.html?ref=rss&utm_medium=rss&utm_source=rss_feed