QLD authorities provide flood update
And we jump straight from Albanese to Queensland authorities who are providing a flood update.
Shane Chelepy, acting Queensland disaster coordinator, said there were still 87 buildings affected in Warwick, with 49 people in shelter in Condamine:
The district disaster group and local group are meeting today and as the river drops further, they will be moving in towards those recovery efforts there. At Gympie, as we indicated, we are still seeing rises in the Mary River at Gympie. Planning is well underway there and are predicted of a moderate flood level in Gympie, it is expected that the town bridge may divide the town again to the south. We have pre-positioned our emergency services and disaster management capability to both sides of the town.

We are expecting minor impacts but not expecting with the predicted peaks any significant impacts particularly to dwellings in the Gympie area, but obviously the disaster management Group there will continue to monitor that and we will keep the residents informed.
A final question about Charlton in Parramatta again, and first referring to a previous statemen he has made on a Liberal candidate found living at a different address to the one listed.
At the time, Albanese said it was a "very serious" issue for the PM. Does the same standard apply to Charlton?
The election Electoral Commission took action on that and referred the candidate for Lilley to the AFP. I expect the rules to always be upheld. Thanks.
We have a question about change! Albanese is asked if he will change if he wins the election:
Scott Morrison got asked a question the other night to say something nice for a minute. He couldn't quite get there, but he did try. But one of the things he said about me was that I have never forgotten where I came from, and I haven't. What you see is what you get. The values that I was raised with are the values that I hold dear and they are the values that I will take into government.

With two key themes to that: No-one left behind because I believe we should look after the disadvantaged and aim to lift people up, but also no-one held back, that Labor is the party of aspiration and opportunity, that we should look for ways in which people can be the best they can be, and that will be my driving force. I don't believe this Prime Minister can change. It is a desperate statement that he made.
Will Albanese be reaching out to Chinese President Xi Jinping if he wins the election?
I am not getting ahead of myself and the relationship with China will remain complex and will remain challenging, regardless of who wins the election. I tell you who I will be reaching out to. I will be, if we are successful, I will be reaching out to the United States and the Biden Administration and what the Biden Administration will get from me is, as our most important ally, is straight answers. What is very clear from today's revelations is that they didn't get straight answers from the Morrison Government.
Albanese is then asked about implementing the Uluru Statement from the Heart, and what he's made of Scott Morrison's rejection of a voice to parliament:
The only voice that Scott Morrison wants to hear is his own. It is not surprising that he has ruled out a voice to parliament because the only voice that Scott Morrison ever wants to hear is his own.

That's why even in the parliament he shuts down other voices. So it is not surprising, given he won't have any debates in the parliament, that he doesn't want a voice to parliament. This is a generous offer from First Nations people. First Nations people are just asking to be consulted on issues that affect their lives, on health, on education, on housing, on those issues.

It is a generous handout from First Nations people, and what they are asking for is a partner, is just a joining of hands in our common interests. This is the same political party that said if we apologise to the stolen generations it would be divisive. Peter Dutton walked out of that apology. What we need to do is bring this country together.
We return to discussions of foreign policy once again, this time on whether Albanese would be talking to state premiers about China, after the Western Australian premier, Mark McGowan, waded into the discussion yesterday:
Well, I do note that Peter Dutton's rhetoric is very different from his own government's rhetoric. It is very different from Marise Payne, who is in charge of foreign policy in the government. She is the foreign minister. Her rhetoric is very different from Peter Dutton.

What we see going on here – we've seen it for some period of time – you notice the really subtle things, that you can't be leader if you haven't been treasurer, when Josh Frydenberg is sitting behind the prime minister. There is tension within the Liberal party. It is being played out day after day.

There is tension within the National party whereby people are doing the numbers, where they win or not, over who is either deputy prime minister or leader of the National party, depending upon the seats and the outcomes. And the Liberals and Nationals don't like each other.

The Australian government is in charge of our national policy, but I will be engaging in a constructive way with business, with state premiers, with civil society about our relationships. Mark McGowan is doing a great job as the WA premier. I stand with Mark McGowan. Scott Morrison stands with Clive Palmer.
Next up is a question on a report that the Parramatta Labor candidate, Andrew Charlton, had allegedly admitted to an "oversight" regarding the listing of a Woollahra rental property owned by his wife as his place of ­residence and whether Charlton should be referred to police.
Anthony Albanese replies:
I'm not aware of the issues which you raise, so I can't comment.
Mark Butler is also at the presser, and is asked when some of the money announced today will actually be made available:
The GP grants flow immediately. They will start flowing this year and next year to strengthen GP practices. The Medicare Fund will start to flow from 1 July next year. Now there are a range of improvements in our general practice system, some of which Emma talked about earlier, they were identified in the 10-year plan, and what the taskforce's job will be to do between now and the end of the year is to pull out the key priorities. AMA and the college have talked about priorities of strengthening the relationship between a general practice and particularly patients with complex and chronic disease.

As I said, the taskforce will report by the end of the year, identify the key priorities out of this long-term 10-year plan that should be addressed immediately. That report will flow into 2023 and funding will start flowing on 1 July 2023.
Albanese continues, saying Morrison has used national security issues for short-term political gain, and is followed up with a question on whether he thought Morrison was again thinking in the short term when announcing the ships yesterday:
I'm not suggesting that. I am suggesting that it is an issue of concern that this ship was off the coast of Western Australia. It is appropriate that we get proper security briefings on those issues. Brendan O'Connor has made it clear that he has requested that issue. It is not an issue that was raised with me in any of the briefings …
Anthony Albanese says PM 'broke trust' with US by delaying briefing Labor on Aukus
OK, we are into questions, and the first is if the government had an "ulterior motive" in announcing yesterday that Australia had spotted a Chinese warship off the coast of Western Australia.
Albanese, though, switches to discuss a report on the Aukus deal:
Look, Labor shares concerns about the presence of an intelligence ship off the coast of Western Australia from the Chinese government. We have asked for a fuller briefing, but I make this point about national security issues: There is a report today in Nine Newspapers – it is a serious report.

What it indicates is that for four-and-a-half months in the lead-up to the announcement about Aukus, the United States government was saying to the Australian government very clearly and repeatedly that they wanted the opposition, Labor, to be briefed and that they wanted to have the confidence that this would be a bipartisan issue in terms of support.

And the Biden administration sought reassurance from the Australian government that Australian Labor had been consulted on these issues. It is extraordinary that the prime minister broke that faith and trust with our most important ally by not briefing Australian Labor on these issues. We were briefed on the afternoon of the Wednesday before the 7am announcement. I was contacted by Scott Morrison only the day before and asked to fly to Canberra, which I did, with Richard Marles and Penny Wong and Brendan O'Connor was also there, remotely, to be briefed on the Aukus proposals. It was a good, comprehensive briefing by officials.

But the fact that the United States had made a request to Australia that was ignored for four-and-a-half months shows that this is a prime minister who always plays short-term politics, is not interested in the national interest.
We need to provide [GPs] with more support, which is why our $220m fund of strengthening Medicare GP grants is an important contribution, with grants from $25,000 to $50,000 to make sure that our GP practices can continue to thrive. In many areas, it is getting harder to see a doctor, not easier, and what we need to do is to make sure that people can get that care when they need it.

It's one of the reasons why we announced our urgent care clinics to take pressure off emergency departments to work with existing GP services and community health clinics. It's one of the reasons why we are announcing this funding today of almost $1bn to make a difference to the health sector.

It's important that we do it here in the Northern Territory. It adds to the specific announcements that we've had – $111m First Nation's health package that Penny Wong gave on my behalf when I was out of action due
to a health concern, she went to Alice Springs to make that announcement on the First Nations health package – 500 additional health workers in Aboriginal communities, making a difference to people's lives.
Anthony Albanese pledges $970m investment in Medicare
Anthony Albanese calls Labor's investment in health a "significant" one:
I have said that Labor wants to strengthen Medicare. We understand that Medicare is at the heart of our health system. Universal healthcare is something that is a Labor creation, and Labor will always defend it and Labor will always strengthen it.

Today's announcement is aimed at just that – strengthening Medicare taskforce and fund, $750m – $250m each year between, starting from next year, 2023 financial year, will make an enormous difference. It has been supported by the AMA and we have worked with the health sector to make sure that we do strengthen Medicare, which is why this funding will be available.
And Albanese has finally stepped up for today's press conference, and begins by acknowledging retiring NT Chief Minister Michael Gunnar, welcoming his replacement, Natasha Fyles.
And now for some requisite pics of the PM playing footy in Melbourne: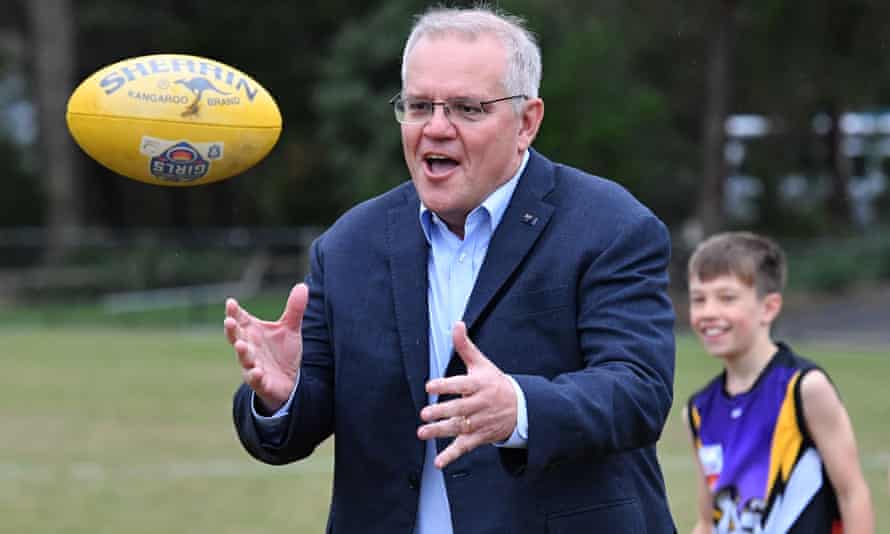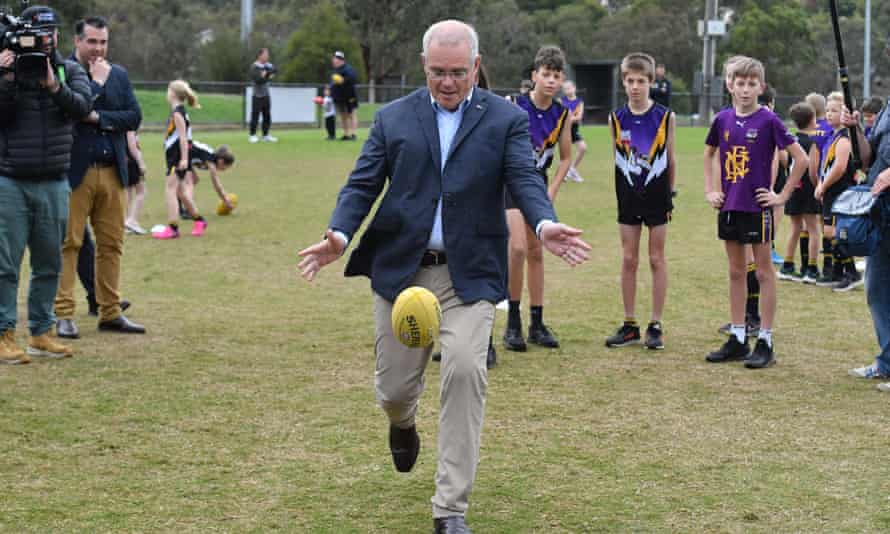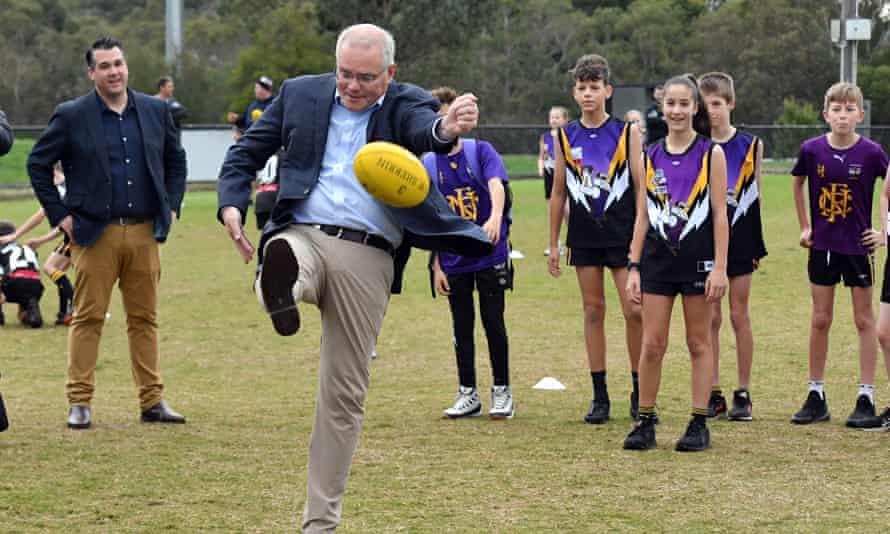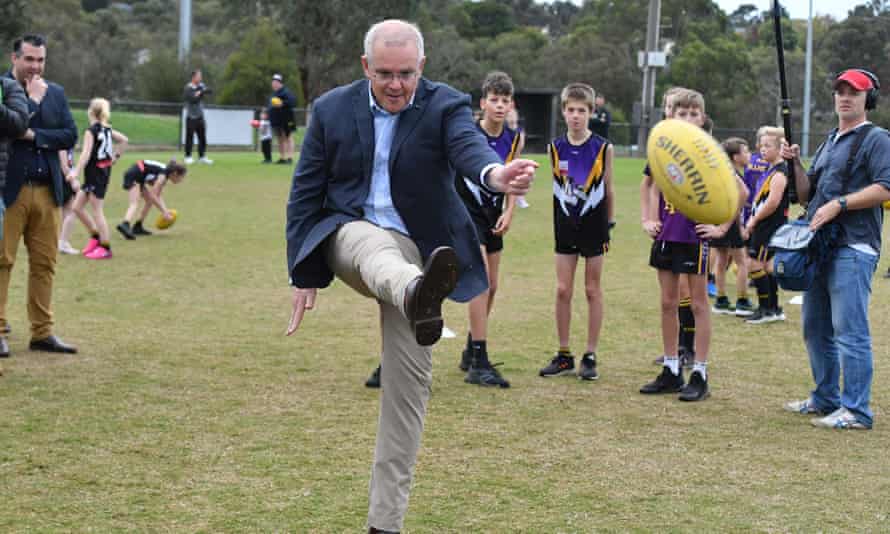 Good stuff.
Labor holds comfortable lead in Newspoll
Before we head to the NT, I just wanted to bring up some Newspoll numbers this morning, which shows Labor is still in a comfortable lead over the Coalition, with Albanese's approval dipping slightly.
Labor leads on a two-party-preferred basis of 54 to 46, with the Coalition's primary vote still at 35%. Labor's primary vote fell back a point, to 38%.
Albanese's approval rating dropped by three points to 38%, while Morrison's approval rating rose by three points, and is now level with Albanese on minus 11 points on approval. Morrison leads Albanese by one point on preferred prime minister, 43% to 42%.
Anthony Albanese is in the Northern Territory to spruik his announcement on health spending, and we will bring you that as soon as it begins.
Three dogs and their two owners rescued from Queensland floods
Two men and their dogs have been dramatically rescued from rising floodwaters in Morwincha, Queensland.
Police footage showed officers from Ipswich rushing to aid the dogs and the men, who were trapped in their van, wedged between a tree, with one man clinging to the passenger door.
Victoria records 22 deaths and 12,160 new cases
Victoria is reporting 22 deaths overnight, as well as 12,160 new cases:
https://www.theguardian.com/australia-news/live/2022/may/14/election-2022-live-updates-labor-promises-970m-for-medicare-morrison-prepares-for-coalition-campaign-launch-scott-morrison-anthony-albanese-flood-china-dutton-federal-election