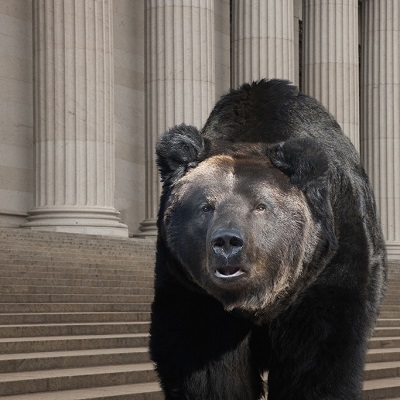 The patterns were similar in bond funds. The record selling of fixed income funds between April and June reflects a sharp increase in bond yields (rising yields mean falling prices) in Australia and around the world. Bond markets then rallied from mid-June to early August, with the yield on Australia's 10-year benchmark falling a staggering 120 basis points. The rally prompted investors to return to fixed income funds in July. ​​​​​​​​While the rally petered out in August, net buying continued, but when yields retested multi-year highs in September, buying eased. Net inflows were A$1.19 billion over the three months, but only A$41 million of that came in September. Moreover, investors retreated in the last six days of the quarter, with bond funds losing A$112 million.
Mixed assets followed the same pattern, but real estate was more resilient
Among managed funds of mixed assets, the same pattern was repeated. Net inflows were strong overall for the quarter at A$1.53 billion but eased in September. Meanwhile, real estate funds reduced their outflows from April to June with net new capital of A$259 million in Q3. Despite this, September property inflows of A$64 million were well below the long-term average.
Theresa Walker, Managing Director of Australia and New Zealand at Colstone said: "The surge in global bond yields is leading to a sharp revaluation of assets of all kinds. Australian investors have been heavily bullish on bond markets in recent months, buying shares and bonds when yields fell (and bond and share prices therefore rose) and seeking cover when market conditions reversed. Seasonal patterns explain some of the initial spike in inflows in Q3, but the enthusiasm to buy the bear market rally has been much greater in Australia than we have seen in some of Calastone's other territories, particularly the UK. Investors may feel caught out.
"The clear dominance of domestic stocks reflects the defensive characteristics of the Australian market. The economy is more stable than many other parts of the world, with low inflation and solid public finances. Importantly, the heavy focus on earnings from the dominant mining and banking sectors means share prices are less sensitive to higher bond yields than, say, US tech stocks, and Australian dividends enjoy exceptionally favorable tax treatment. The sharp decline in metal prices has now removed the level of support from payments in the sector, although coal remains resilient. Banks may be vulnerable to any slowdown in the property market, but their dividends are well-covered after cuts made during the pandemic rebased them to a more sustainable level.
"A less severe decline in the cost of living in Australia than elsewhere leaves more money for investment, but confidence is very fragile, as evidenced by the reversal of fund flows at the very end of the quarter. A decisive end to the bear market is likely to come only when the interest rate cycle turns."
Figure 3: Flow data for Australian-domiciled funds recorded on the Calastone network (unlisted funds)
https://australianfintech.com.au/australian-investors-bought-into-the-bear-market-trap-in-q3-calastone/