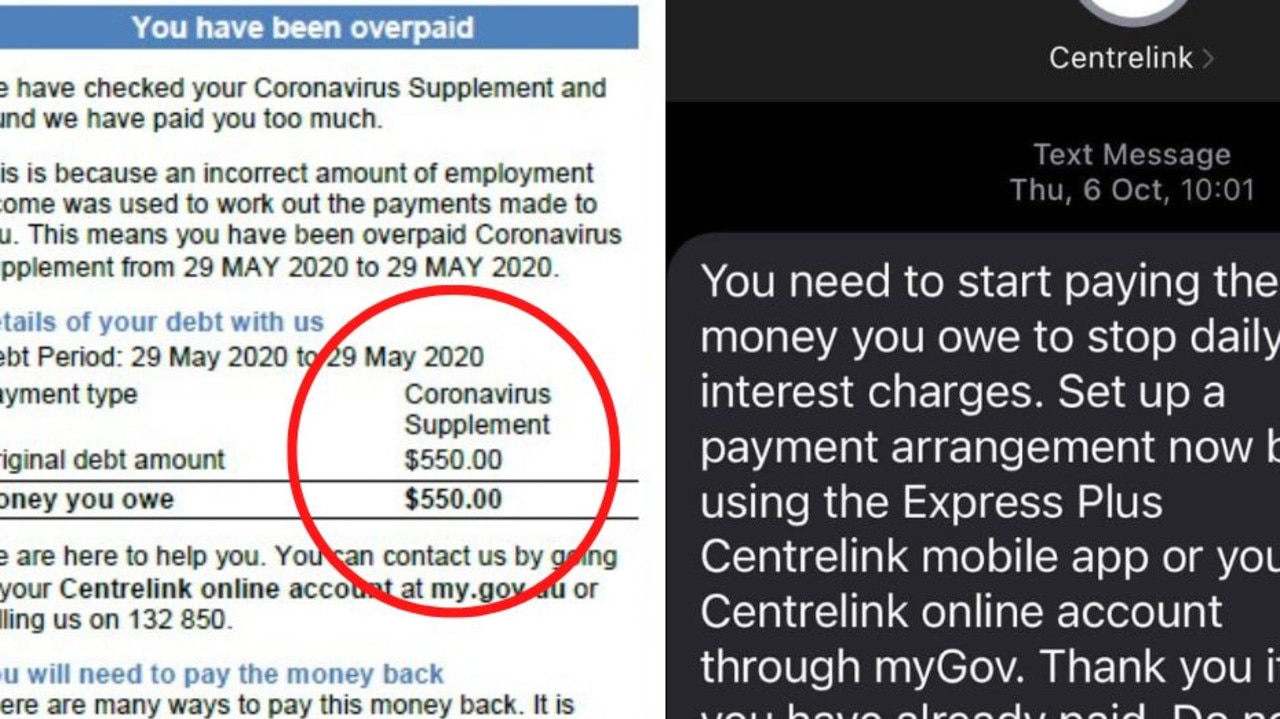 When Sydney resident Liam* first received an unpaid debt notice from Centrelink, he thought he was the target of a scam.
He was embarrassed by the "harsh" and "insensitive" tone of the text, he told news.com.au
The message read: "You need to start paying the money you owe to stop the daily interest.
"Set up a payment arrangement now using the Express Plus Centrelink mobile app or your online Centrelink account via myGov."
Although the text wasn't a scam, Liam didn't realize it was linked to the Covid Jobseeker's Allowance and Disaster Relief he was receiving during Covid.
When he logged into his Centrelink account, he found an overpayment notice for May 2020 of $550. A day later, he received a second notice saying he owed $121.86, dated May 17-20, 2020. That meant he owed a total of $671.86, with interest owed on a daily basis.
Announced on 22 March 2020, the federal government began providing an additional $550 fortnightly payment to new and existing Jobseeker's Payment recipients, effectively doubling the maximum rate of Jobseeker's Payment.
Liam also gained access to additional Covid-19 disaster payments, which supported workers affected by public health orders that affected their ability to work.
"I was traveling overseas and then Covid happened so I rushed back home," he told news.com.au.
"Everyone was panicking and everything was closed, so I definitely couldn't get a job anytime soon.
"I'm not one to like to be in situations where I'm not self-sufficient, but this was a situation where I didn't want to rely on them, but I definitely had to."
Although Liam has since paid the overpayments, he still doesn't know what led to the debts. Although it is alleged that his "employment income (was) incorrectly coded or declared", he believes that he was scrupulous in recording his income.
"Once I found a meaningful job and started getting paid, I reported it and the payments soon stopped," he says.
"I thought I did a little bit and I never heard of being overpaid."
A telephone inquiry to Centrelink about the payment disruption also failed to answer Liam's questions.
"When I asked for a rationale, all (the Centrelink employee) could tell me was that the system had calculated that I had been overpaid and that was the only reason I was given.
"There was no overview of when I started reporting my wages and when Centrelink payments stopped."
Mum's anger at Centrelink message
Now working full time, Liam was able to pay off his total debt of $671.86 in full. Despite this, the original text still left him shocked, panicked and stressed about the potential amount. This was even though he was sure he had reported his income correctly.
"I was just lucky to get by, but I would worry about people who are in a difficult position. It was a tough time," Liam said.
After sitting the initial Robodebt Royal Commission sessions in Brisbane, Queensland, woman Kat Madgwick criticized Centrelink's automated debt reporting.
In 2019, she lost her 22-year-old son to suicide the day after he received a letter saying he was owed $2,000 while applying for Centrelink benefits. At the time, he was frantically looking for work, and his unemployment exacerbated his pre-existing mental illness.
Speaking to news.com.au, she says she is annoyed that the practice is "still going on".
"When you're dealing with some of the most vulnerable people in society, you have to be careful," she tells news.com.au.
"People on Centrelink are struggling to get through every day and you have a cohort that has learned to deal with (the system) and then you have people who are coming into the system like Jarrad was.
"In this case, someone should have realized that he had no income and that now was not the time to issue him an automated debt notice."
Ms Madgwick wants to push for a system where Centrelink can track "red flags" that mean they need to "tread carefully" when a debt notice comes up.
This can include known mental illness, as well as employment and income checks (to ensure they are able to repay the debt). In this way, people who need help could also be referred to appropriate outreach programs or financial assistance services and programs.
XXX Australians with an overpayment notice
In a statement to news.com.au, the Department of Social Services, which oversees Centrelink, said they had sent XXX overpayment notices to people
News.com.au understands Centrelink is also contacting households it believes are receiving
also contacted Child Care Subsidy.
I would be concerned
However, the original text is still there
Although Liam admits that he was
Centrelink has been criticized for a meager increase in social benefits
In the village biggest increase in jobseeker's allowance in 30 years, the maximum fortnightly benefit increased by $1.80 per day to $668.40 for one-person households, $718.60 for single-parent households and single households over the age of 60, and $608.70 for those , who is in partnership. That's roughly $48 a day.
Acting chief executive of the Australian Council of Social Service (ACOSS), Edwina Macdonald, criticized the meager increase as remaining "well below the poverty line at just 42 per cent of the minimum wage".
"An extra $1.80 on an already very inadequate income will not cover the cost of winter electricity bills, high fuel prices, medicine, groceries or rent," Ms McDonald said in September.
"We regularly speak to people who can't eat three meals a day, who can't afford the medicines they need and who have debts to utilities because they can't cover their energy costs."
Instead, she called for an increase to $73 a day for jobseekers.
"It's not giving a real increase – an increase above inflation – and that's what people who are getting jobs and other benefits need to keep a roof over their head and food on the table," she said.
Originally published as Australians have received notices from Centrelink about overpayment for the coronavirus supplement
https://www.cairnspost.com.au/news/national/australians-hit-with-centrelink-overpayment-notices-over-coronavirus-supplement/news-story/704addae85de5f07d94c32b51fe449fe