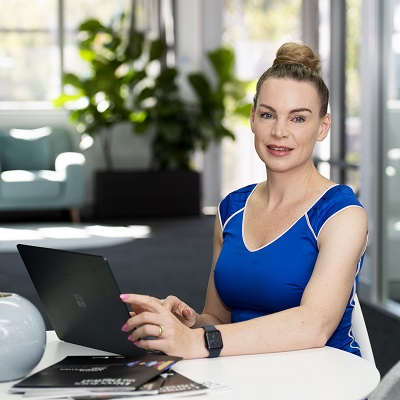 Rachel Greaves (pictured), co-founder and CEO of the Canberra-headquartered artificial intelligence (AI) software compliance specialist, Castlepoint Systemswas recognized as RegTech's Female Entrepreneur of the Year.
Greaves' award was one of two awarded Castlepoint Systemswith the company winning the RegTech of the Year award (based in Australia).
The awards, announced at the RegTech Awards Dinner, support the RegTech Association's mission to create a global center of excellence and accelerate the adoption of RegTech across all regulated ecosystems.
According to an expert cross-industry panel, the awards recognize association members who have achieved the greatest impact over the past year.
"I am delighted to be named the 2022 Female Entrepreneur of the Year," said Rachel Greaves, Castlepoint CEO and co-founder.
"The awards are a great honor and it's a real privilege to be named a winner and recognized for our business growth, innovation, contribution and our active involvement that benefits the entire RegTech community.
"I'm also very proud of our Castlepoint team, our company and our mission, and to be recognized by the judges as RegTech Australia 2022 is very humbling and rewarding."
The RegTech Association is encouraging more women to join RegTech and by presenting the Female Entrepreneur Award, they are playing an active role in promoting gender equality.
"We must strive to achieve a fair gender balance and hire people who represent the demographics of society, including young and older people, Indigenous people, migrants, people with disabilities and LGBTQIA+ people," adds Greaves.
"We must actively seek out people who represent a variety of attributes for consideration in our hiring activities to ensure that the candidate pool is representative of the community. Although the hiring decisions that result from these actions will be based on merit, if women and other minorities are not represented in the hiring round, none of their inherent merit may be noticed or nurtured.
Greaves also believes that men need to be supported to challenge outdated and harmful ideas about parenting, caring and community service.
"If men are not empowered and encouraged to take leave for these reasons, the women in their families are left to bear the burden, perpetuating the cycle of exclusion from the workplace," she said.
"We also need to support men in doing their share of emotional labor in the workplace, including making sure all their colleagues feel included and valued.
"It may sound counterintuitive, but my advice to other women in my position is to keep doing what we've always done – spend time and bandwidth helping others. Our investment in the next generation of men and women in RegTech will pay dividends in the future."
https://australianfintech.com.au/castlepoint-co-founder-ceo-rachael-greaves-named-regtech-female-entrepreneur-of-the-year-with-castlepoint-named-australias-best/