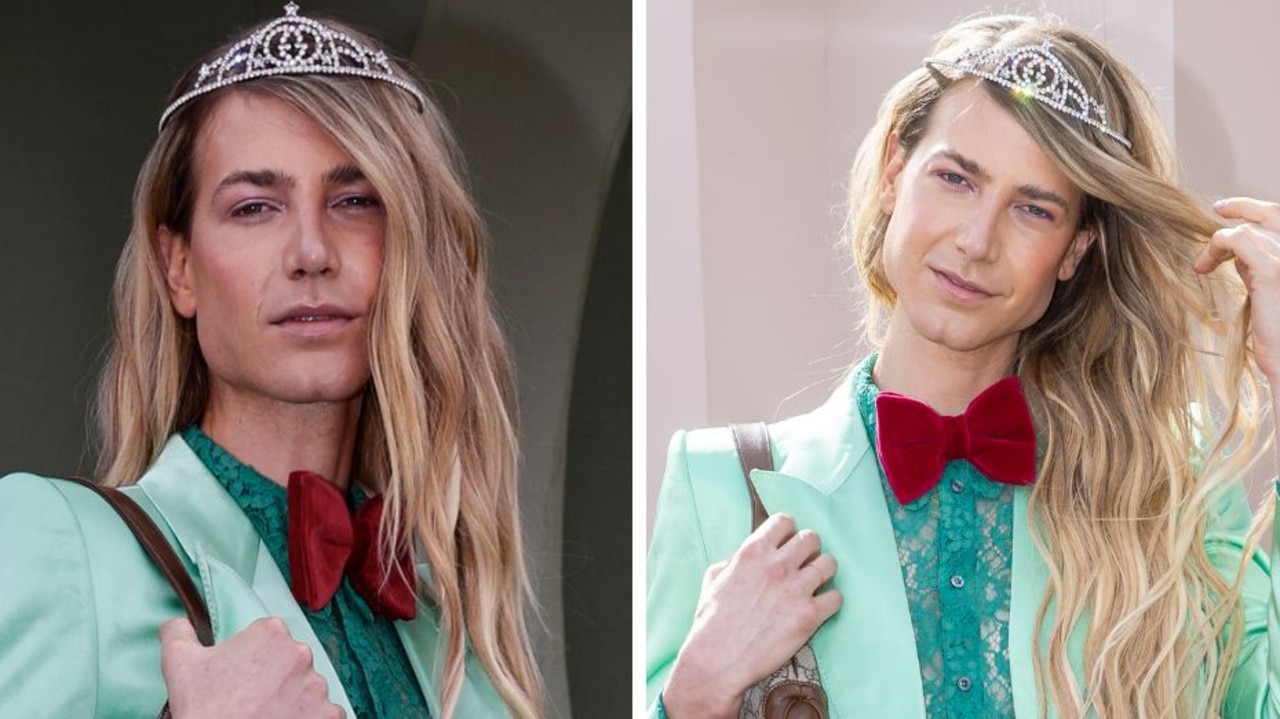 Newest VRC Ambassador Christian Wilkins continued his hugely successful Derby Day outfit with a stunning green ensemble for the Cup.
The 27-year-old model, who is the son of Channel 9 presenter Richard Wilkins, opted for a pastel green tailored silk suit with dark green platform shoes and a red bow tie.
He wore his signature long blonde locks in tousled waves, completing the eye-catching outfit with a sparkling tiara and a small brown handbag.
Interestingly, Christian chose a color that was historically considered "bad luck" for the Melbourne Cup, and those who wear it are considered "daredevils" by style experts because the green is too track-like.
Christian is clearly not afraid of race day restrictions, previously telling news.com.au that he plans to "breach" the previous rules of the Cup carnival this year.
"I feel that [the cup carnival] "Being governed so much by these very strict rules around gender, and to break them and just let people express themselves as they want to be, that's such a key ethos that I live by." Wilkins told news.com.au.
"I definitely think we're a little slow on the uptake, but having an institution like VRC [Victoria Racing Club] it's so historic, so ingrained in our culture, to recognize this change is a big step in a good direction, and it makes me so happy to be the face of it."
For Derby Day, he wore black trousers teamed with a strapless silk top, complete with a statement headpiece worn over his slicked-back hairstyle, and full-length sheer gloves.
He received many compliments for his outfit at the event, with many calling the look "spectacular" and calling Christian a "superstar".
Christian wore bold outfits for racing seasonfor example, a $1,900 gender-neutral three-piece suit from the Tommy Hilfiger Richard Quinn collection for Race Day in October.
The pants are $799, and the high-neck shirt, which has built-in gloves, and the jacket are $549.
He completed the look with a pair of silver sunglasses, heeled boots and a $799 studded bag from the same Tommy Hilfiger collection.
Christian's role as ambassador, along with his stylish ensembles, comes after the VRC ditched gender categories for its Fashion on the Fields competition.
In 2022, the women's and men's sportswear competitions will be awarded the best in dress and costume, with all genders encouraged to enter any category that reflects their unique personal style.
This is to make things more inclusive, but still keep it competitive, seeing as many of the women in Tuesday's race opt for costumes.
Originally published as Christian Wilkins debuted his bold outfit for Melbourne Cup Day
https://www.ntnews.com.au/lifestyle/fashion/christian-wilkins-has-debuted-his-bold-melbourne-cup-day-outfit/news-story/f73408d7b2f39d6e5c1727043fa4c9e0