NATO's Stoltenberg: Freedom is more important than free trade
Jens Stoltenberg, secretary general of NATO, has warned leaders at Davos of the security risks of dealing with China, as well as Russia – in a stern reminder that protecting values is more important than profits.
In a special address, Stoltenberg says countries should not trade long-term security needs for short-term economic interests.
The war in Ukraine demonstrates how economic relationships with authoratarian regimes can create vulnerabilities, he explains.
It creates over-reliance on key commodities such as energy
Sharing of technology such as artificial intelligence, which are crucial to modern weaponry, can undermine miilitary strength
It can create weakened resiliance from foreign control of infrastructure such as 5G mobile networks.
This is not just about Russia, it is also about China, Stoltenberg says.
International trade has undoubtedly brought great prosperity, Stoltenberg continues. But we must recognise that our economic choices have consequences for our security.
Freedom is more important than free trade.

The protection of our values is more important than protecting profits.
He adds that he is not arguing against trade with China, but the control of 5G networks is a crucial security issue.
Stoltenberg also explains that President Putin wanted less NATO at his border. He now has more troops in Eastern Europe, and an enlarging NATO, Stoltenberg points out.
He says he's confident that NATO will be able to welcome Finland and Sweden to the alliance.
Von der Leyen is then asked whether Russia can return to the international community.
She says it can:
Yes, if Russia finds its way back to democracy, the rule of law, the respect for the international rules-based order, then it's a clear yes.
Russia is Europe's neighbour, it will stay there. We have shared history and culture, she explains, adding:
It is the Russian people who decide about the future of their country. They have it in their hands.
Von der Leyen: Russia using hunder and grain to wield power
On the food crisis, Von der Leyen says Russia is using hunger and grain to wield power.
On the blockages that are causing shortages and risking famines, she says:
"In Russian-occupied Ukraine, the Kremlin's army is confiscating grain stocks and machinery.

And Russian warships in the Black Sea are blockading Ukrainian ships full of wheat and sunflower seeds."
Global cooperation is the antidote to this blackmail, she says, adding that:
Europe is working hard to get grain to global markets, and stepping up its own production — as well as supporting Africa in boosting its production capacity
The US is equally concerned:
Von der Leyen tells Davos that Europe is too reliant on a handful of producers for key materials, such as lithium or silicon metal.
Strong global partnerships are needed, so that Europe has more resilient supply chains, and 'balanced interdependencies', she says.
Von der Leyen: Could use frozen Russian assets to fund Ukraine reconstruction
Ursula von der Leyen, head of the Europen Commission, says Ukraine's war is putting the international order into question, as she addresses the World Economic Forum's Congress Hall.
She says Davos should be talking about making the world better together, but instead they must talk about Putin's invasion, where Russia's playbook for the war "comes out of another century".
It is not just a question of Ukraine's survival, or European security. It is putting the entire international order into question, says von der Leyen.
Ukraine must win this war. And Putin's aggession must be a strategic failure.
Von der Leyen says Ukraine needs direct budget support now, which is why the EC proposed a $10bn package of financial assistance, its biggest ever package for a third country.
The same resolve will help Ukraine rise from the ashes, von der Leyen insists, which is the idea behind the reconstruction plan proposed to president Zelenskiy.
The work is colossal, but "together we can and will, master the challenge".
Any country that cares about Ukraine, multinational institutions, companies. everyone, should contribute.
And Von der Leyen says that Russian assets frozen overseas could be used to fund reconstruction too:
We should leave no stone unturned, including possibly using the Russian assets we have frozen.
That massive investment should be accompanied with reforms, von der Leyen adds.
That means supporting the rule of law, and the independence of judiciary, fighting corruption, getting rid of the oligarchs, she says.
Plus, firmly supporting Ukraine in pursuing its European path.
Von der Leyen says Ukraine belongs in the European family, having stood tall in the face of brutal violance.
This is a defining moment for democracies across the globe.
Poland's president: Ukraine will not give up land in peace deal
Anyone who thinks Ukraine would give up some of its land to Russia in a peace deal is "deeply mistaken", says Andrzej Duda, president of Poland.
Speaking here in Davos, Duda says that Ukraine would not accept such concessions, as it has suffered such losses since the Russian invasions began. Its people now want to take revenge, and to recapture their land.
I simply don't believe they would make such concessions.
Also, any politician who accepted such concessions "would be finished", added Duda, who addressed Ukraine's parliament on Sunday.
He also calls for support for Ukraine, including weaponry and finance for reconstruction.
Pekka Lundberg, CEO of Nokia, says there are "worrying signs" in the economy, as the economic cycle ticks around.
But he also argues that innovations will continue, such as the industrial metaverse – where (he says) everything that makes sense to connect will be connected
Lundberg explains that
There will be a physical world, and a digital world. There will be a digital print of everthing that's out there in the physical world.
This will mean we will know when the machines will fail.
It will mean mantainance workers will have direct digital access to that world, and will be trained to work in the digital world, before they go out to the physical world, Lundberg adds.
Spanish PM: End of history is nowhere in sight
Spain's prime minister Pedro Sanchez said the war in Ukraine was an attack on European values, in a keynote speech to Davos.
"Liberal democracy does not come naturally and it requires considerable effort and nurturing. The end of history is nowhere in sight."
Sanchez said the past couple of years had not been easy for the European Union.
After Brexit and Covid "we now have to deal with the consequences of a war in Ukraine."
But Sanchez said harder times had made Europe more resolute and had strengthened the European project. The war, he concluded, was a reminder that history didn't end when the Berlin Wall came down 30 years ago.
"The future is a land to be conquered".
IMF chief Kristalina Georgieva is worried that the burden on developing countries (who face the brunt of the food crisis) will increase as central banks hike interest rates.
"For many countries, 2020 was the year of increased debt and that particularly applies for low-income countries where today 60% of them are either at debt distress or next to it. With high interest rates, the conditions would be very difficult.

"What we also face is significant increase of commodity prices, mostly because of the war in Ukraine. And that is terrible when it comes down to price of food for poor people and especially poor people in poor countries.

"And last but not least, we need to recognize that the Chinese economy has slowed down mostly because of lockdowns related to the pandemic. And the slowdown of growth in China has negative impact on the region and on the world.

"And that adds to the downside risks for 2022. We must stay focused on overcoming the root causes for these problems. And of course, on the top of the list is to strive for peace in Ukraine."
South Korea will issue a call this week at the World Economic Forum for COVID-19 vaccines and other medical help for North Korea, as its Covid-19 outbreak continues.
According to a senior official, that could mean exemptions from U.N. sanctions imposed over its nuclear programme, according to a senior official.
Reuters has the details:
Secretive North Korea went for more than two years insisting it had no COVID but it confirmed its first outbreak nearly two weeks ago. It has since reported some 2.95 million people showing fever symptoms – it has limited testing capacity for COVID – and 68 deaths, and has imposed a sweeping lockdown and other anti-virus measures.

"Sending vaccines is a priority as the vaccination rate is believed to be near zero in the North," Na Kyung-won, a special envoy of the South Korean president, told Reuters shortly before leaving for the forum in Davos, Switzerland, where she will lead South Korea's delegation.

Na said she would discuss help for North Korea with Peter Maurer, president of the International Committee of the Red Cross (ICRC), and Seth Berkley, chief executive of Gavi, the global vaccine alliance that operates a vaccine-sharing programme, as well as other political and economic leaders.

"If direct support is not doable, we can participate in projects run by international organisations like the ICRC. We'll take a pragmatic approach," she said.

Na said she aimed to build support for temporary U.N. sanctions exemptions to allow the shipment of fuel and generators to North Korean to facilitate vaccine storage.
More key points from the global tax system panel:
Lagarde: Eurozone recession not base case
European Central Bank President Christine Lagarde has told Bloomberg TV in Davos that the eurozone has reached a "turning point" in monetary policy, as it prepares to leave negative interest rates behind.
Confirming her blog post yesterday, Lagarde says that the ECB is likely to exit negative interest rates by the end of the third quarter, with a first interest-rate increase set to happen in July.
Lagarde insisted that:
We not in a panic mode.
Lagarde also pushed back against the ides that the eurozone is heading into recession, saying:
"We don't have that as a baseline."
[the word on the floor here, though, is that Europe could be heading into recession, especially if a ban on Russian energy is agreed].
Oxfam is pushing its case for a wealth tax on billionaires, warning Davos that record-high global food prices are sparking social and political upheaval, and risk pushing millions into poverty.
Gabriela Bucher, Executive Director of Oxfam International, is speaking on a panel on reforming the global tax system.
She says one person is dying of hunger every 48 seconds in Ethiopia, Kenya and Somalia, where a drought is raging in the Horn of Africa. And
This is only the beginning, Bucher says, and the world is not raising enough money to help.
The hunger crisis is growing. We really need to move, and mobilise resources, Bucher explains, and even a small percentage increase in tax rates on millionaires would make a big difference.
Billionaires are profiting from pain, she adds, and the amounts being accumulated by the richest cannot be used in several lifetimes.
And on the global deal on minimum tax rates, Mathias Cormann, secretary general of the OECD, says he's hopeful and optimistic Europe will implement the Pillar Two model rules (for domestic implementation of a 15% global minimum tax on multinationals).
Adam Tooze: nuclear escalation risk not priced in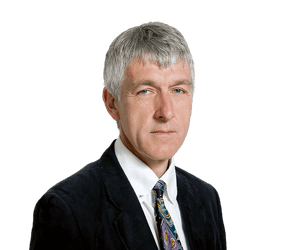 Larry Elliott
Geopolitical rivalvies are also dominating attentions.
Professor Adam Tooze of Columbia University in NYC said he was worried about China, because there didn't seem to be an "off ramp" from Beijing's zero lockdown policy.
Tooze, though, is even more concerned about the Cold War turning hot, as the Russia-Ukraine war continues.
"The nuclear escalation risk has not been priced in" Tooze tells us, as he considered what Vladimir Putin might do next.
Politicians in the US, he said, were aiming to deprive Russia of the ability to pursue independent military action, something that it hadn't done in the years between the end of the Second World War and the collapse of communism.
"This doesn't feel like the Cold War".
Tooze said he was not sure how NATO would respond to a Russian use of tactical nuclear weapons but was certain of one thing: it would lead to a monumental global financial crash.
Introduction: World 'in trouble' as food crisis intensifies
Good morning from Davos.
Worries over a worsening food crisis and an economic downturn are looming over the second day of the World Economic Forum.
The supply disruption caused by the war in Ukraine, with Black Sea ports blockaded, is driving up prices, creating shortages and the risk of famine.
Achim Steiner, the administrator of the UN Development Programme (UNDP), tells us that the world is not prepared for what's ahead:
"We are in trouble. The war in Ukraine is dramatic in so many ways. There is an acute crisis in food, fuel and finance. As of today there is no reason to believe this is a short term challenge.

We are in the middle of a series of unfolding crises and the world is not prepared for it.
Hunger, Steiner said, was probably the one thing that got people on the streets because once people found they couldn't afford to feed their families they lost faith in government.
"What we saw in Sri Lanka we are likely to see in more and more countries."
Steiner said 200 million people were facing acute hunger, double the figure of five years ago. "This is very serious", he said.
Higher energy prices – another consequence of the Ukraine war – were causing balance of payments problems for many developing countries.
"Wealthier nations have a decision to make. Are they going to step up or do they let things drift on."
Yesterday, IMF chief Kristalina Georgieva warned that anxiety around access to food at reasonable prices is "hitting the roof" around the world.
David Beasley, head of the UN World Food Programme, warns there is a 'devastating hunger crisis' looming, with millions on the brink of famine.
Ursula Von Der Leyen, president of the European Commission, and Jens Stoltenberg, Secretary-General of NATO, are both giving keynote speeches today, in another busy day.
The programme's here, and here's a selection:
The agenda:
8.45am Davos (7.45am BST): Reimagining the global tax system, with Gabriela Bucher of Oxfam, Stefanie Stantcheva, Professor of Economics at Harvard University, Mathias Cormann of the OECD
10am Davos (9am BST): Special address by Spanish PM Pedro Sanchez
10.45am Davos (9.45am BST): The geopolitical outlook, with Hina Rabbani Khar, Pakistan's Minister of State for Foreign Affairs, Andrzej Duda, President of Poland, Gregory W. Meeks, Congressman from New York, José Manuel Albares Bueno, Minister of Foreign Affairs for Spain, H.H. Prince Faisal bin Farhan Al Saud, Minister of Foreign Affairs ofSaudi Arabia, Pekka Haavisto, Minister for Foreign Affairs of Finland
11am Davos (10am BST): Special address by Ursula Von Der Leyen, president of the European Commission
11.15am Davos (10.15am BST): Panel on Hybrid working, what happens next?
11.30am Davos: Special Address by Jens Stoltenberg, Secretary-General of NATO
11.45am Davos (10.45am BST): Speeding up road to net zero with Fatih Birol of IEA, John Kerry, Catherine MacGregor, Frans Timmermans.
2.30pm Davos (1.30pm BST): How to tackle the cost of living crisis
3pm Davos (2pm BST): Energy Security and the European Green Deal, including Pedro Sánchez, Anna Borg, CEO Vattenfall, Frans Timmermans, executive Vice-President for the European Green Deal, European Commission, Ester Baiget, CEO Novozymes, Gitanas Nausėda, President of Lithuania
3.30pm Davos (2.30pm BST): A Conversation with Satya Nadella, CEO of Microsoft
4.30pm Davos (3.30pm BST): Securing Europe, with Andriy Yermak, Head of the Presidential Administration of Ukraine, Belgium's prime minister Alexander De Croo, Prime Minister of Belgium, Stevo Pendarovski, President of North Macedonia, Kajsa Ollongren, Minister of Defence of the Netherlands, Jens Stoltenberg Secretary-General of NATO
5.30pm Davos (4.30pm BST): Preparing for next pandemic, including Bill Gates, Peter Sands, executive director of The Global Fund To Fight Aids, Tuberculosis & Malaria, Francis deSouza, CEO of Illumina, Helen E. Clark of WHO, Paul Kagame, President of Rwanda
https://www.theguardian.com/business/live/2022/may/24/davos-day-2-world-food-crisis-imf-ec-nato-ukraine-pandemic-live-update