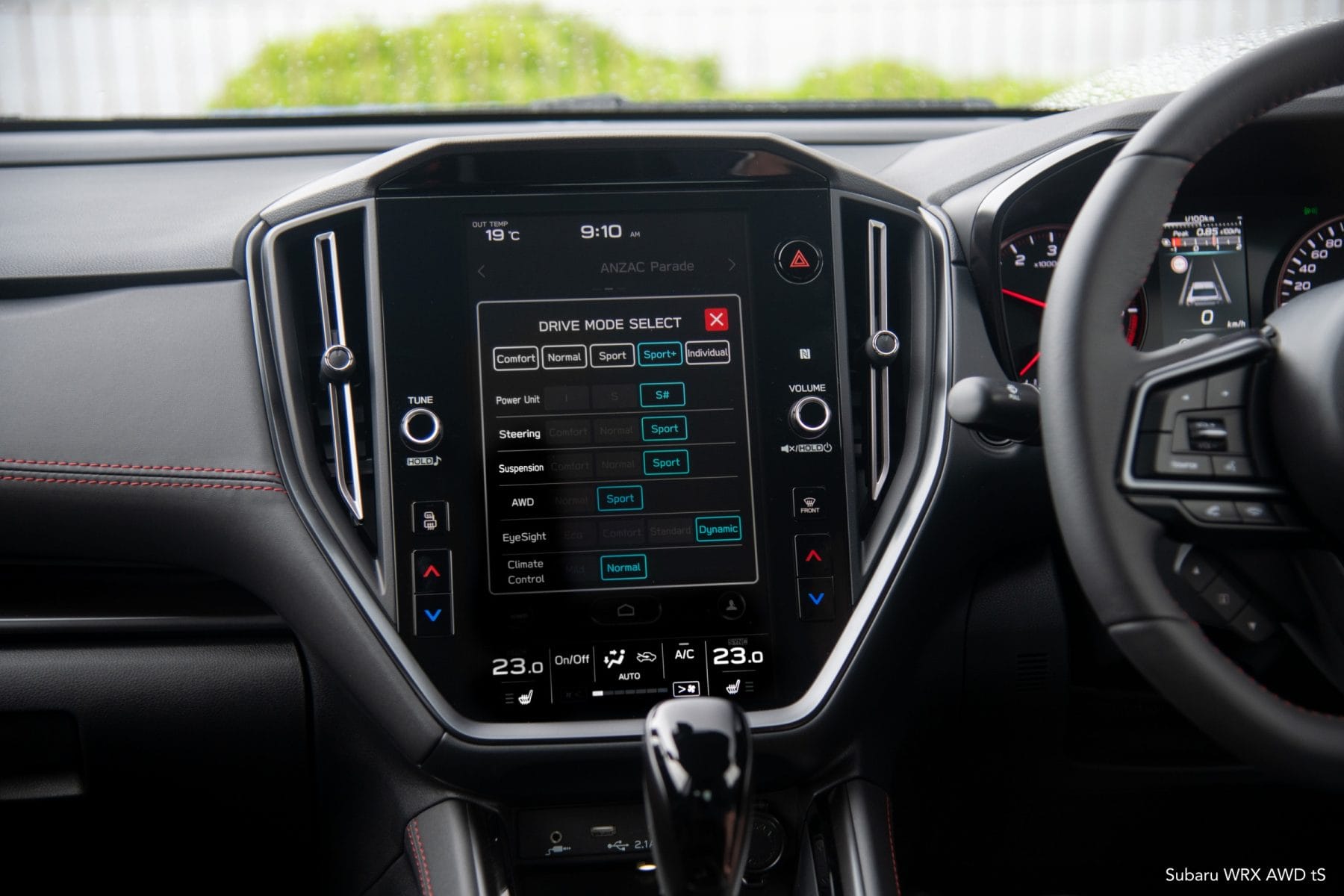 Subaru WRX – The latest WRX has a host of technology that enhances the driving experience and we have been asked to provide more technical details for the enthusiasts. So in the words of Subaru themselves here are the details in full. 
Transmissions
The two transmissions used for all-new Subaru WRX Sedan and Sportswagon were selected for their excellent response and predictability, making them just right for pure driving enjoyment.
Subaru Performance Transmission
The Subaru Performance Transmission is a newly developed Sport Lineartronic gearbox with a variable torque distribution centre differential and sports shifting control delivering 30% faster upshifts and 50% faster downshifts (as compared to the outgoing model), utilising adaptive shift control to perform rev-matching downshifts when braking.
Available on WRX Sedan variants and standard on all WRX Sportswagon variants, the new Subaru Performance Transmission was designed specifically for driving enthusiasts and features a number of unique enhancements befitting a true sports car.
This newly developed Sport Lineartronic gearbox offers automatic downshift blipping control for engaging performance and an 8-speed manual mode with advanced shift logic taking WRX to the next level.
For all-new WRX the transmission's chain and variator assembly were revised to expand the gear ratio coverage range from 6.43 to 6.91, improving overall acceleration and driveability.
The oil pressure control valve body was optimised by adopting a transfer linear solenoid to improve transfer clutch control and reduce vibrations while the primary upshift valve's wear resistance was modified to support the Subaru Performance Transmission's increased shifting speeds.
The secondary and transfer gears were revised for both acceleration and efficiency while the gear and tooth shape were optimised to reduce vibration, cutting gear noise by 17 per cent over the previous model.
The reverse gear ratio was also lowered, increasing the drive force when reversing up an incline.
An electric oil pump is used in the adoption of Auto Stop Start to the Subaru Performance Transmission, bringing enhanced efficiency to the WRX range. As well, a low-viscosity transmission fluid increases efficiency.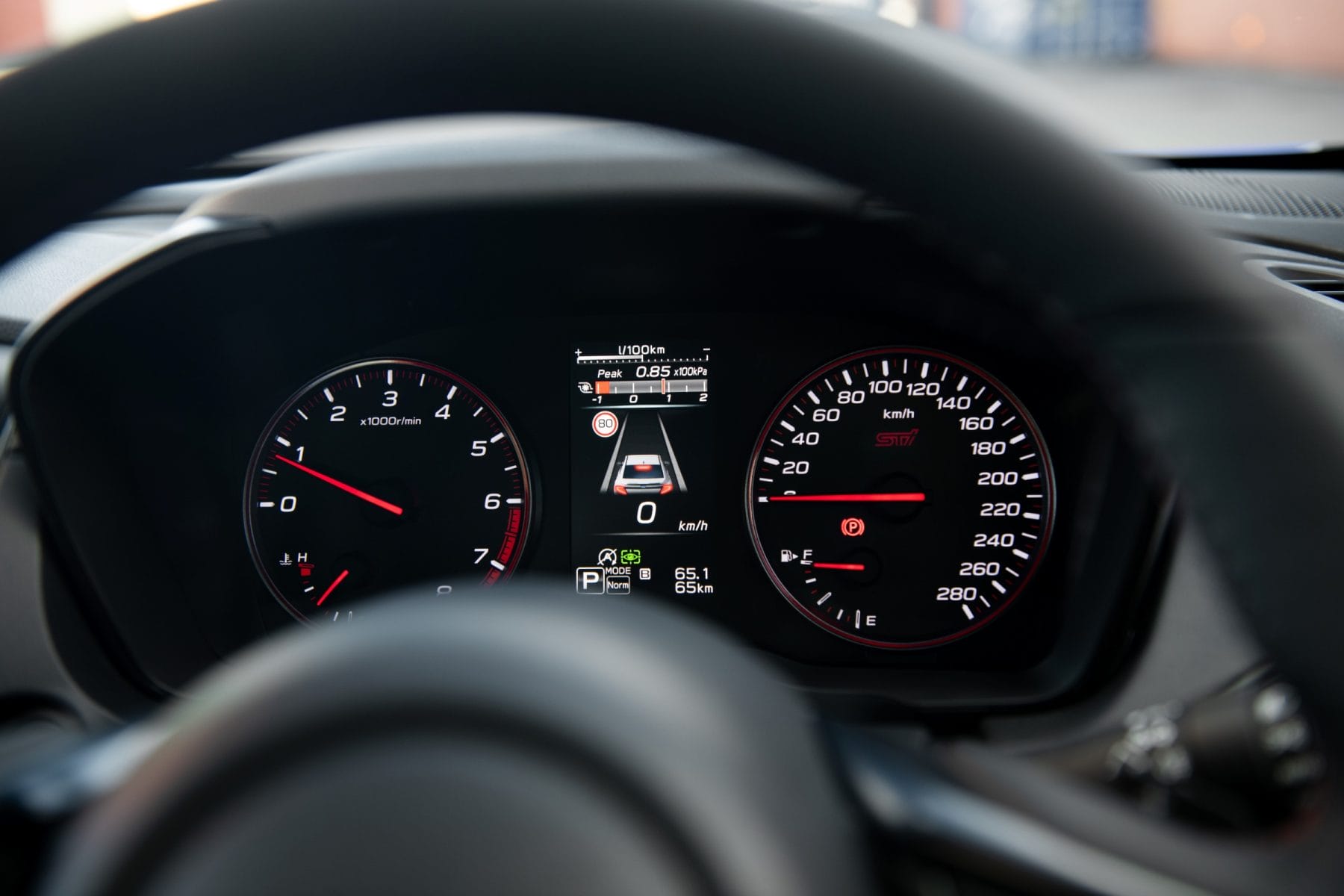 Subaru Intelligent Drive system, or SI-DRIVE,
WRX variants equipped with the Subaru Performance Transmission feature a three-mode Subaru Intelligent Drive system, or SI-DRIVE, which allows drivers to choose between three pre-set drive modes which alter engine and transmission characteristics to suit driver intentions. They are:
Intelligent (I) mode: gives efficiency with a smooth, comfortable drive.
Sports (S) mode: gives a more sports-oriented driving experience with greater throttle response and quicker gear shifting.
Sports Sharp (S#): gives the ultimate sports driving experience, enhancing throttle response and decreasing upshift times.
Sports Shifting Control is a new feature for Subaru and is unique to the Subaru Performance Transmission.
As with the previous WRX, selecting 'S' or 'S#' modes means the transmission adopts an eight-speed step-shift control.
With Sports Shift Control, upshift and downshift speeds are increased with auto-blipping, or rev-matching, now added to downshifts. With Sports Shift Control, downshifts are now up to 50 per cent faster. In S# or Manual (M) modes, upshift speeds are as much as 30 per cent faster than the previous model, making for highly engaging, exhilarating driving.
Auto-blip downshifts have two main benefits: they keep the WRX's engine at the optimal speed to benefit from both engine braking when approaching a corner and help generate maximum power and torque for strong corner exit acceleration.
SI-Drive is also linked to Drive Mode Select (detailed later in this document) – where equipped – which automatically selects the SI-Drive characteristics dependant on the chosen drive mode.
'S' mode lets drivers enjoy the thrills of winding roads and 'S#" mode delivers specialised driving characteristics that are even more aggressive than the previous generation's SI-DRIVE.
New Sports Shift Control in the 'S' and 'S#' modes mean shifting as drivers intended, delivering shifting characteristics similar to those of a manual transmission operated by an experienced driver, even when the gear leaver remains in the 'Drive' range.
The direct acceleration feel and the transmission's sharp, quick shifting achieve desired engine and vehicle speeds. The transmission quickly downshifts to lower gears under braking and is responsive when accelerating, holding high engine speeds in the lower gear range and holding the correct gear to maintain lateral G-force during cornering.
When braking, 'I' and 'Manual' modes operate as before.
The sporty nature of the 'S#' mode is far more noticeable courtesy of faster acceleration responses. These give an even more direct feeling that suits the WRX and can be experienced when acceleration is necessary, such as rapid corner exit, for example.
During normal driving the gears change smoothly, optimising engine efficiency and ensuring smooth, comfortable acceleration, free from 'shift shock'.
Manual transmission
The lightweight six-speed manual transmission, praised for its abilities in the previous generation WRX, has been carried across to the all-new WRX Sedan.
With its gear ratios optimised to achieve acceleration performance and efficiency in line with the car's weight, it was a natural fit for the fifth-generation WRX, albeit with some minor revisions to further refine its driver engagement and performance car offerings.
The teeth on the second and third driven gears are now honed with a grindstone rather than shaved with a shaving cutter, for example, for greater precision and a reduction in vibration and noise while improving the transmission's dynamic feel.
Driving stability has been improved by increasing the spring constant of the transmission's mounting rubber and damping sheets have been adopted to reduce vibration and noise, at the same time improving the transmission's dynamic quality.
All-Wheel Drive (AWD) system
AWD and Manual Transmission
WRX variants equipped with the manual transmission utilise a fully mechanical AWD system devoid of electronic control or adjustment. This system features a centre differential with a viscous-coupled limited-slip differential (LSD) with torque split between the front and rear axles based solely on the amount of traction available.
AWD and Subaru Performance Transmission
WRX variants equipped with the Subaru Performance Transmission feature a Variable Torque Distribution (VTD) AWD system.
This system gives a nominal 45:55 front/rear torque split ratio but, using the information provided by numerous vehicle sensors, can control and adjust the amount of torque sent to either the front or rear axles as demanded by the Transmission Control Module.
Rather than simply relying on traction variance between the front and rear axles, the system can alter the torque split to enhance handling performance.
All WRX variants – with the exception of the WRX AWD tS sedan and WRX Sportswagon AWD tS – equipped with the Subaru Performance Transmission feature a single-mode VTD system which prioritises traction for increased stability and overall sporty performance.
WRX AWD tS sedan and WRX Sportswagon AWD tS move to the next level with a two-mode VTD system. Using Drive Mode Select, drivers can choose between 'Normal' and 'Sport' modes.
'Normal' mode features the same AWD characteristics as the other variants while 'Sport' mode restricts the amount of torque transmitted to the front axle by the LSD, reducing understeer and improving turning performance for a more engaging driving experience.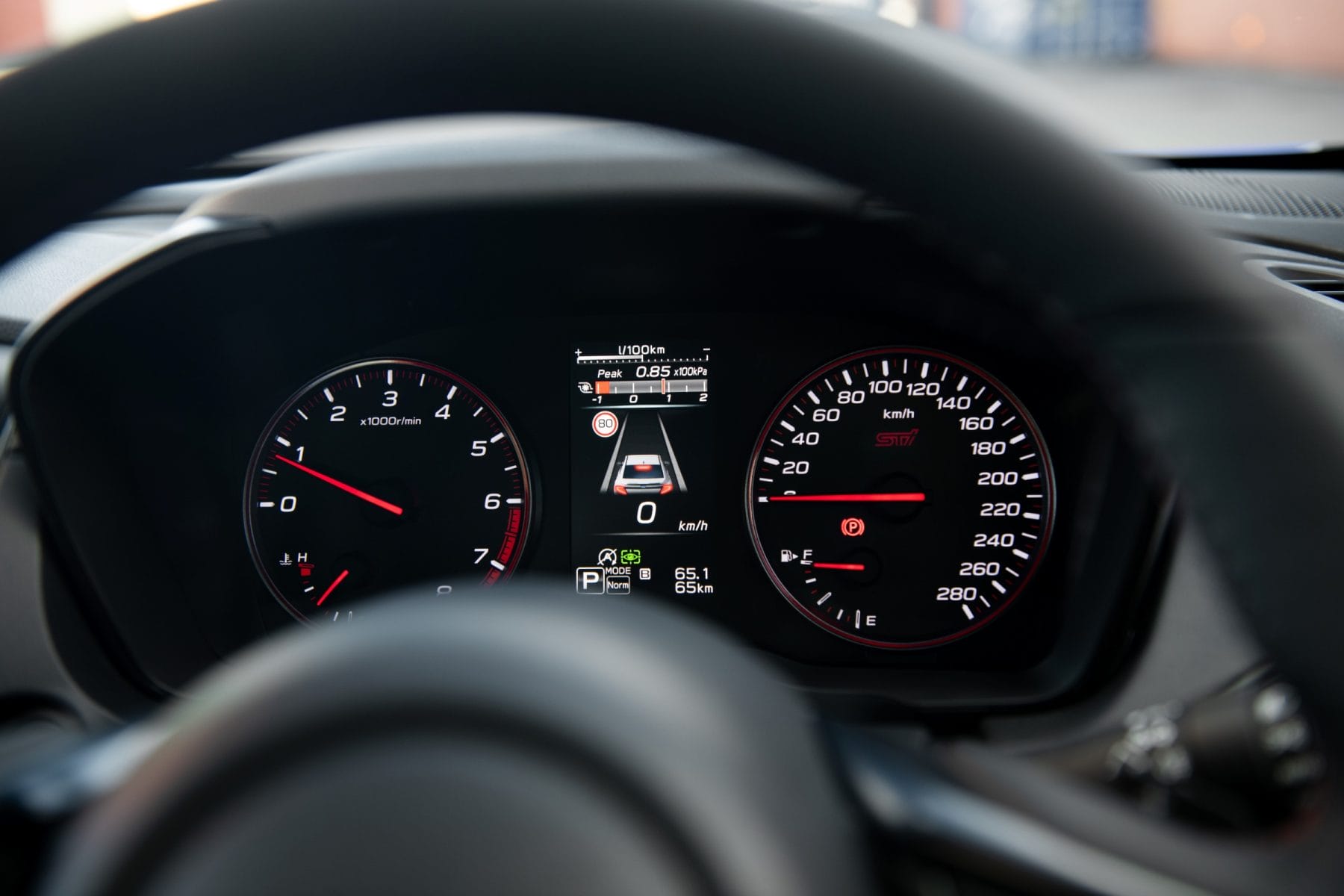 Dual-pinion Electric Power Steering
The use of dual-pinion electric power steering instead of a single-pinion system has allowed Subaru's engineers to design a steering system that combines sportiness with a high-quality feel that provides stress-free driving.
Rather than using a single-pinion design that must manage both driver input and electric power steering input, the dual-pinion design utilises separate shafts for the motor and driver steering operations with each acting individually on the steering rack.
By separating the resistance applied to the motor input shaft and reducing friction on the drive operation shaft, the dual-pinion design brings smoother, more linear torque transfer while delivering a direct, natural steering feel with no delay in response times.
On variants equipped with Drive Mode Select, the power steering input force is adjustable to three levels, each with different steering weight characteristics.
Drivers can select between Comfort, Normal and Sport, each with progressively heavier steering response.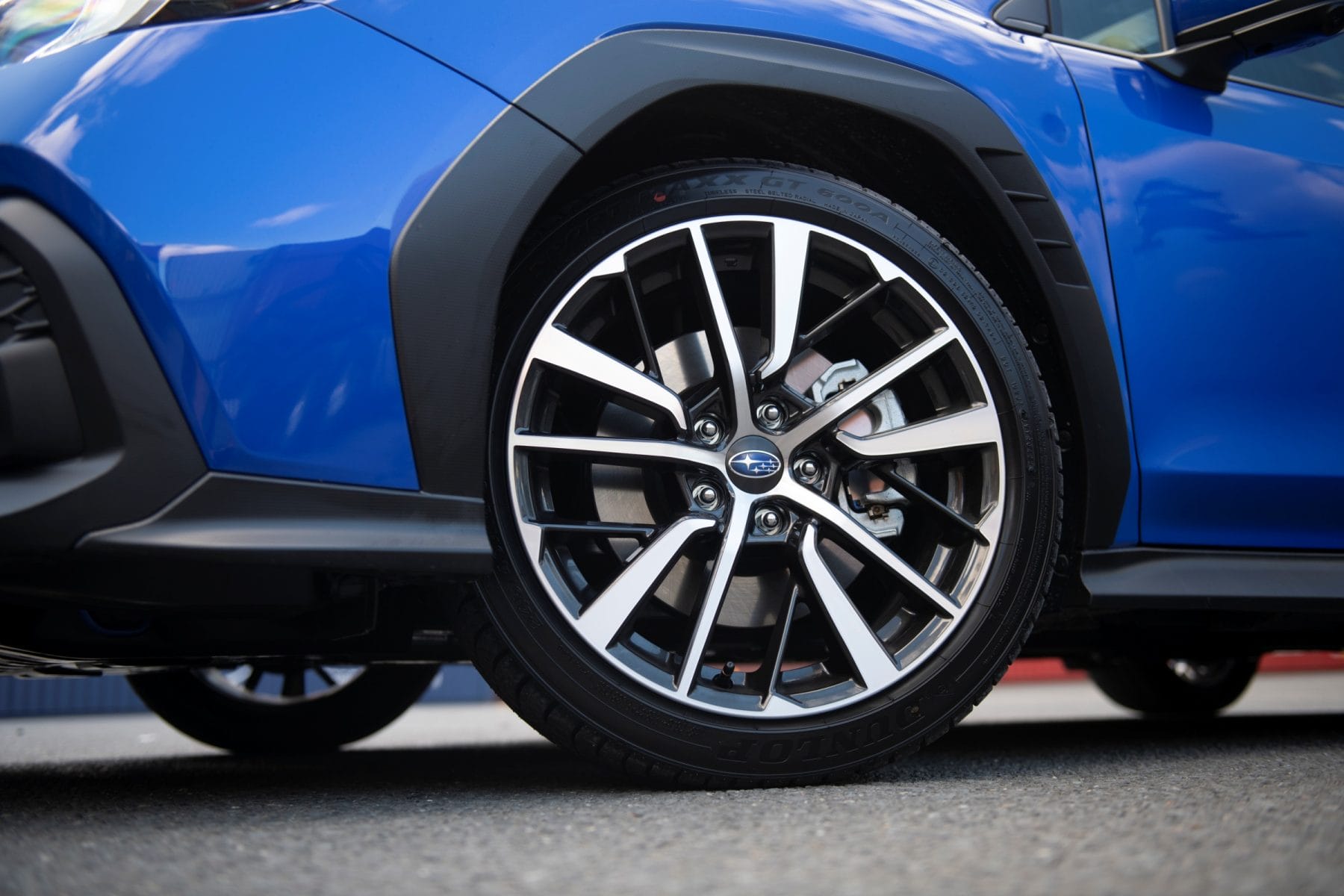 Brakes
All-new Subaru WRX Sedan and Sportswagon have ventilated 316mm front disc brakes clamped by two-pot sliding calipers. For this all-new WRX, rotor thickness has been reduced from 30mm to 28mm to lower unsprung weight.
At the rear, single-pot calipers clamp 290mm ventilated brake rotors on manual transmission cars while 300mm vented rotors are used for cars fitted with the Subaru Performance Transmission.
Manual transmission cars feature a manual parking brake and a vacuum brake booster and those with Subaru Performance Transmission have an Electronic Brake Booster (EBB) for improved responsiveness during Pre-Collision Braking and when used with Adaptive Cruise Control. Subaru Performance Transmission equipped variants feature an electronic parking brake.
The pedal stroke has also been optimised so drivers can enjoy the braking effect in proportion to the amount of pedal pressure applied and be confident in the high controllability given by the rigid operating force.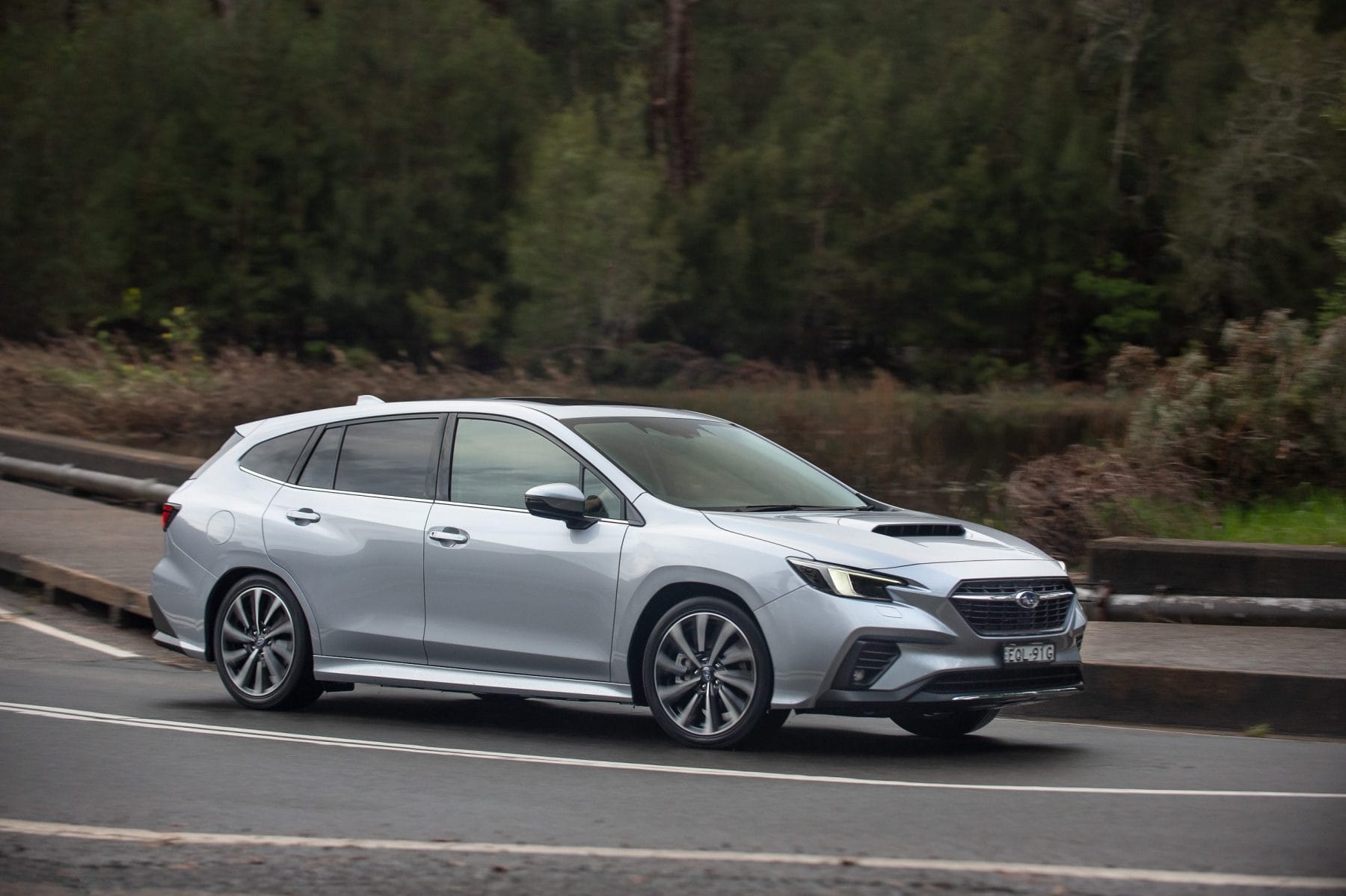 Suspension
True to its motorsport heritage, all-new WRX uses a fully independent suspension layout with MacPherson-style struts at the front and double rear wishbones.
These designs were chosen to optimise the car's handling characteristics, the chosen design giving high performance levels in the areas of driving stability, ride comfort and quietness.
The high body rigidity, which is a legacy of the sophisticated new Subaru Global Platform, has been leveraged for the suspension and has helped with the development of a geometry that makes the suspension move in a smooth and very predictable manner in response to road surface input.
Follow-up performance on varying road surfaces has been improved, ensuring excellent vehicle stability is delivered with minimal changes in tyre adhesion when turning, accelerating or braking.
Geometry optimisation has been achieved by increasing the suspension stroke length by approximately five per cent at the front and 20 per cent at the rear to reduce impact and vibration on the body when driving on uneven road surfaces.
Surface changes are absorbed by the longer suspension stroke, adopted to increase handling stability and deliver greater driver control. Additionally, occupants get a comfortable ride, even when the rear seat is occupied or luggage is being carried.
For this latest-generation WRX the front suspension steering feel and response have been improved by reducing the mass offset of the front hub assembly and adopting a highly rigid front crossmember.
At the back the stabiliser bar mounting point has been moved from the highly rigid rear subframe and is now mounted directly to the body, resulting in improved driving stability and ride comfort by limiting lateral vibrations in the direction of the roll movement.
Electronic Control Damping System
The ZF-manufactured Electronic Control Damper System is new for Subaru and is exclusive to WRX AWD tS Sedan and Sportswagon models.
The dampers use a solenoid valve at the base of each strut to alter the damping characteristics of the shock absorbers based on vehicle and damper acceleration data supplied to the control unit in real time.
The system computes the data and determines the ideal damping force needed to maintain a consistent and neutral vehicle posture with the result being increased comfort and handling with reduced body roll when cornering and less fore and aft pitching under hard braking or acceleration.
Through Drive Mode Select drivers can choose between three damper settings they are:
Comfort mode: reduces damping forces for a more relaxed, softer ride on highways and flat, open roads.
Normal mode: gives a compromise between increased handling and comfort.
Sport mode: increases damping force characteristics and prioritises handling and vehicle stability in tight cornering and spirited driving scenarios.
Vehicle Dynamics Control (VDC)
The Vehicle Dynamics Control (VDC) fitted to this latest-generation Subaru WRX has been further advanced with new 'TRACK Mode', the system adapted to allow drivers to switch between three modes to control the VDC and Traction Control System (TCS) with the 'VDC OFF' switch.
VDC has three driver-selectable modes:
NORMAL Mode: various sensors constantly monitor vehicle operating conditions to control skidding and wheelspin, assisting drivers achieve ideal vehicle operation.
TRACK Mode: delays VDC intervention and cancels TCS, expanding the vehicle's control range for drivers.
VDC OFF Mode: switches off both VDC and TCS, giving drivers full vehicle control without electronic intervention.

Drive Mode Select
Available on tS variants, this function changes all-new WRX's driving characteristics with the use of a single switch, allowing it to be switched between four settings ranging from sports car to premium car, matching not only individual driver preferences but also varying driving situations.
Those settings are:
Comfort: ride quality and comfort on a premium car level.
Normal: the optimal standard mode for Subaru EyeSight® and aimed to achieve stress-free driving.
Sport: power unit control is changed for sporty driving but also focuses on ride comfort.
Sport+: sports driving characteristics – for when all-new WRX needs to be driven like a sports car.
Individual mode, which allows drivers to customise the settings of each unit according to individual preferences, is also available.
All-new WRX tS variants feature enhanced VTD-AWD (Variable Torque Distribution – All-Wheel-Drive) for sporty driving. With this system, the 'Sport+' setting includes a new AWD control which maintains the VTD rear-wheel bias driving force distribution so drivers can enjoy cornering with high 'turnability'.
It does so by restricting the centre differential's limited-slip intervention to maintain high cornering force and distributing the power with weighting biased towards the rear wheels.
https://www.anyauto.com.au/dynamic-transmission-and-suspension-for-subaru-wrx/?utm_source=rss&utm_medium=rss&utm_campaign=dynamic-transmission-and-suspension-for-subaru-wrx