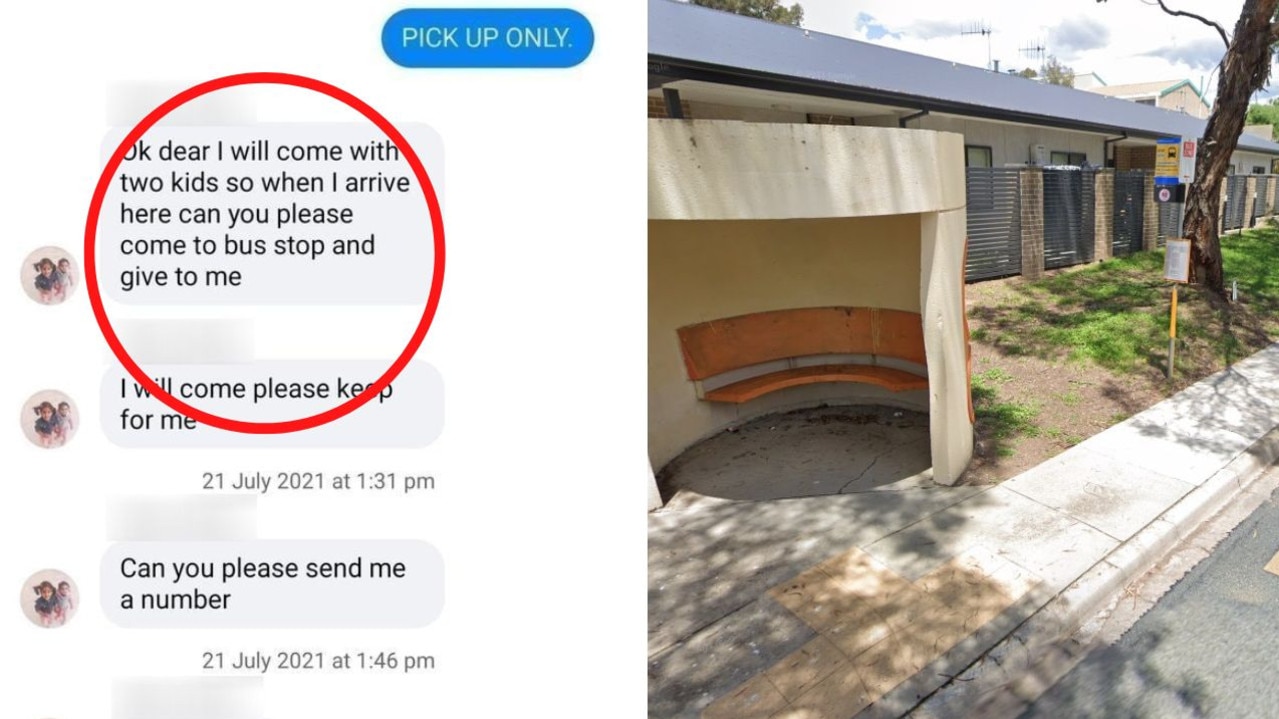 A Facebook Marketplace photographer's tenacity may well have saved her from being kidnapped by strangers and trafficked just meters from her workplace.
Mellie Taylor was unloading free fall and winter decor using a platform when one would-be buyer started rubbing her the wrong way.
Although the woman indicated in her ad that the items were "pick-up only", the buyer, who identified herself as a mother of two young children, insisted on meeting her at a more convenient location.
Screenshots of the exchange, shared with news.com.au, show the buyer initially asked for the decor to be delivered, citing "I don't have a car". [and] it's just an eight-minute drive."
Ms Taylor, from Canberra, reminded her it was "collection only" and her irritation was compounded when the woman offered to pay $5 for free delivery.
"JUST TAKE IT," Mrs. Taylor reminded her again.
However, the woman still refused to collect the items from the pick-up point and asked if Ms Taylor would meet her at the bus stop.
"I'm coming save it for me," she asked in another message, before asking Ms Taylor to "send me a number".
Literally 15 minutes later, she changed her mind and told her, "I'm not coming."
About two hours later, she changed her mind again, saying: "Hi honey, I'll be right over" and asking for Ms Taylor's number because she claimed she had no internet.
She claimed she would not be able to wait because she planned to bring her two children by bus.
"Bus pacing will show me 24 minutes away," she wrote.
Ms. Taylor was not at all convinced by the woman's story and firmly told her that she would not be coming on the bus.
"I don't meet you at the bus stop. I already left. This is a business," Ms. Taylor wrote.
Still somewhat confused, the woman asked if the gathering place was a house or a business.
When told a second time it was a store, she asked, "How do I get there?"
Ms Taylor, standing her ground, told her that if she wanted to get the goods there would be other people in the shop before 4.30pm.
The woman continued to plead her case, telling Ms Taylor that she had a two-year-old and a six-month-old and "that's why".
"Dear I'm coming please wait for me ok I'm at the bus stop ok," she wrote, before changing her story again to say she wouldn't come because her baby was crying.
Ms. Taylor shared her experience with other Marketplace users and was quickly informed that the woman's behavior was consistent with common human trafficking tactics.
"After several people pointed out to me that this was a known method of human trafficking, I felt sick to my stomach," she told news.com.au.
"I was really glad I stuck to just picking things up because I had colleagues there.
"Getting close to such a dangerous situation makes you second-guess how safe you really are."
Ms. Taylor was relieved that her stubbornness had paid off when she needed it most.
She added that it was "ridiculous" how hard the woman pushed to meet at the bus stop and it was fortunate that her boss was happy that she "refuses to make an exception".
"Thank God I can be as stubborn as I am," she said.
After the ordeal, Ms. Taylor was extra careful about who she deals with on Marketplace.
"Now I'm wary of posting anything on Marketplace, and if I were to come across it again, I'd know right away not to entertain those on the other end of the posts," she said.
Originally published as A photographer's harrowing ordeal with human trafficking prompts a Facebook Marketplace warning
https://www.cairnspost.com.au/news/national/photographers-scary-trafficking-ordeal-sparks-facebook-marketplace-warning/news-story/99502bd74d650aeddd6d83f44405b93f