Review
Forward Water Technologies (TSXV:FWTC) helps lithium mining companies and other industries reduce their environmental impact with an innovative wastewater treatment technology that allows industrial plants to reduce liquid waste by up to 95 percent.
Environmental, social and governance (ESG) ratings continue to be a key business strategy for organizations as they influence public perception and partnership opportunities. For water-intensive industries such as mining, sustainable wastewater management is critical.
Transformative wastewater treatment technologies are critical to both business and the world's population. In fact, unless sufficient progress is made, UNICEF and WHO an estimated 1.6 billion people will lack access to safe drinking water and 2.8 billion people will lack access to safe sanitation and hygiene by 2030. Water treatment technologies can disrupt current trends and improve global access to safe drinking water.
Thanks to Forward Osmosis (FO) technology, Forward Water provides an environmentally friendly alternative to traditional wastewater disposal. Traditionally, wastewater disposal requires the transportation of untreated wastewater to deep disposal wells or high-intensity heat treatment. Forward Water's FO system is installed at the customer's site and the waste water is treated to reduce the volume of waste and obtain valuable clean water for reuse in the production process. A significantly reduced volume of wastewater is then transported and disposed of, which significantly saves transportation and disposal costs.
FO technology targets three massive sectors: industrial wastewater, mining and food production. FO Forward Water's unique and patented technology provides high-speed water extraction in a continuous, low-energy process. The process reduces waste and recovers up to 95 percent of water ready for reuse.
Water ahead Li-FO™ technology ideal for mining lithium brine operations, allowing mines to "fine-tune" brine sources to increase concentration by up to 20 times. This results in improved recovery and makes low concentration brines economically viable. Forward Water is now embarking on early development testing project to further evaluate and improve the viability of the technology in lithium mining.
Howie Honeyman, CEO, recently explained how the company's technology can improve the performance of the lithium mining industry. "Much of the lithium mined around the world today comes from underground aquifers that store lithium brine. The problem is that the lithium is surrounded by other minerals and salts, requiring chemical "tweezers" to pull that lithium out. What we can do is in several places in that process, we can concentrate that stream of water that contains lithium, which makes it a lot easier for those miners to process the volumes that they need to extract that lithium."
An experienced management team with technical expertise leads the company to further improve and deploy its technology. The team includes specialists in the field of materials science, chemistry and mechanical engineering. Additional experts in corporate administration and finance complement the management team to guide the company towards its goals.
Highlights of the campaign
Forward Water Technologies has developed a proprietary wastewater treatment technology that reduces wastewater volume and improves reusability in a variety of industries, including mining and food processing.
The company's Forward Osmosis technology disrupts the traditional method of wastewater disposal by reducing the amount of waste that must be transported and disposed of, directly reducing costs.
FO technology also improves water reuse by up to 95 percent, reducing the cost of importing water for industrial processes.
Forward Water Technologies' Li-FO™ process is applied to the lithium mining sector by increasing concentration by up to 20 times, allowing organizations to improve mining efficiency.
The company is partnering with a lithium brine mining operation to evaluate its Li-FO™ technology.
An experienced management team with relevant technical expertise leads the company to improve and market its technology.
Key projects
Water purification based on osmosis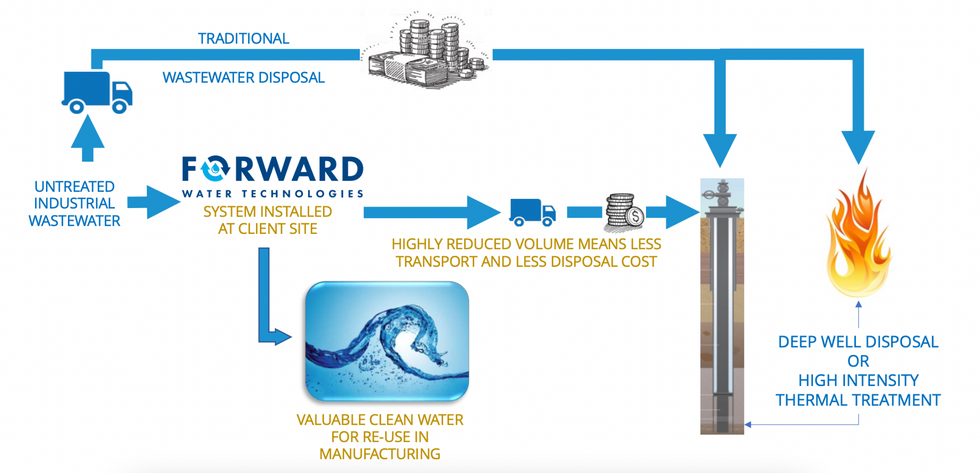 Forward osmosis (FO) is a natural process in which water is drawn spontaneously through a membrane when one solution has a higher salt concentration than another. The difference in salinity, known as the osmotic gradient, creates a low-energy water treatment process.
Forward Water Technologies has used a natural process to innovate its patented three-stage FO technology, which reduces wastewater by 95 percent and recovers 95 percent of water.
Highlights of the project:
Patented three-step process: Forward Water Technologies' FO process provides low-energy, high-speed water extraction unique three-stage design:

Extraction of water: Water is drawn through the FO membrane into the salt extraction solution. The combination of a proprietary extraction solution and a unique membrane "locks" the extraction solution on one side of the membrane, creating a true closed-loop process.
Separation of water and salt: The switchable water salt (SWS) then achieves the water-salt separation when a low temperature is applied, and it changes from a liquid to a gas. When the gas leaves the solution, pure water remains. The energy required for this step is often found in many plants in the form of waste heat.
Overconcentration of salt: Finally, as the gas leaves the solution, it is captured by the closed-loop system and passively cooled, forcing it back into liquid form as SWS. The SWS liquid is collected and recycled back to the front of the membranes in the water extraction step, creating a continuous process.

Widely applicable water treatment: The low-energy process allows organizations in several industries to improve water regeneration and reduce wastewater by up to 95 percent. Additionally, the process allows for up to a 20-fold increase in concentration, making the process suitable for lithium brine extraction and other potential applications.
Significant cost savings: The primary value of the FO process is the reduction of wastewater transportation and disposal costs. With this process in place, more water is regenerated for reuse in production, reducing the raw volume of wastewater that must be transported and disposed of.
Management team
Howie Honeyman, PhD – Chief Executive Officer and President
Dr. Howie Honeyman has 20 years of experience commercializing new technologies at Xerox, Cabot Corp., E Ink, Natrix Separations and as the former CTO of GreenCentre Canada. Commercialized high-throughput membranes for bioprocessing as SVP of Natrix Separations, which was recently acquired by Millipore-Sigma. Since 2015, Honeyman has been leading Forward Water to become a leading wastewater treatment solution. Honeyman is also an inventor on more than 50 US patents and holds a PhD in chemistry from the University of Toronto.
Michael Willetts is Chief Financial Officer
Michael Willetts has over 25 years of experience in financial management positions, primarily in manufacturing, from large multinational companies to start-ups, both public and private. He previously worked as an engineer in the automotive industry before going into finance at Ford Motor Company. Willetts gradually took on larger financial positions at several international automotive suppliers (Textron, GKN, DSM) and Canadian manufacturers (Armtec, Stronach International, AirBoss of America). Willetts currently provides fractional CFO services through WD Numeric Corporate Services in Industrial, SaaS and Hemp. Willetts graduated from the University of Windsor with a Bachelor of Science, BComm and Master of Business Administration.
Wayne Madever – Ph.D., Ph.D. – Chief Operating Officer
Dr. Wayne Maddever received his Ph.D. in Materials Science from the University of Toronto. Since 1985, he has held senior management positions in technology-based businesses in start-up, turnaround or acquisition situations where his change management skills have resulted in significant success in the commercialization of new technologies. His experience in both private and public companies at home and abroad spans a wide range of industries, including bio and advanced materials manufacturing, precision manufacturing, recycling, waste-to-energy and medical devices. He holds a number of patents in several fields. He is a fellow of the Canadian Academy of Engineering. In addition to his duties as Chief Operating Officer of Forward Water, he is currently the Portfolio Manager of Bioindustrial Innovation Canada, one of Forward Water's major shareholders.
Grant Thornley is Vice President of Engineering Solutions Sales
Grant Thornley is a business strategist with over 25 years of experience. He has designed and developed international water/wastewater markets through growth-hacking innovation and processes combined with product development and positioning, data analytics and accelerating go-to-market strategies through alliances and partnerships. With experience in chemical, mechanical and biological treatment processes, as well as the development of hundreds of municipal and industrial applications, Thornley brings a knowledge-to-action approach to help customers solve problems and realize new opportunities in water reuse, energy conservation and CO2 reduction.
Leonard Seed, P.Eng. – director of engineering and operation
Leonard Seed has over 18 years of experience in the development and commercialization of new water and wastewater treatment technologies, primarily in a start-up environment. Sid is named as an inventor on more than seven patents and is the author of several publications. Sid is a professional engineer and holds a master's degree in environmental engineering from the University of Guelph. Leonard is an inventor on seven US patents and is a faculty member at Mohawk College teaching aspects of water treatment technology and conducting research on direct osmosis.
Philip Jessup, PhD – Executive Director of Research
Dr. Philip Jessup is Professor and Chair of the Canada Chair in Green Chemistry in the Faculty of Chemistry at King's University in Kingston, Ontario. He is also the Technical Director of GreenCentre Canada and Executive Director of Research at Forward Water Technologies. After his Ph.D. (British Columbia, 1991) and post-graduate studies (Toronto, 1992), he became a contract researcher in Japan, working for R. Noyori (Nobel Prize 2001). As a professor at the University of California, Davis (1996-2003), and since then at Queen's, he studied green solvents and carbon dioxide chemistry. Awards include NSERC Polanyi Award (2008), Killam Research Fellowship (2010), Canadian Green Chemistry & Engineering Award (2012), Eni Award (2013), Royal Society of Canada Fellowship (2013), Canada Research Chair Tier 1 (with 2013 to 2020) and the NSERC Brockhouse Award (2019). He is the chairman of the magazine's editorial board green chemistry, chaired three international conferences and helped establish GreenCentre Canada, a national center of excellence for the commercialization of green chemistry technologies. Forward Water is a spin-off company based on Dr. Jessup's Switched Solvents.
https://investingnews.com/forward-water-technologies/