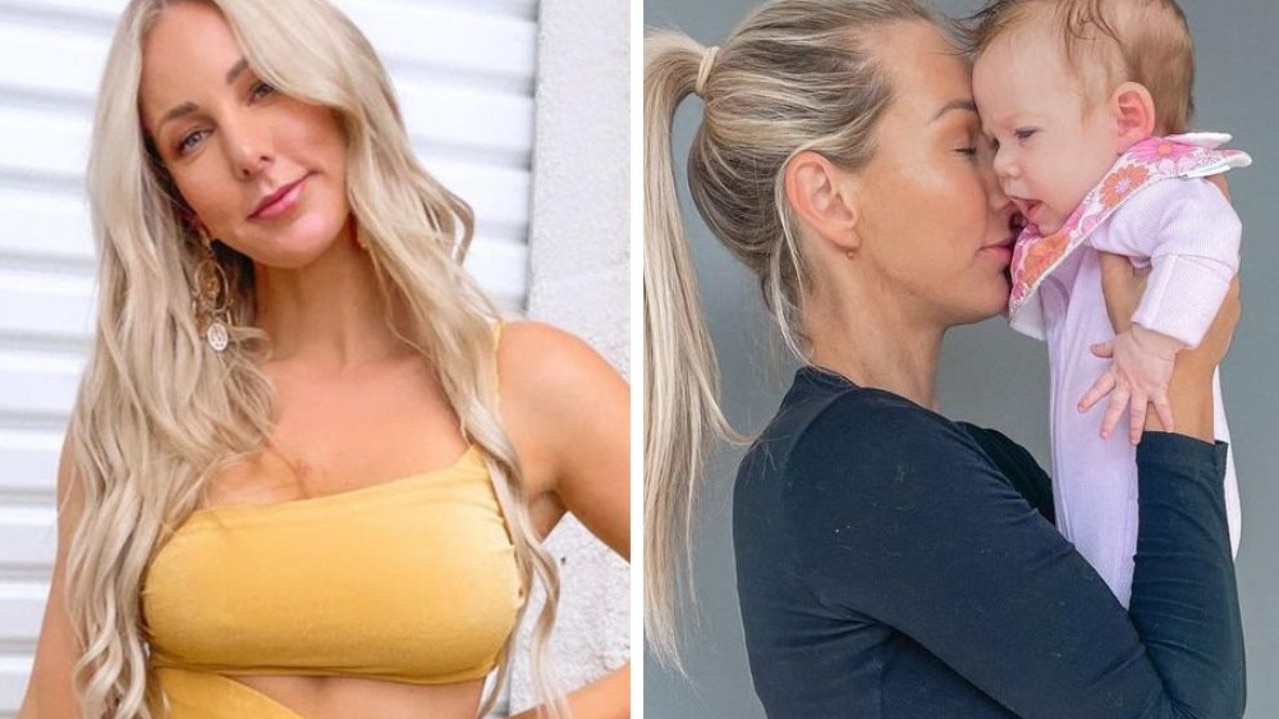 Ashy Bynes has clapped back after she was "judged" for leaving her four-month-old baby with her husband for 48 hours while she traveled on the interstate.
A Gold Coast fitness influencer has hit back at the recent criticism she received from followers after going on a girl's weekend.
The 33-year-old, who has son Taj, 6, and daughter Tala with husband Stephen Evans, said she was disappointed she had to explain her decision, noting that men never face the same harsh criticism.
In the lengthy message, which was accompanied by a series of pictures she said were taken moments before her departure, Ashe asked others to take their time with "judgment".
"Moments before I bawled my eyes out at the airport, leaving my baby behind," she wrote, describing the situation as feeling like a "missing arm."
"I know I've been judged by leaving her for 48 hours, BUT hear me out.
"I LOVE my baby, but I also LOVE my friends. I LOVE my baby, but I also love travel and variety. I LOVE my baby, but I also like to do fun things just for myself."
Ashe went on to explain that it's also been great for Steven to have "bond time with the kids" while she enjoys "knowing they're happy and safe."
She then shared a message she received that morning asking how she could leave her husband and child for so long, calling it "so wrong".
But Ashe argued that it was "wrong" to think that children should not be left with their parents.
"I think it's wrong for other women to think they're sending that message," she said.
"And why would I have children with someone I don't trust?"
The mum then shared a confused emoji, writing: 'Is it wrong to leave your children with their father?'
To round off the round of applause, Ashi said it was telling that the men never got the same feedback from others about their parenting decisions, urging others to be kinder to each other.
"When dad is gone for 48 hours, he's not even questioned," she said.
"Let's be nice to each other and not show or send hate to another mom doing her thing.
"Maybe you don't like it and that's fine, we all do exactly what we like."
The post, which Esha says she shared to spark conversation, clearly resonated with her 1 million followers, who left hundreds of comments.
"In one's mind, it may seem inconceivable that Tala's very capable father would hold her for 48 hours. I agree, if it were the other way around, no one would bat an eye," wrote one.
"God forbid you leave your child with the father," another sneered sarcastically.
"How dare you leave your child with your father, your husband for a short trip. ‍️ The audacity of people to even comment on this. You're right, no one asks my father when he's leaving, someone else agreed.
Others said they were "shocked" by the criticism, with some calling it "wild", "disgraceful" and "stupid".
"This is why moms struggle so much with guilt! There is absolutely nothing wrong with being away from your child for a couple of days, God forbid they stay with the OTHER parent," said one woman.
"It's ridiculous that you have to justify it at all. Steve is her father, why is he less capable of taking care of her than you are?" asked another.
Esha's followers are notorious for giving mom a hard time lately expressing unsolicited opinions about her youngest child's name when she was born in June.
They also pounced on her when she announced that she was pregnant with Tala, criticizing her "bump" photo for the size of her stomach.
"Today is 2021. I thought mommy shaming was a thing of the past, I felt it when I was pregnant with Taj 7 years ago, but no," Ashi wrote back.
"Does my mom hate me anymore because of the size of my belly? As if there is a 'correct' or 'normal' size?'
Ashe said that everyone's body is different, and women "show difference and hold a baby in different ways."
Originally published as The mother was ashamed to leave her 4-month-old baby with her husband for 48 hours
https://www.dailytelegraph.com.au/lifestyle/parenting/mum-shamed-leaving-4monthold-baby-with-husband-for-48-hours/news-story/01bd54c8b8f8a8bffceb46c77cc4fea2