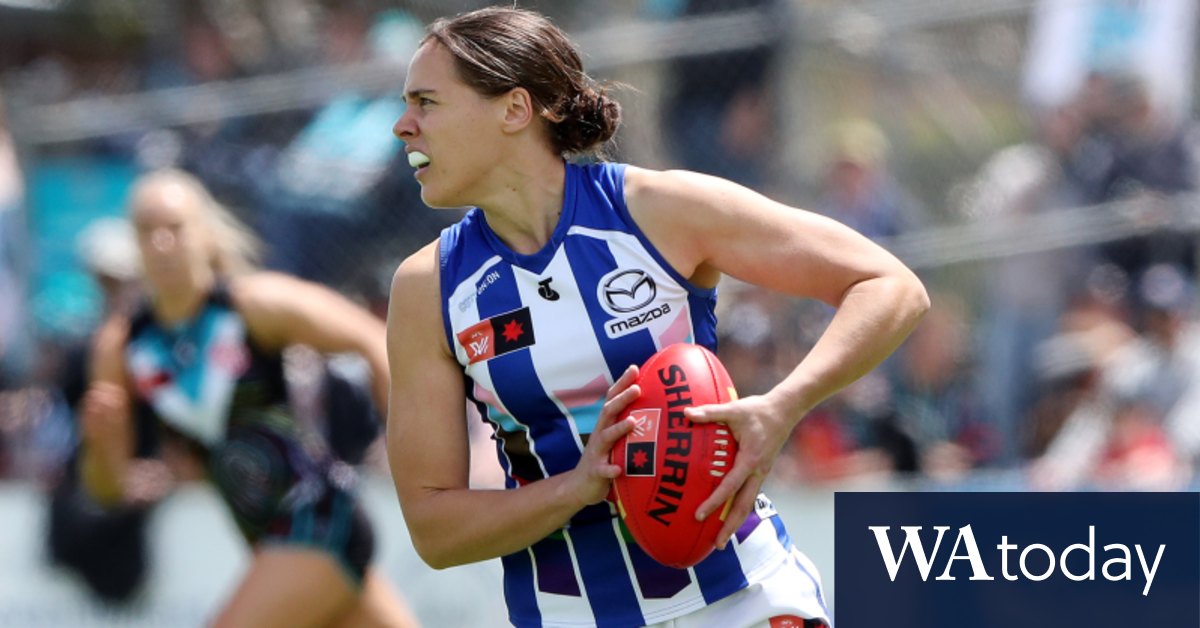 THE BEST
Port Adelaide: Foley, Ewings, Yorston, Bogue, Phillips
North Melbourne: Garner, Kearney, Riddell, Abbatangelo, Brown
The Bombers keep Sydney winless in a close battle of expansion teams
Expanding Essendon have made it one win from eight after overcoming a lively Sydney side with a four-point victory in the first installment of the Pride Round doubleheader at Ikon Park on Saturday afternoon.
The Swans recorded their highest score of 44 points after a hard-fought game and showed promising signs, but remain winless as Essendon moved onto the winners' list and climbed the ladder, beating Hawthorn and Carlton.
Essendon were 10 points down at the main change as Sydney applied strong forward pressure and found more routes to goal. However, two third term goals from Sophie Alexander and Kat Phillips brought them back as the Swans appeared to run out of steam.
Senior coach Natalie Wood said she was impressed with her side's ability to get the game back on its terms in the second half, especially after the big loss to Brisbane two weeks ago.
"We focused on responding in the second half and that's probably a step forward for us to be able to, I think, get some momentum back and really get ourselves back into the game in the third quarter," Wood said.
"As an expansion team, you're always trying to build. We talked about the break [that] it was a really big opportunity for us to build … I'm very proud of the group and I think they understand it really well [of] now, eight weeks in, getting four points in the AFLW is really tough.
"Getting four points in the AFLW is really tough."

Essendon coach Natalie Wood
"And, you know, getting a tough game today, the girls have to celebrate that and really enjoy it because it's hard to get four points. I'm very impressed with the group."
Essendon have a good percentage in the last two rounds, but face favorites Melbourne at Casey Fields next weekend, then Port Adelaide at Alberton Oval, while Sydney play Fremantle at Henson Park and then Geelong at GMHBA Stadium .
Essendon: 3.1 3.3 6.6 7.6 (48)
Sydney: 3.0 5.1 5.2 7.2 (44)
GOALS
Essendon: Bannister 2, Phillips 2, Alexander 2, Toogood
Sydney: Hamilton 2, Dargan 2, Hurley 2, Harrell
THE BEST
Essendon: Alexander, Toogood, Cain, Clarke, Wales
Sydney: Lochland, Hurley, Hamilton, Sheppard, Szigeti
Young stars win in Geelong over West Coast
In Geelong's nine-point win over West Coast, the youngsters on the park shone brightly, particularly 19-year-old Georgie Prespakis, who returned from a two-match suspension for a dump tackle with a prolific performance.
The Cats midfielder made 21 disposals, 11 tackles and eight clearances at Ikon Park on Saturday. However, despite a great season and a high number of votes from the coaches, her suspension eliminates her from contention for the W Award.
Prespakis were joined in dominating midfield by Nina Morrison, who finished with 19 disposals and four tackles despite having surgery on an open sprained finger earlier in the week, and Darcy Moloney, who was strong in the contest.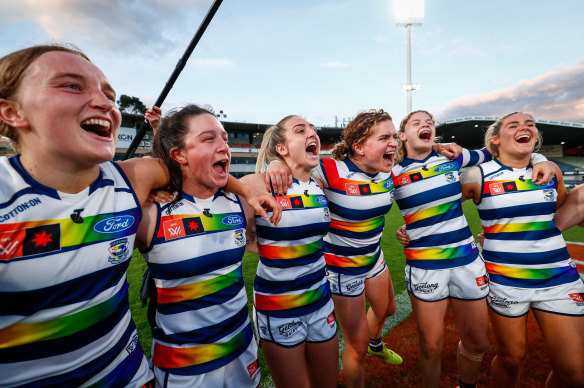 For West Coast, 17-year-old Ella Roberts scored the first goal and continued to show the development of her game in the forward line.
Eagles teenager Charlotte Thomas played a key role in defence, putting pressure on the Cats' attacking side and helping Geelong go from 10 shots behind to four goals.
Veterans Emma Swanson (24 disposals) and Dana Hooker (20 disposals) were also influential.
Sad news: Greater Western Sydney young gun Emily Pease will miss the rest of the season after tearing her ACL in training during the week, the club confirmed on Saturday.
Giants coach Cam Bernasconi said it was really disappointing news.
"She had a great season and we will miss her for the rest of the year. We will support Em in every way we can and we know this is just a small setback in a long and successful AFLW career."
Geelong: 1.4 1.6 4.8 4.10 (34)
West Coast: 1.0 1.0 3.1 4.1 (25)
GOALS
Geelong: Crockett-Grylls, Moloney, Shire, Scott
West Coast: Roberts, Schmidt, Hooker, Humphreys
THE BEST
Geelong: Prespakis, Moloney, Morrison, Fuller, McDonald,
West Coast: Roberts, Swenson, Hooker, Thomas, McCarthy
https://www.watoday.com.au/sport/afl/garner-masterclass-a-boost-for-roos-bombers-keep-sydney-winless-prespakis-shines-in-return-game-20221015-p5bq15.html?ref=rss&utm_medium=rss&utm_source=rss_feed