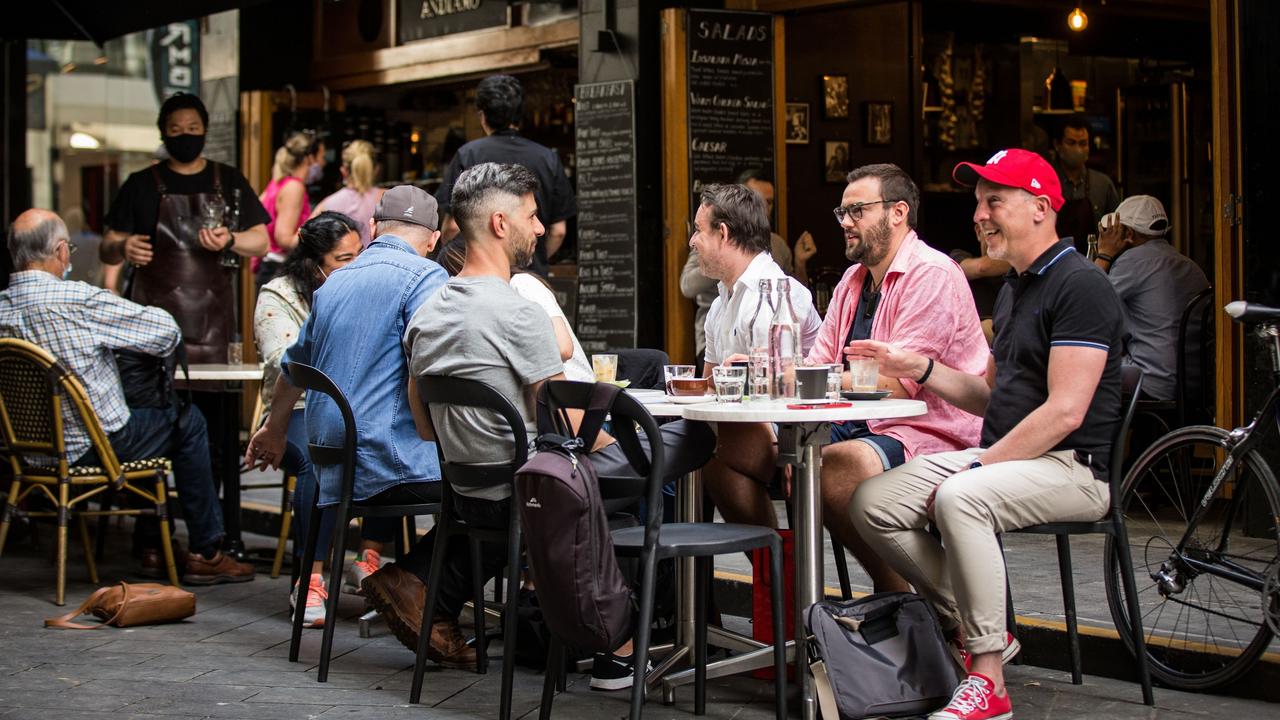 Businesses that enjoy outdoor dining in Melbourne may soon have to start paying fees for the privilege as the city is expected to return to normal operations after the Covid-19 pandemic.
At Tuesday's City of Melbourne meeting, councilors will consider the narrowed reintroduction of outdoor dining and bus fares.
Since October 2020, the council has waived more than $2.36 million in application and permit fees for outdoor dining and bus fares to help city businesses hit hard by the lockdown.
Acting Lord Mayor Nicholas Rees said the decision allowed restaurants and cafes to recover better than ever, with foot traffic steadily increasing and retail spending up 20 per cent on pre-Covid levels to $353 million.
"Melbourne is coming back to life; the data tells us now is the time to return to our normal outdoor food permit processes," he said.
"By gradually restoring the fee, we can continue to improve our neighbourhoods, build our city development projects and host the stellar events that make Melbourne a better place to live, work, study and visit."
If agreed by councillors, outdoor dining charges on footpaths for 1,300 outdoor cafe permit holders could be reinstated from November 1.
To ease the transition for businesses, the council is offering a 50 per cent discount on the fee for using pavement seating extensions.
The reintroduction of tolls on November 1 will generate up to $716,000 for the City of Melbourne, according to the council.
However, some businesses will be exempt from the fees.
At Tuesday's meeting, the council will consider a proposal to further reduce fares for buses and businesses in the Docklands, which are still trying to rebuild their pre-pandemic income.
Permit fees would be waived for 107 outdoor restaurants in the harbor area by June 30, 2023, under the proposal.
Citizens in the CBD will also get a permanent toll deferral until the middle of next year, which council officials say will "bring even more vibrancy and vitality to Melbourne's streets".
The board estimates it would forgo $56,000 in revenue from both sources.
City Activation Portfolio Manager, Councilor Rashena Campbell, said the tailored reintroduction of charges would strike the perfect balance for the city and businesses.
"Since the start of the year, we've seen … 167 new hospitality centers add to Melbourne's world-renowned restaurants, but we know our city is still recovering from the economic impact of the pandemic," she said.
If the owners do not want to pay the fees, restaurants and cafes that dine alfresco will be able to reclaim the infrastructure of outdoor dining and the pedestrian path.
Those who choose to keep their permits will be able to apply for flexible payment plans.
Originally published as Amid the redevelopment of the city, Melbourne is in for a big change
https://www.heraldsun.com.au/business/companies/big-change-looms-for-melbourne-outdoor-dining-businesses-amid-city-revamp/news-story/271e4b1dad14de13cbfa15c8fa06d412