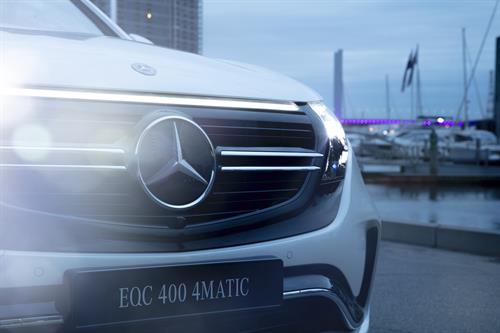 MyDrive | Mercedes-Benz – Australia's first electric production car Mercedes-Benz, the innovative EQC, will arrive in local showrooms in a few days and pave a new path in brand ownership.
The Mercedes-Benz EQC 400 4MATIC, a family SUV, is the result of several years of intensive research, development and testing to create a ready-to-produce fully electric car that delivers performance, comfort, safety, luxury and practicality. the experience expected of a Mercedes-Benz car.
Customers who have already registered for the purchase of Mercedes-Benz EQC 400 4MATIC, will be the first in line to confirm the technical characteristics of their car. This came after the successful local launch of an innovative retail program that allows EQC customers to go online, register for purchases and now make a deposit.
The first representative of the new breed
The EQC is the first all-electric vehicle to be offered for sale by EQ, a division of Mercedes-Benz created for the company's transition to electric mobility. EQ will offer a range of options, including electrically powered internal combustion engines, plug-in hybrids and all-electric models.
Horst von Sanden, CEO and CEO of Mercedes-Benz Australia-Pacific, said Australia was one of the first countries in the world to receive stocks of groundbreaking EQC, and the first deliveries to customers are expected to begin in early 2020.
"EQC is changing the rules of the game for Mercedes-Benz, but also imposing more luxurious standards of ownership of electric vehicles," he said.
"Our goal has never been to be the first in this market, but to offer the most complete solution to the issue of future mobility. With the all-electric EQC we're sure we did just that. Now Electric has a Mercedes. "
Mercedes-Benz EQC combines the accumulated knowledge of more than a century of experience in mass production of cars. It also uses cutting-edge thinking to create a premium driving experience along with an attractive ownership proposition.
Electrifying possession experience
Mercedes-Benz has opted for a comprehensive package so that owners of the new Mercedes-Benz EQC can experience all the benefits of owning a family SUV combined with simple and intuitive day-to-day driving.
Energy consumption for the EQC is estimated at 21.4 kW / 100 km. With a full charge on board the EQC can travel between additions up to 434 km (ADR).
Reviews and links
Feedback or questions on this article, please use the comments box or click for contact information.
Connect to MyDrive
MyDrive's social media network now includes Facebook, Twitter, Instagram, YouTube, LinkedIn and an RSS feed. You can access MyDrive social networking sites by clicking on the relevant social networking icons below and in the right sidebar on any page of the MyDrive Media website.
https://mydrivemedia.com.au/mercedes-benz-gets-electric-with-eqc-model/