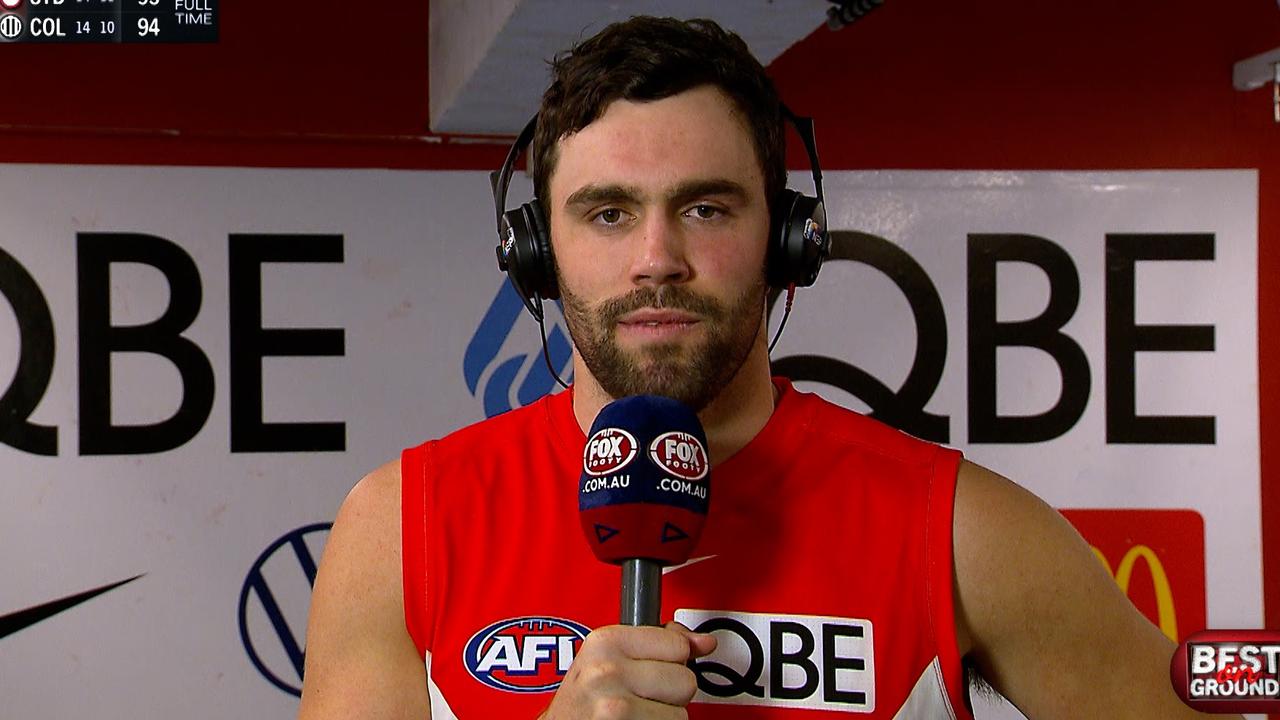 An emotional Paddy McCarthy was on the verge of tears of joy on Saturday night as he reflected on his remarkable journey from "nowhere" to the AFL Grand Final.
Already one of the standout stories of the year just for returning to the AFL list and running onto the AFL field, McCarthy will next week fulfill his childhood dream and represent Sydney in the Grand Final after his team's win an epic one-point preliminary win over Collingwood.
After being the first pick in the 2014 national draft, McCartin spent five seasons at St Kilda, hampered by eight concussions that limited him to just 35 games and 34 goals.
Watch a huge line-up of Fox Footy's grand final week on Kayo, including live pre-game, half-time and post-game coverage with full analysis from the best team in the business. New to Kayo? Try 14 days free >
McCartin then spent two seasons on the sidelines before earning a spot on the VFL Swans' 2021 list. He then joined the Swans in January as an AFL rookie for the 2022 season, where he thrived alongside brother Tom in the backline.
McCartin, who has been open about the mental demons he's battled during that journey, has previously said meeting the AFL and specialist panel in 2019 has made him prepare for life after football.
He is now one win short of becoming the AFL Premier League Player of the Year.
"If I was allowed to swear on TV I would," an emotional McCarthy told Fox Footy's The best on earth on Saturday evening.
"I really can't believe it, mate, to be honest. From where I was to where I am now is hell, mate. I can't believe it…yeah…I'm sorry, I'm a little emotional.
"I started the year on the rookie list. In January, if you had told me I would be playing in the grand final, I simply wouldn't have believed you. This is crazy.
"The horse" (trainer John Longmire) said there "this is the best week of your life", so hopefully we can have a real treat. We did a few things wrong at the end (against Magpies) so we will come on Monday, look at the game strongly, train well and prepare for next week."
When asked where his emotions came from, McCartin said: "Probably just a partner. I've talked about it a little bit, but it's been a real roller coaster. It's more simple where I came from.
"I even remember this time two years ago, I was practically nowhere and I was struggling a lot. If you had told me this time last year that I would be preparing to compete in the grand final, I simply wouldn't have believed you.
"It's a bloody special football club and I'm very lucky to be a part of it. I'm very lucky that they gave me the opportunity and I'm very lucky that I can do this with my brother because I love him to bits. To be able to share this week with him is amazing, it's going to be great."
St Kilda champion Nick Riewoldt, who spent three seasons with McCarthy at the Saints, said he was delighted for his former teammate.
"I feel like we've gained a lot of understanding throughout the season," Rivalt said The best on earth.
"First he played his first game and it was history. Then he found some really good form and that was history. Then you do it with your brother, so that's a different story.
"The year has ended now to be able to play in a Grand Final is a special moment for any footballer – but to do it thinking your career is over after being picked at No.1 in the draft – because they don't often realize that recruiters get their numbers wrong 1 in the draft and he's out of the game and gone for four or five years is a pretty unusual story.
"Good luck to him. I hope next week goes well."
McCarthy and the Swans' backline were under siege during a thrilling finish to Saturday's preliminary final as the Magpies mounted another unlikely fourth-quarter surge.
In the end, the Swans did enough to qualify for their sixth Grand Final in 17 years.
When asked about his thoughts on the crazy last few minutes, McCarthy said: "I don't even know what happened, to be honest … It was crazy, hey? They came hard for Collingwood, we knew they would.
"We just had to batten down the hatches for a few minutes. We were lucky to go through, it was a great final."
https://www.foxsports.com.au/afl/teams/sydney-swans/afl-news-2022-paddy-mccartin-interview-after-sydney-swans-preliminary-final-win-over-collingwood-concussion-brother-tom-mccartin-fox-footy/news-story/5c68e4e542c33be68b21996725d7f6d3