Starmer says the government is on the side of the overprofits of gas and oil companies. Work on the side of the workers. He says he talked to Phoenix this week, who has long hours to do dialysis at home. He can't avoid it. They had to turn off the central heating, but their electricity bills doubled. Phoenix "will feel valued for its existence." Other disabled people are in the same situation. He says there are plans for that. "Do it for people like Phoenix who just can't afford to wait."
Johnson asks Starmer to send him the Phoenix details. He says the NHS is already paying for dialysis. And he says Labor has voted against the extra money for the NHS. The government focuses on skills and economics.
It was fantastic to see the Queen open the Crossrail, he says. This will create thousands of jobs. Who was the mayor of London who started it, and who was the prime minister who finished it?
Starmer says Johnson can't make a decision. Tesco chairs John Lewis and the Education Committee are among those advocating. Who is against it? Jacob Reese-Mogg, walking, unfolding notes on people's tables, "like some overgrown prefect."
Johnson says oil companies are already taxed at 40%. The UK needs investment. People are paying high prices for energy because Labor has not invested in a nuclear power plant. According to him, unemployment is at its lowest level in 50 years.
Starmer says the government is constantly doing nothing. People can't afford to wait.
Johnson says the government is attracting more people to work. So you fix long-standing problems with the economy. Labor wants to borrow another £ 30 billion. This will put more pressure on people with interest rates.
Starmer argues that the government's turn from the tax on unexpected income is now "inevitable"
Starmer says Johnson doesn't understand that. He does not understand what people are going through. Every day energy companies receive £ 32 million in windfall profits. Every day he postpones his "inevitable reversal." "He's going to do it." Delay worsens the situation of people.
Johnson says the government is already spending £ 22 billion to help people. It can do this because it took difficult decisions to get people out of the blockade. And in July, taxes are being reduced, he says.
He says he will consider all measures to support people.
Starmer says last week Johnson said he would look at the income tax. Last night the Tories voted against. The newspapers write that they are for it. And Johnson now says he's against it. They turn on and then off. If he stops hockey and refunds the tax on windfall profits.
Johnson says Labor always wants to raise taxes for business. In 2019, Starmer supported a manifesto that would raise taxes on entrepreneurship to the highest level. He says they have always known that imposing sanctions on Russia would cost short-term costs. But giving in would be a greater economic risk.
He says, of course, the government will consider all measures needed to transfer people to the other side.
Keir Starmer says the unexpected tax will raise billions of pounds to help people with electricity bills. The prime minister is for it, against whether he is sitting on the fence as his chancellor.
Johnson says Starmer couldn't even figure out what a woman is. "Help us heaven." He says Labor likes to raise taxes. He wants to "take a smart approach that is driven by the impact on investment and jobs". He wants to have a strong economy. Unemployment has been at its lowest level since 1974, when it was 10 years old.
Eliot Colburn (Con) asks what is being done to ensure that children with special needs receive the education they deserve.
Johnson says the government has a program for that.
Steve McCabe (Laboratory) asks what the government is doing to keep people from dying cold in their homes next winter.
Johnson says the government has spent £ 9bn on a package to help people with heating.
Boris Johnson starts with Rangers best wishes in today's match in Seville.
PMQ will start soon.
Here is a list of deputies who need to ask a question.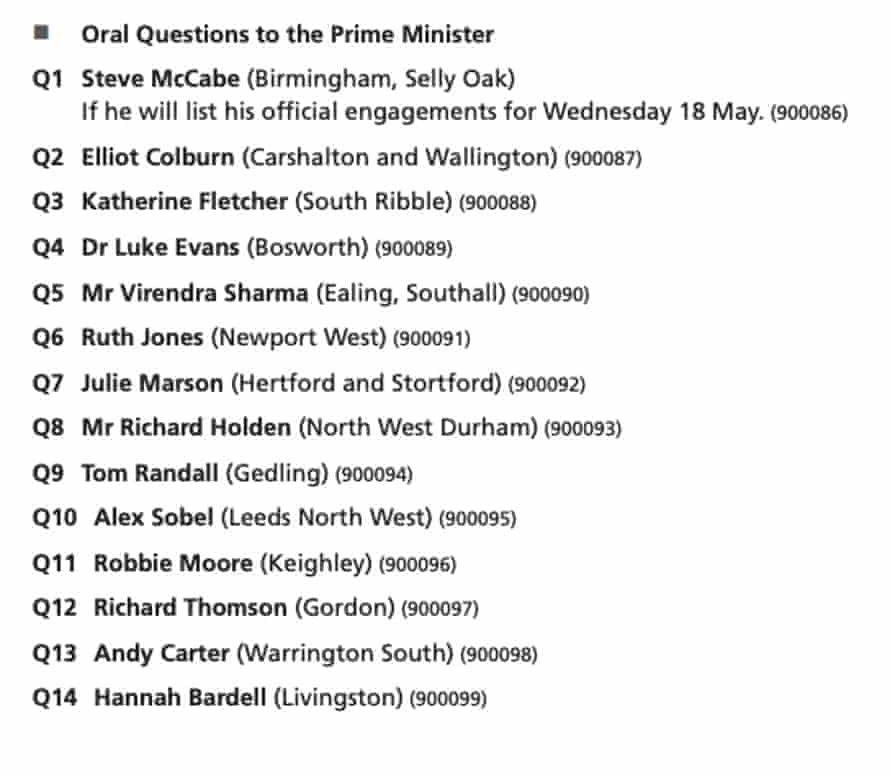 Leo Varadkar, The Deputy Prime Minister of Ireland told RTE Radio this morning that the British government's plan to pass a law that would allow it to ignore parts of the Northern Ireland Protocol was "not very respectful" to the British people. He explained:
This departure is also not very respectful to the British because they voted for it in the election. They need to understand the implications for the union.

If they continue to try to impose on Northern Ireland what Northern Ireland does not want, it will push more people towards nationalism and from the support of the Union. And it just seems a little mysterious.
He noted that 59 of the 90 MLA (members of the legislature) elected to Stormont last month were reluctant to repeal the protocol.
Trade union leaders supported the emergency budget demand
Other union leaders supported Labor (see 9.33 am) in a call for an emergency budget in light of today's inflation rates.
This is from Francis O'GradySecretary General of the TUC.
Conservative MPs are constantly telling families that there is no crisis with the cost of living – they are to blame for not working more hours or the wrong diet. But with such high inflation the crisis is a cold, harsh reality. And families desperately want the government to help with an emergency budget.

The pandemic has shown that the government can act to help businesses and workers if they want to. The chancellor should increase the emergency budget to help families get universal credit and a minimum wage. And we urgently need an unexpected oil and gas tax to fund energy subsidies for households.
This is from Christina MacaneaSecretary General of Unison, the UK's largest union.
Ministers cannot continue to sit aside and do nothing. Families in dire straits, with limited budgets, need emergency support. Increasing benefits and raising public sector wages over rising costs are a must if families have hope.
And this with Mike ClancySecretary General of the Prospekt trade union.
It's just not good enough to suggest that workers have to bear the cost of doing so, while wage inequality is rising, and 1% of those earning see a sharp rise in wages last month.

The government needs to truly address the cost of living crisis, allocate an emergency budget to provide more support for energy bills, and stop real cuts in public sector wages.
Unite says it will use strike if necessary to protect workers' wages as inflation rises
Unite, Britain's second-largest union, said workers should not lose out on wage increases due to the inflation crisis. У statement responding to today's inflation figures, Sharon Graham, its secretary-general criticized Andrew Bailey, head of the Bank of England, for This was announced by deputies on Monday that employers should exercise restraint when asked to raise wages. She said:
Wages are falling, the government, shamefully, is turning away from those in need, and employers are squeezing wages. So, we will absolutely no longer give lectures on wage restrictions from the head of the Bank of England-millionaire.

If Andrew Bailey wants to give someone a lecture on belt-tightening, he should turn his attention to the executives of the UK's 100 leading companies, whose wages have risen by an average of 34 per cent to a staggering £ 4.1 million a year. Ask them to pause to reflect on the scale of their corporate greed.
Graham also said the union would use the strike to protect workers' wages.
On the other hand, workers are at least £ 70 worse off than at this time last year and they are suffering from rising food and energy costs. They are told to pay for a crisis that does not create them at all, it is indecent and absolutely unacceptable for Unite.

Unite's response to the current crisis is that employers who can pay a decent wage but will not face industrial action. I can tell you that we do not intend to depart from this.
Graham said that since she led the union last summer, the union has been involved in more than 300 disputes and has won millions of pounds in wage increases. This morning she posted on Twitter about one case.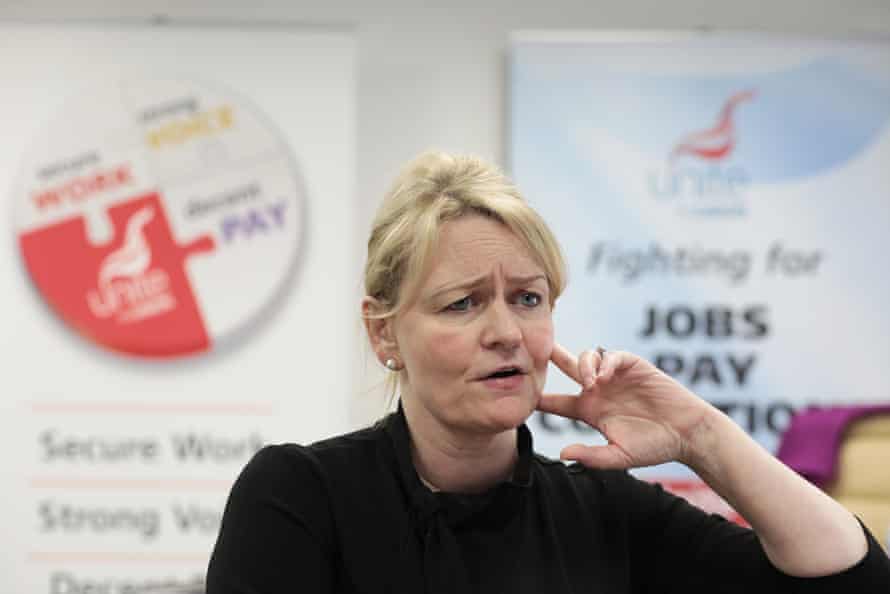 https://www.theguardian.com/politics/live/2022/may/18/pmqs-boris-johnson-cost-of-living-brexit-northern-ireland-tax-windfall-latest-updates