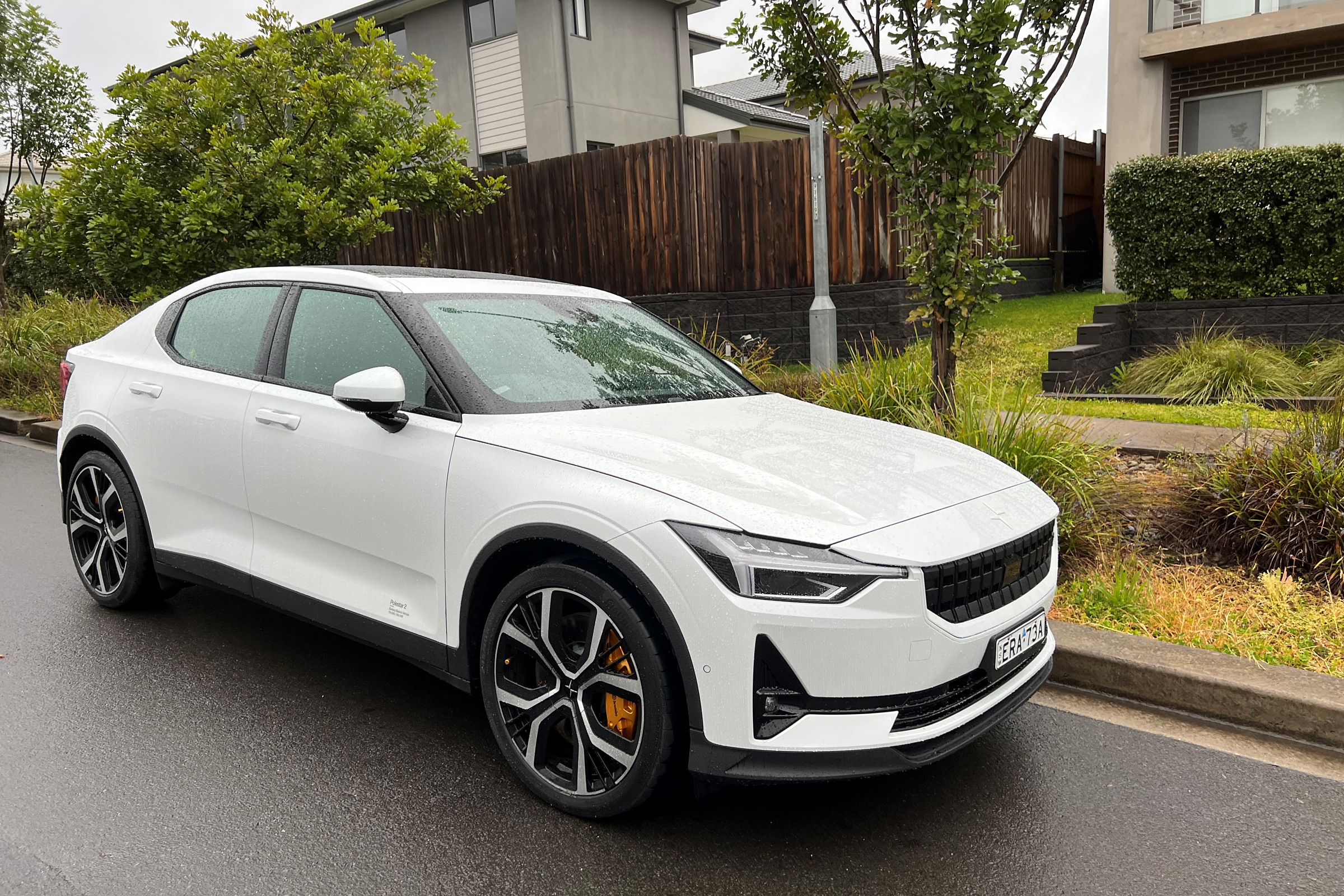 Polestar 2 – Polestar is a brand that makes purely electric cars and I drove the Polestar 2 twin motor sedan recently.       First impressions are that I really liked it.
The sedan shape is stylish and practical with the liftback boot and plenty of rear leg room
For the driver there is an array of technology and information at their fingertips.
Driver's seat is particularly comfortable and being heated on the recent cold wet windy days in Sydney is a bonus.
TO LISTEN TO THE POLESTAR 2  RADIO REVIEW CLICK BELOW
The twin motor version is fast, really fast and with a range of about 450km practical as well. For buyers that want even more there is a performance software upgrade available as well.
I especially liked the ability to adjust the roll on or regenerative braking levels.
The Polestar 2 Twin Motor also comes packed with a heap of luxury, comfort and safety features.
Polestar is doing things differently, by measuring the CO2 emission in the whole production process, having a direct to customer focussed sales model and a seven day refund policy.
I like the Polestar philosophy and I like their product.
I also like that the Polestar 2 Twin Motor sedan is priced at a reasonable $69,900 plus the usual costs
This is a Motoring Minute
Im Rob Fraser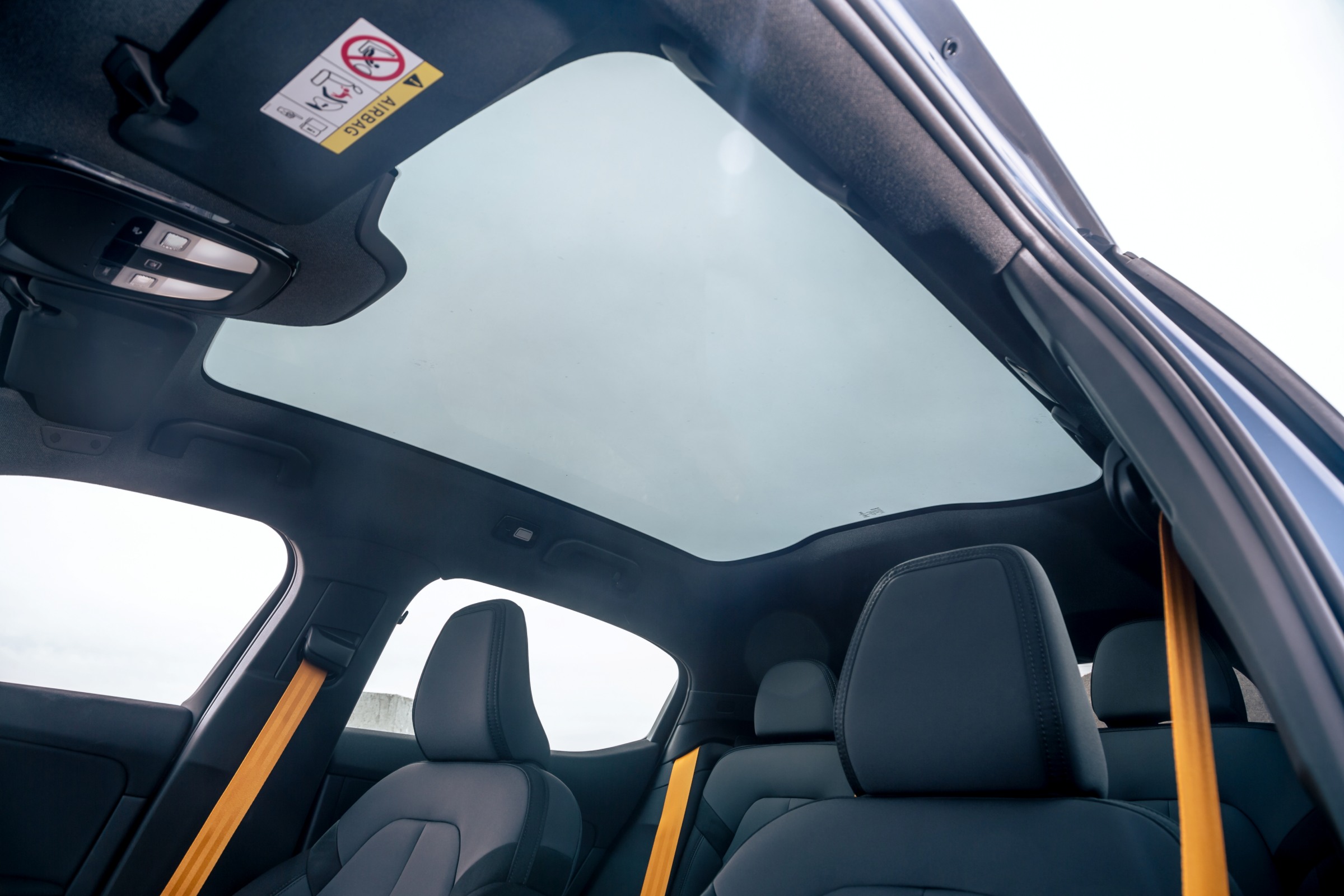 What is good?

What is not so good?

Fast when pushed
Roll on adjustments
On board information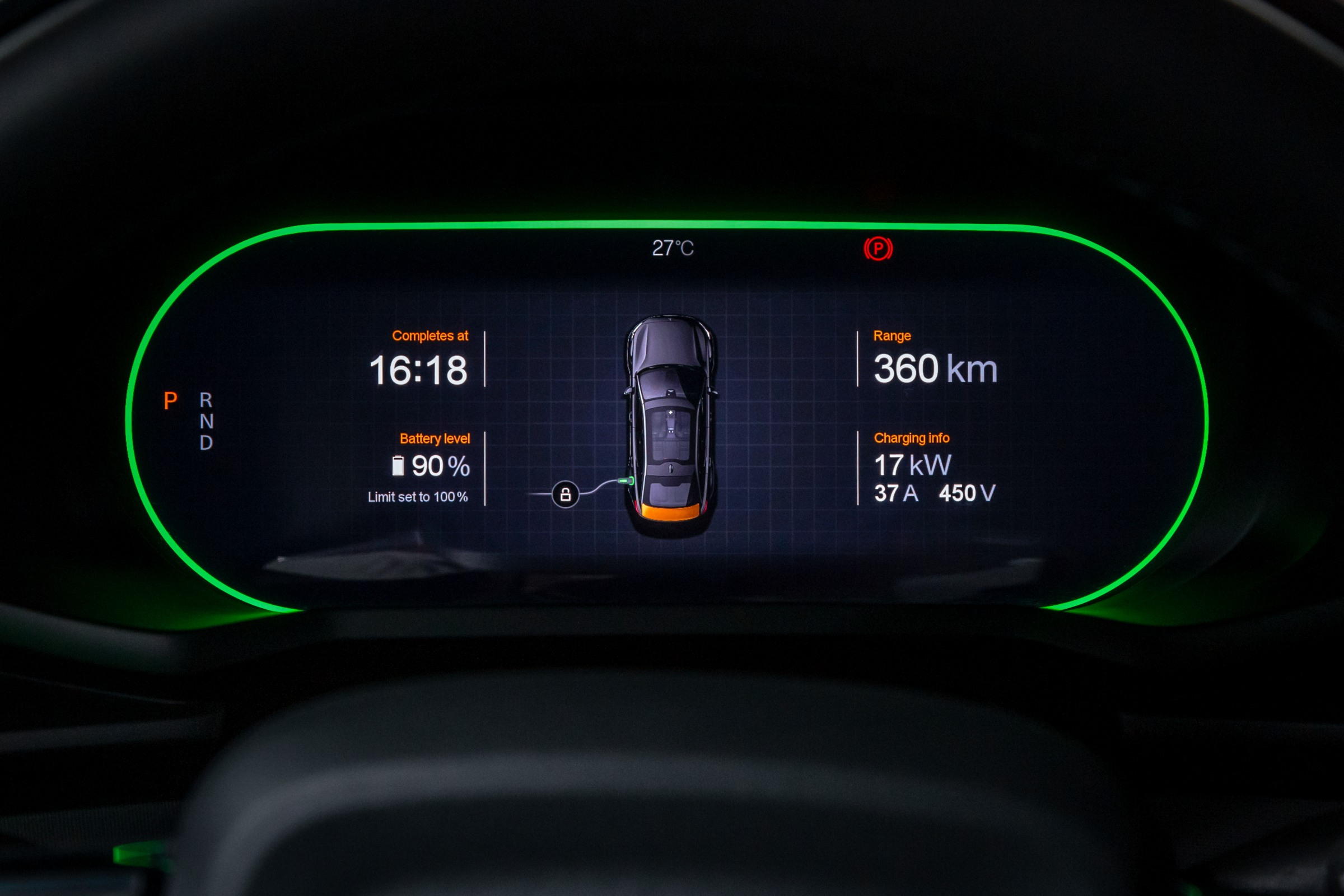 | | |
| --- | --- |
| Model    | Polestar 2 Twin Motor |
| Model Price | $73,400 MLP* |
| Engine | Twin electric motors |
| Drivetrain | 1 Sp reduction gear AWD |
| Battery Capacity / type | 78kWh / Lithium Ion |
| Power | 300kW |
| Torque | 660Nm |
| Range (WLTP) / efficiency | 480Km / 20.2kWh/100km |
| Fast Charge / Home | (10-80%) 35mins / 8 hrs |
| Safety | 5 Star ANCAP (tested 2021) |
| CO2 Emissions | Zero driving emissions |
| 0-100kmh/Top Speed | 4.7secs / 205kmh |
| Servicing | 2 free within 5yrs / 100k |
| Warranty | 5yr/ Unlimited km with 5Yr. conditional roadside assist |
*MLP Includes GST and LCT but excluding statutory charges, dealer costs and dealer delivery. See your dealer for RDAP. Does not include price of options. Some features mentioned in the article are options. RDAP means Recommended Drive Away Price (without options but including all other charges)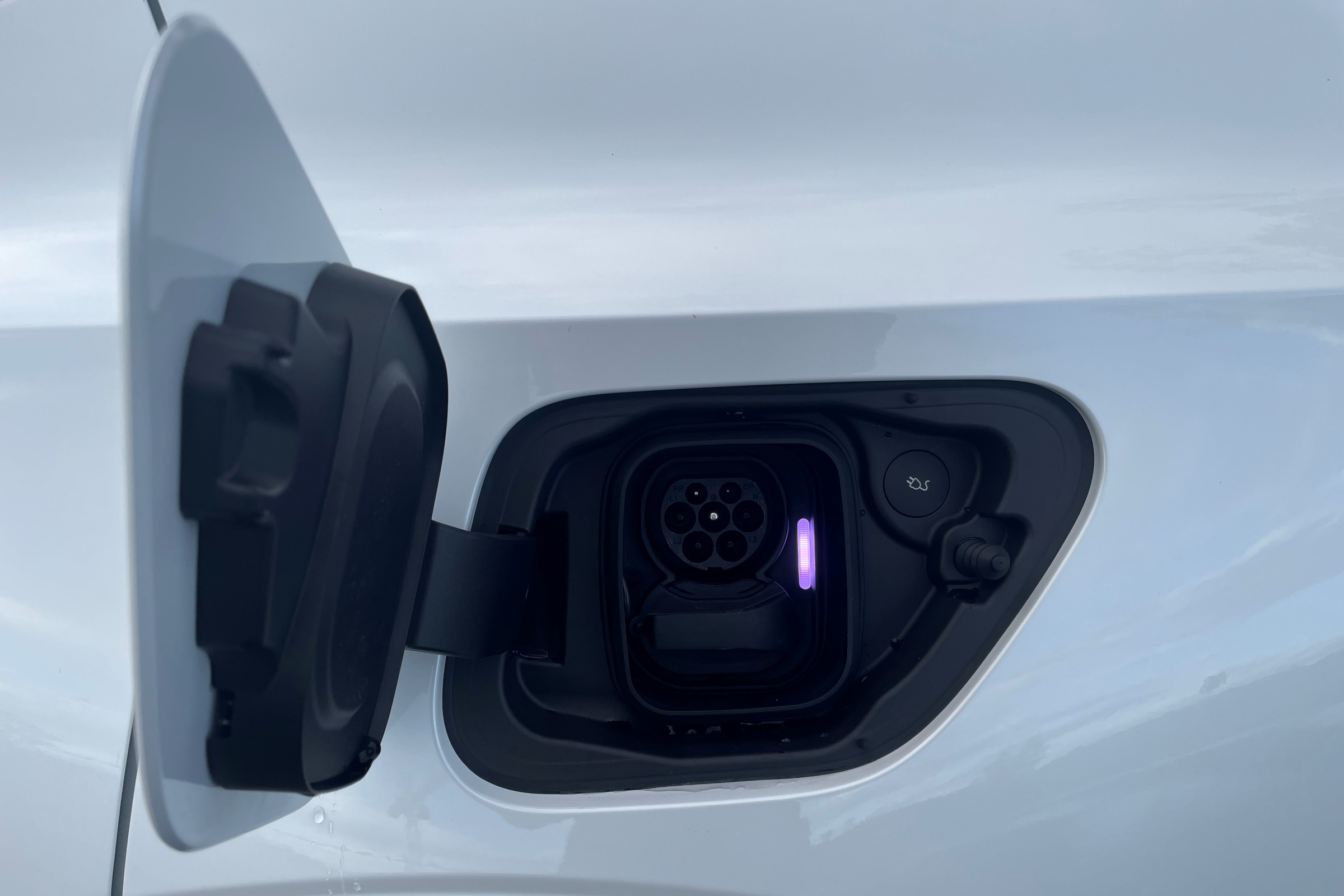 | | |
| --- | --- |
| Overall Rating     | 86/100 |
| Behind the Wheel | 9 |
| Comfort | 9 |
| Equipment | 8 |
| Performance | 9 |
| Ride and Handling | 9 |
| Practicality | 8 |
| Fit for Purpose | 8 |
| Style / Appeal | 9 |
| Technology / connectivity | 8 |
| Value for Money | 9 |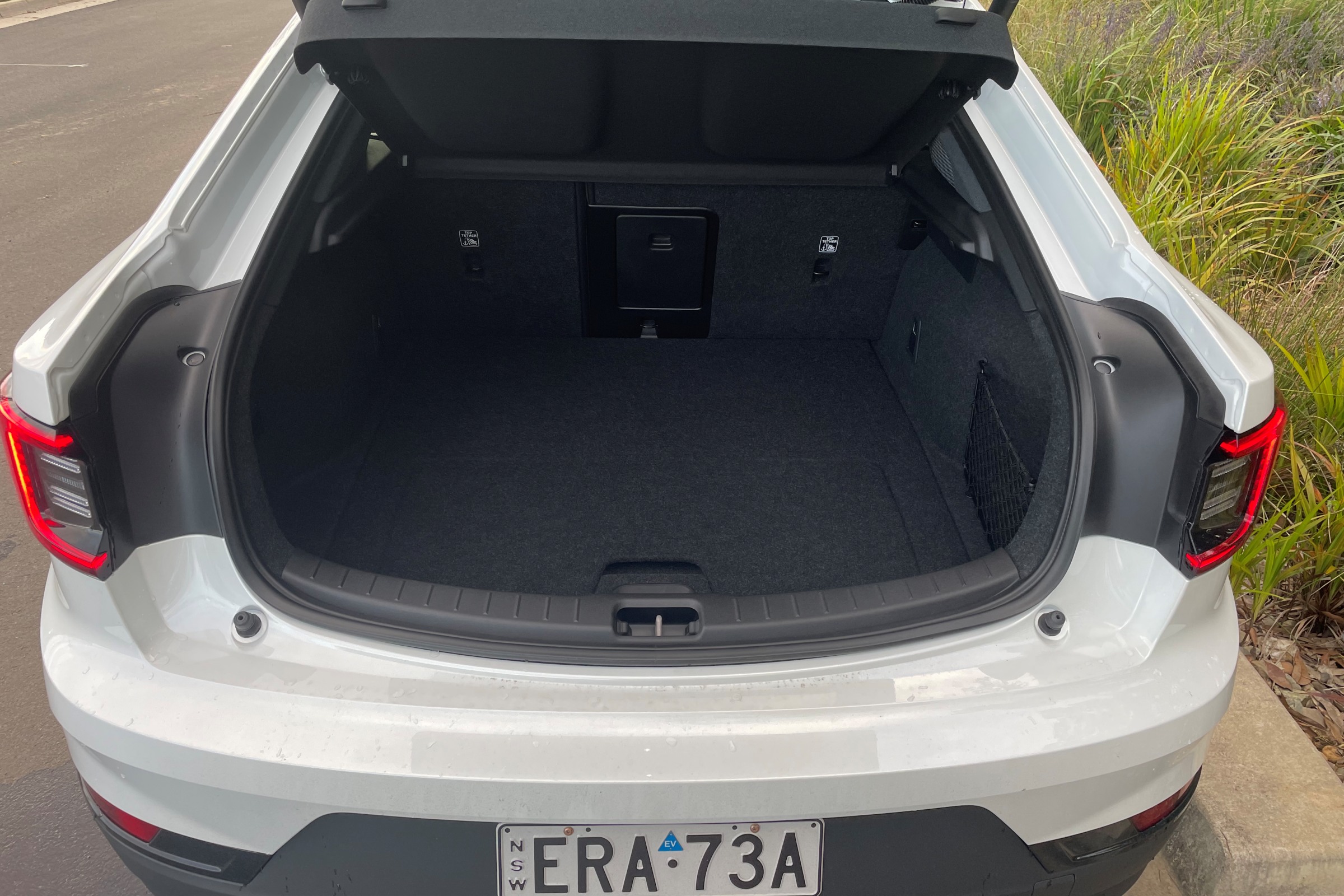 | | |
| --- | --- |
| Dimensions |   |
| Overall Length (mm) / Wheelbase (mm) | 4606 / 2735 |
| Width / Height (mm) | 1891mm / 1477mm |
| Unladen ground clearance / wading depth (mm) | Up to 151 mm / N/A |
| Approach / RO / Departure(degrees) | N/A |
| Wheels and Tyres | 19×8.0 Alloy / 245/45 R19 |
| Capacity  / Turning Circle | 78kWh / 11.5mts KTK |
| Boot capacity Min / Max (L) | 405 / 1095 |
| Kerb Weight /  GVM / GCM / Payload (kg) | 2113 / 2600 / 4100 / 487 |
| Towing Capacity / Tow Ball rating (kg) | 1500 / TBA |
Motoring Minute is heard around Australia every day on over 50 radio channels through the Torque Radio network. 
Our Motoring Minute has an average daily audience of over 550,000 listeners and they are also syndicated through various news sites around Australia.
Additionally Motoring Minute is also broadcast as part of Overdrive Radio Program, which is broadcast through the Community Radio Network across Australia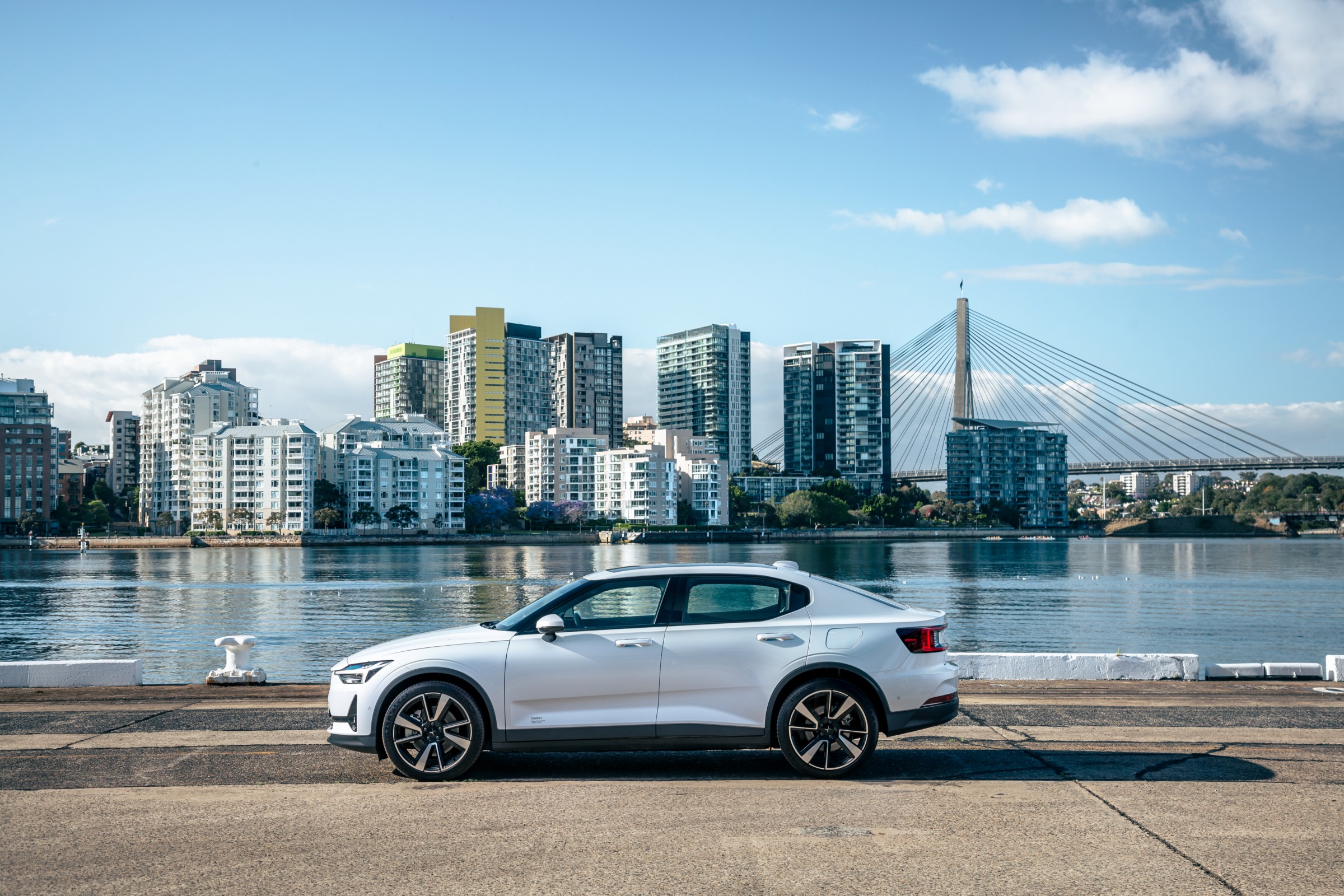 Some more Polestar 2 notes
Polestar, formerly the performance sub brand of Volvo, is the lovechild between Volvo and Geely motors, developed as a purely electric car company.
Think of it as having Volvo design and research capability with Geely manufacturing and distribution, in simple terms.
Born again in 2017, the brand has brought to the market the Life Cycle Assessment concept. This is basically the carbon footprint of the life cycle of the car, from cradle to grave. Many EVs sprout the zero emissions concept, but that is truly only zero driving emissions.
This marketing hyperbole ignores the often catastrophic environmental damage caused by extracting minerals for the batteries as well as the problem of end of life waste and recycling.
There is a long way to go in attaining a comprehensive and standardised measurement, but it has to start somewhere and big tick to Polestar for starting the conversation.
In their own words:
Cradle-to-gate
An assessment that includes part of the product's life cycle, including material acquisition through the production of the studied product and excluding the use or end-of-life stages.
However, for a component that is to be assembled in a product, a cradle-to-gate assessment can be carried out that covers the production of the component and parts of the logistics chain to the producer that assembles the component into a product.
Cradle-to-grave
A cradle-to-grave assessment considers impacts at each stage of the product's life cycle, from the time natural resources are extracted from the ground and processed through each subsequent stage of manufacturing, transportation, product use, recycling, and ultimately, disposal.
This is a measurement that should apply across all vehicles, irrespective of the power plant, as it would give a true and comparative analysis of what environmental impacts they have.
Now on to the car itself.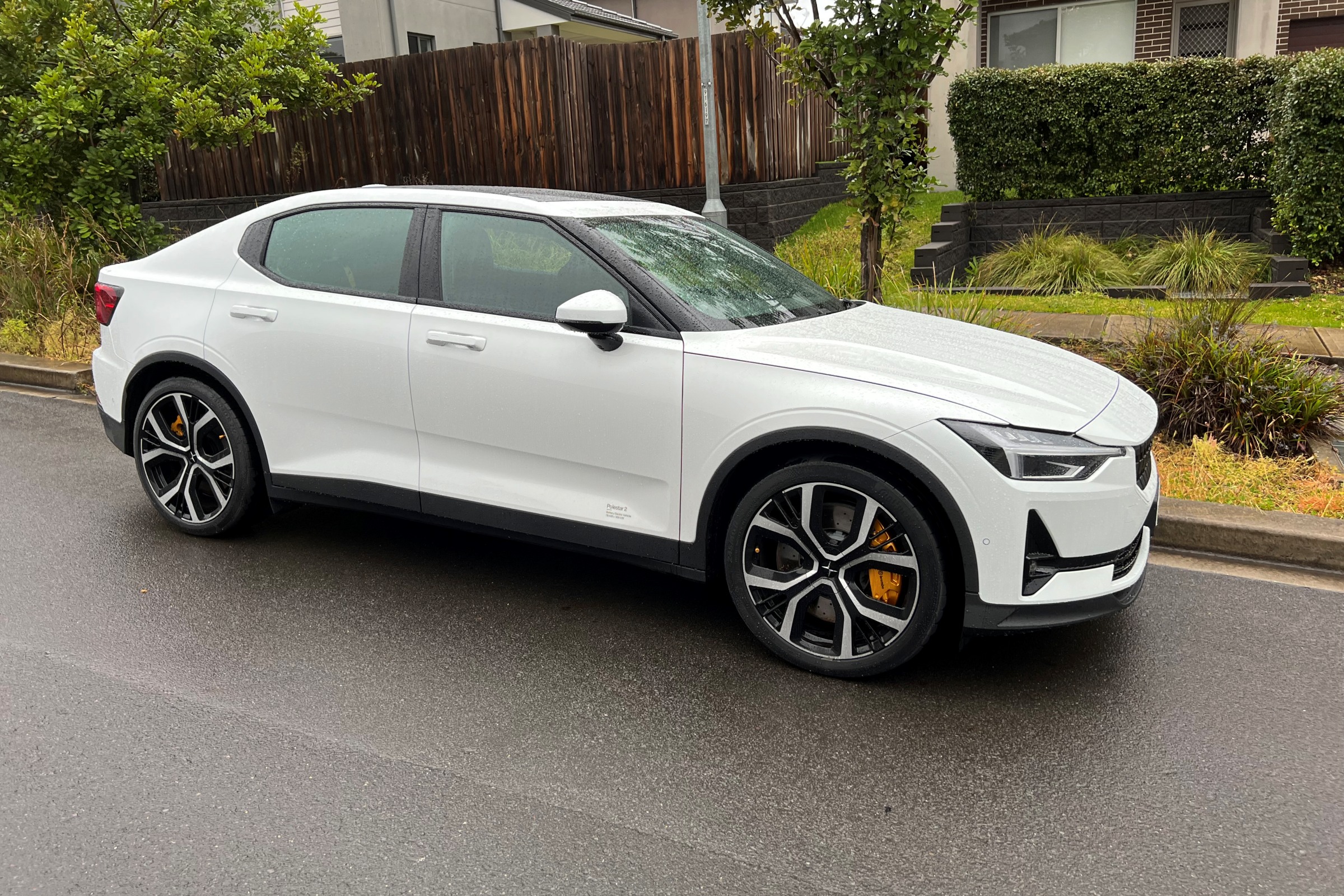 What does the Polestar 2 look like?
In a word Scandinavian.
That's a good thing. It has sleek and stylish lines, especially for a lift back design.
It's also surprisingly sporty in feel.
Unlike a Tesla, EV6 or Ioniq5 it has a more conservative design with bold wheel arches, square style lighting and squat appearance.
The liftback boot provides excellent access to the rear boot space.
Standard 19 inch and optional 20 inch alloys compliment the overall design.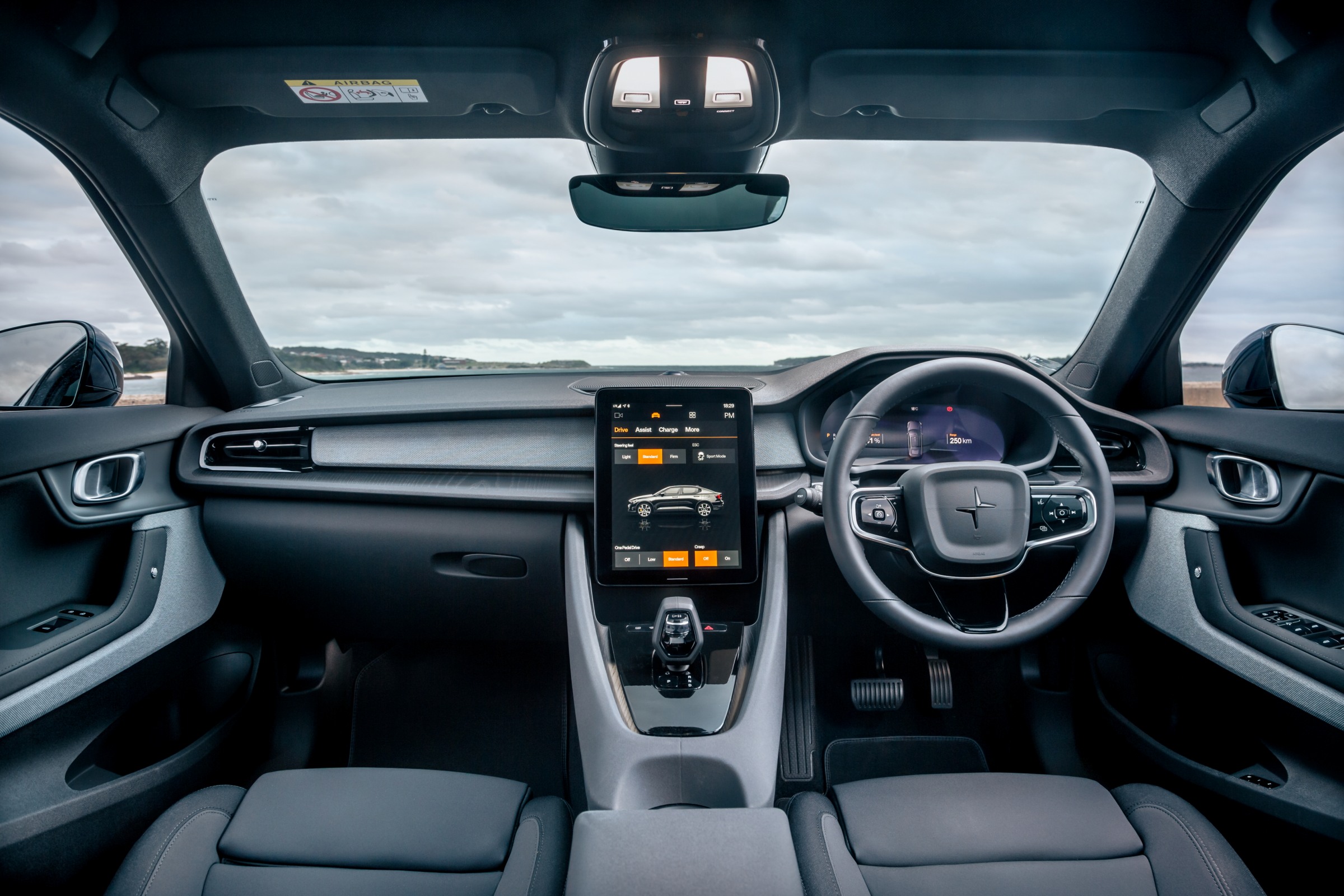 What is the Polestar 2 like inside?
New, fresh, but could make more use of the electric platform for additional space.
The front seats are reasonably comfortable but made from an unusual material. They call it 'WeaveTech' vegan upholstery made of recycled materials. It has a strange feel, not bad just unusual.
The week I had the Polestar 2 it deluged constantly in Sydney, so the hated seats got a workout. Also the electric adjustment with additional lumbar support was appreciated by my ageing back.
As you would expect from an EV the driver's instrument are a configurable digital design.
There is also a large 12 inch central screen that mirrors a smart phone in design. There are a myriad of functions controlled here, unfortunately simple things like AC controls and turning off the motor are included. However the user interface is excellent with almost everything no more than two layers deep.
All design is a compromise. The large screen lends itself to minimalism, but adds slightly to complexity of functionality.
One noticeable thing is perhaps the missed opportunity to maximise the internal flexibility provided by a flat platform.
EVs like the EV6 make maximum use of the fact there is no transmission tunnel with additional, practical storage areas. Not so with the Polestar2.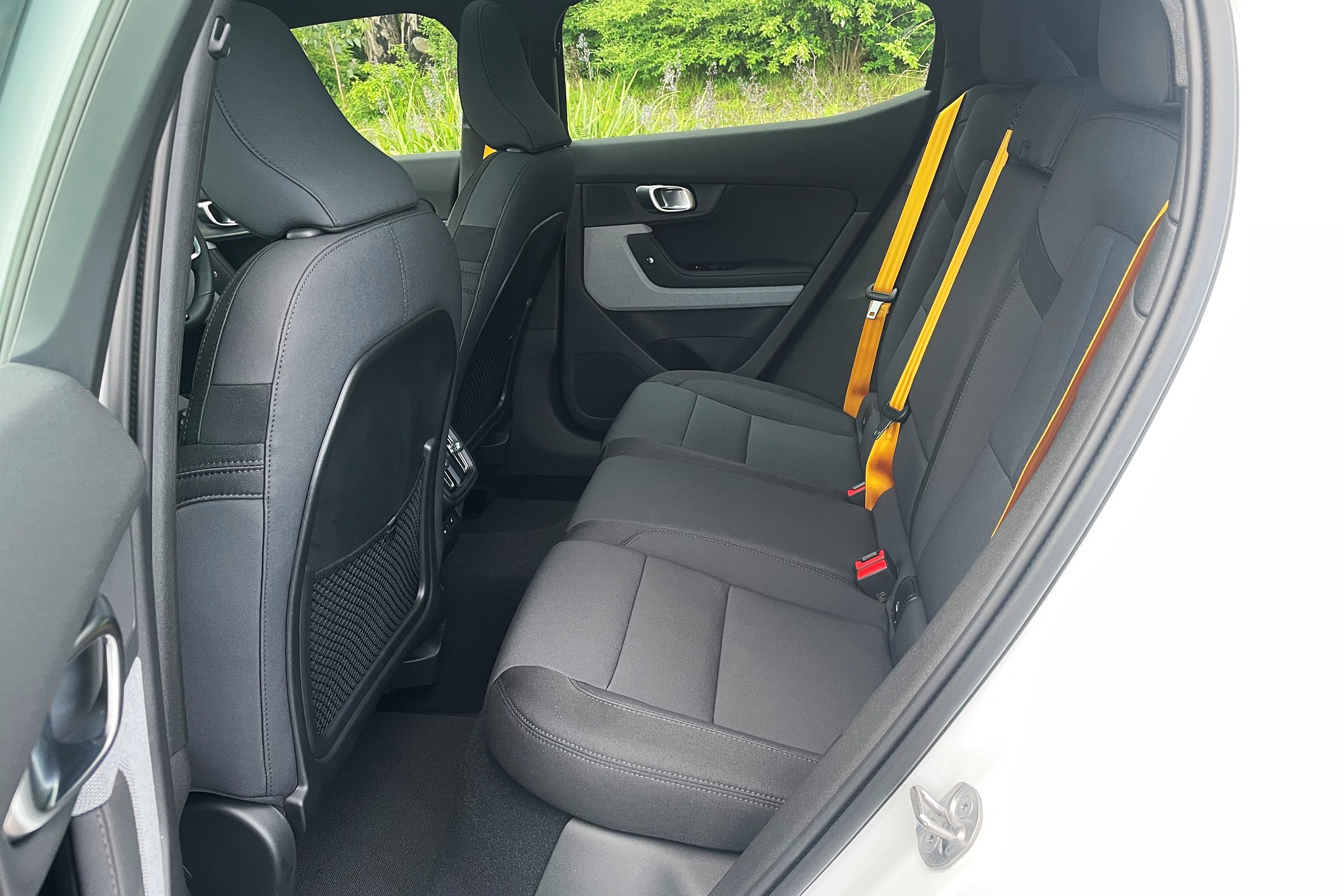 Rear seats are comfortable with reasonable leg room, behind normal size drivers, not someone larger than the average bear like me.  Access though is tight with narrow doors.
Again there is a raised "tunnel" running down the middle affecting useable space when it's not necessary.
Boot space is accessed by a huge and high lift boot lid. It's actually a reasonably large area, with a handy ski port. Rear seats don't fold flat though.
The front 'boot' space is best left for the charging cable.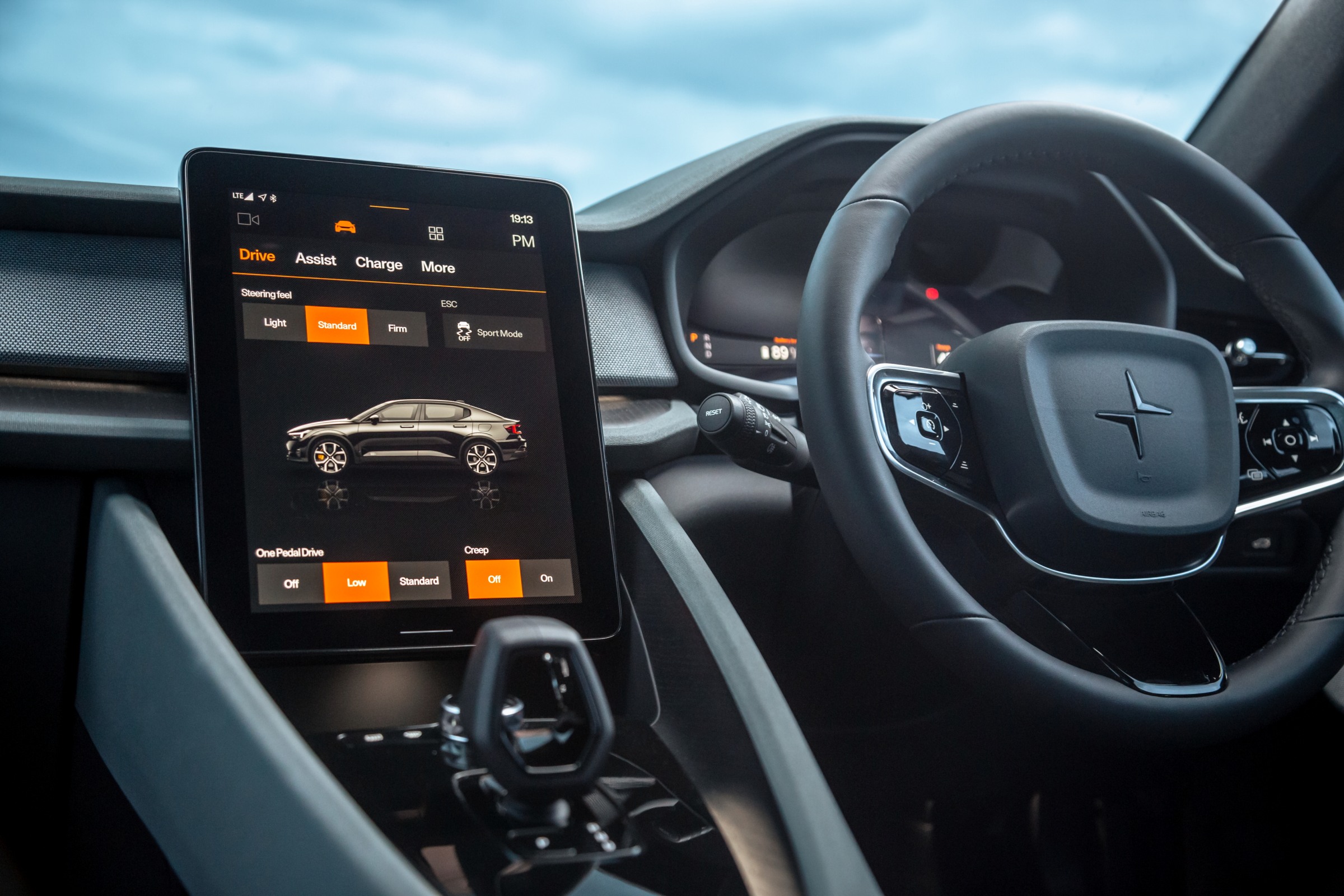 Polestar 2 Features.
Some of the key features include:
Keyless Start – Key/FOB Proximity related,
Remote Start Climate Control dual zone A/C,
High Beam Auto Dipping, Automatic (light sensitive) LED headlights,
LED DRLs,
Auto wipers,
Electrochromatic rear view mirror
Power tailgate
Multiple USB ports and 12V outlets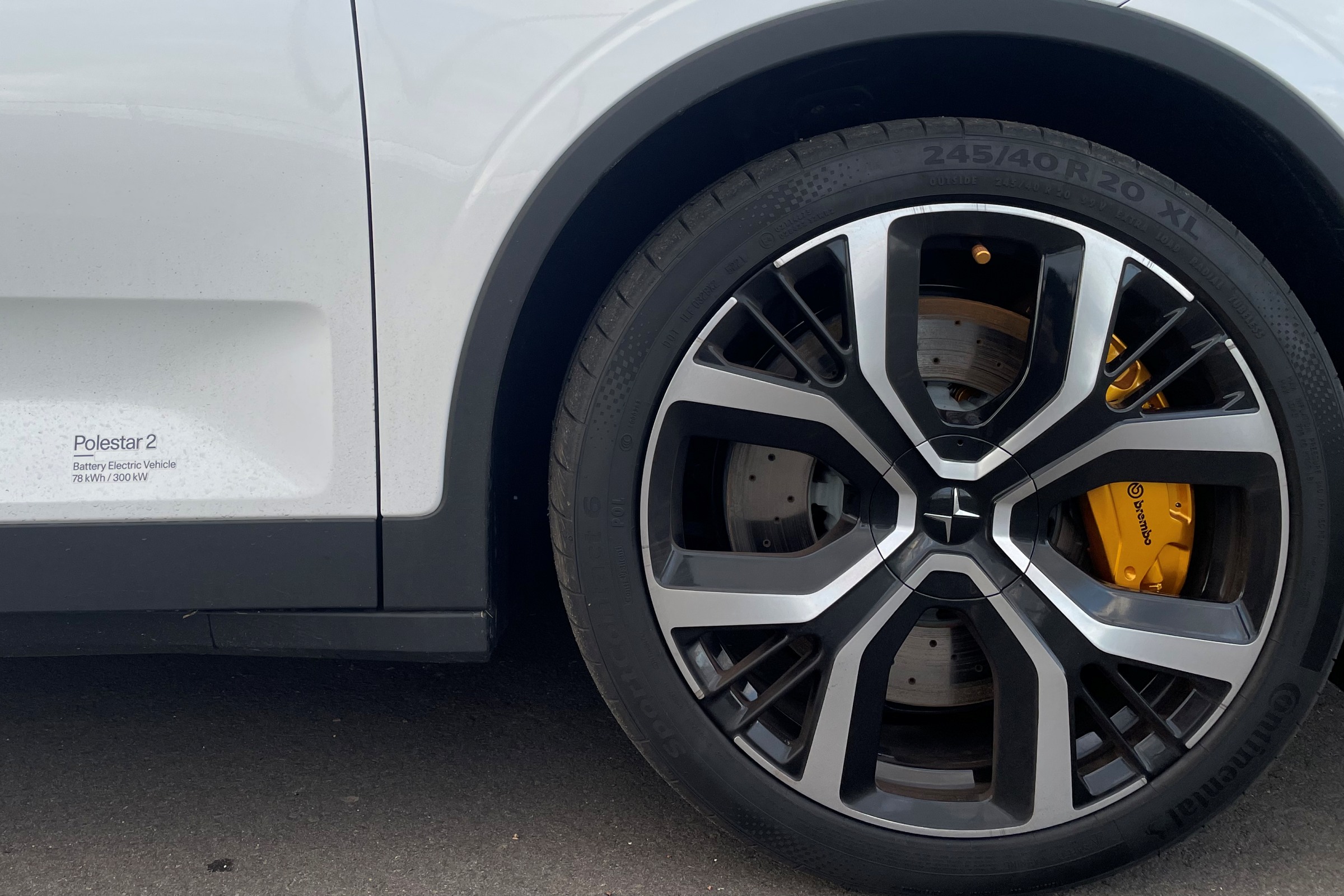 The vehicle we drove had the $8000 performance pack option added. This includes:
Brembo brakes
Öhlins Dual Flow Valve dampers,
20 inch alloy forged wheels
coloured seatbelts etc.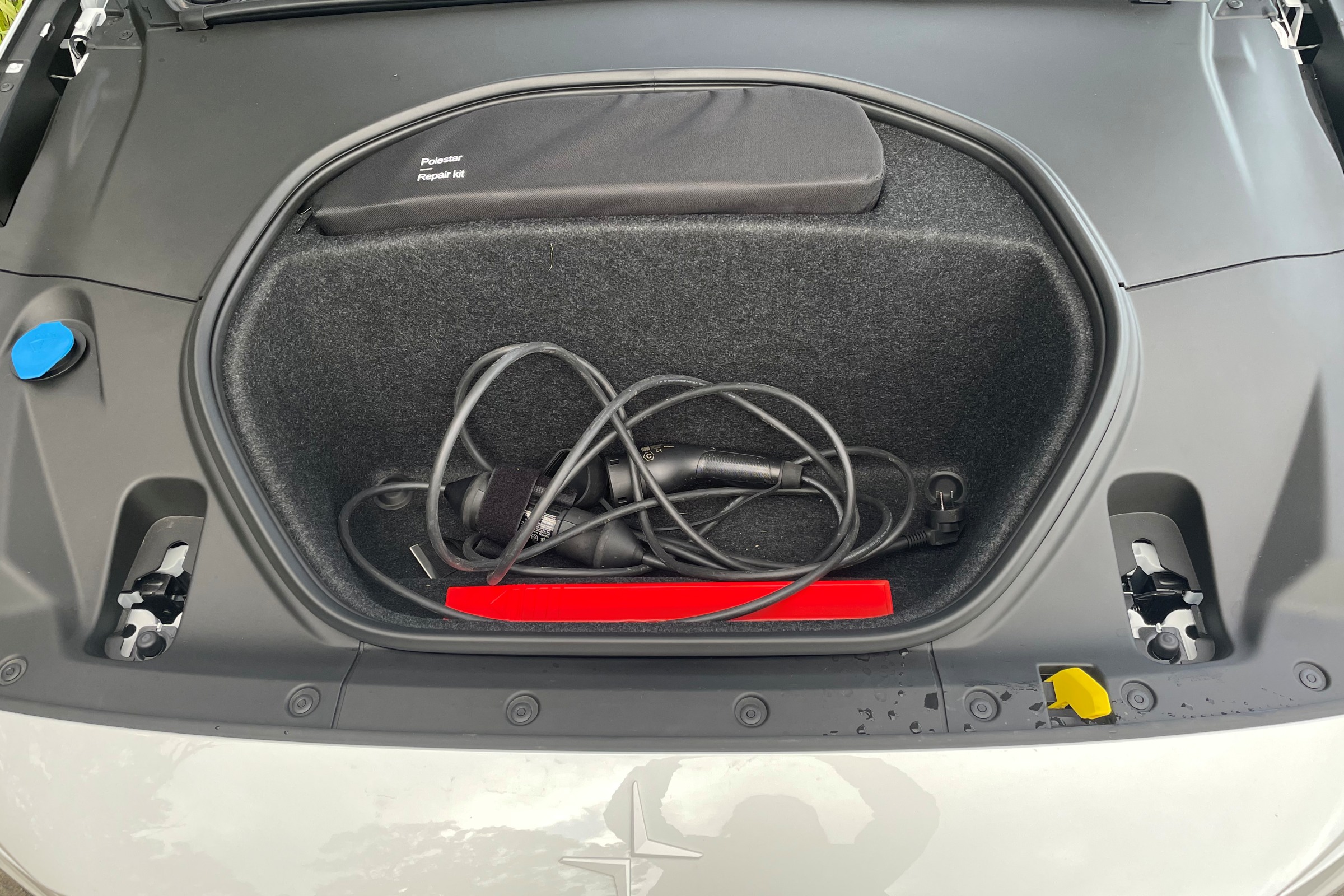 Polestar 2 Motor and drivetrain
We drove the Twin motor AWD version. This has a measured output of 300kW and 660 Nm from a 78kWh Lithium Ion battery pack.
The stated range (WLTP) is 480 km for the twin motor version and it has a stated efficiency of 20.2kWh/100km.
Charging is through a single European-standard Type 2 CCS charging port, and on DC it can charge at a rate of 155kW on the long range variants. Fast charge is estimated at around 35 minute but it will take 8 plus hours at home on normal plug in wall socket.
The performance software upgrade raises the motors' combined certified output over the complete RPM register, increasing power from 300 kW (402 bhp) to 350 kW (469 bhp) and torque from 660 to 680 Nm (487 to 502 lb-ft). A boost that also reduces the acceleration time from 0-60 mph to just 4.2 seconds. 
Unfortunately the Polestar 2 doesn't allow reverse charging to use to run the home etc, like the Nissan LEAF or Ioniq 5.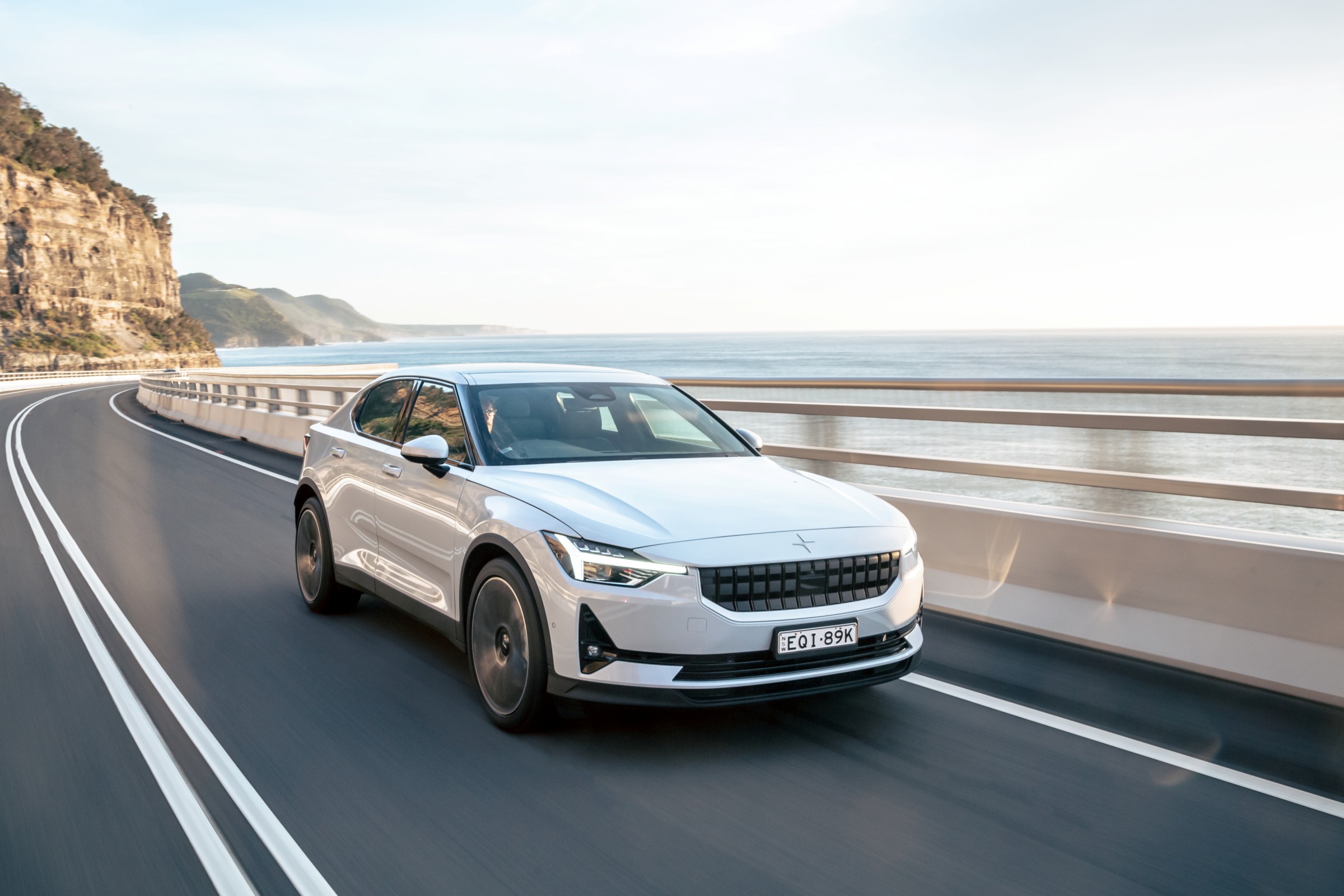 What is the Polestar 2 like to drive?
Whisper quiet from the motor. There is a little bit of road noise and wind noise, slightly more than you would expect.
The ability to adjust the regenerative braking and use of one pedal driving sees it go from almost normal run on style driving to take your foot off the accelerator and almost instant stop. Flexibility of choice is good.
Drivers can adjust the steering feel, pedal feel, suspension and amount of creep through the central screen.
Steering response is direct, the ride and handling again is performance oriented without compromising daily comfort. When you plant the right foot with a full charge its quick, very quick and FUN.
However like a normal fuel engine, such performance hurts the range.
Overall it's one of the better EVs to drive daily around town.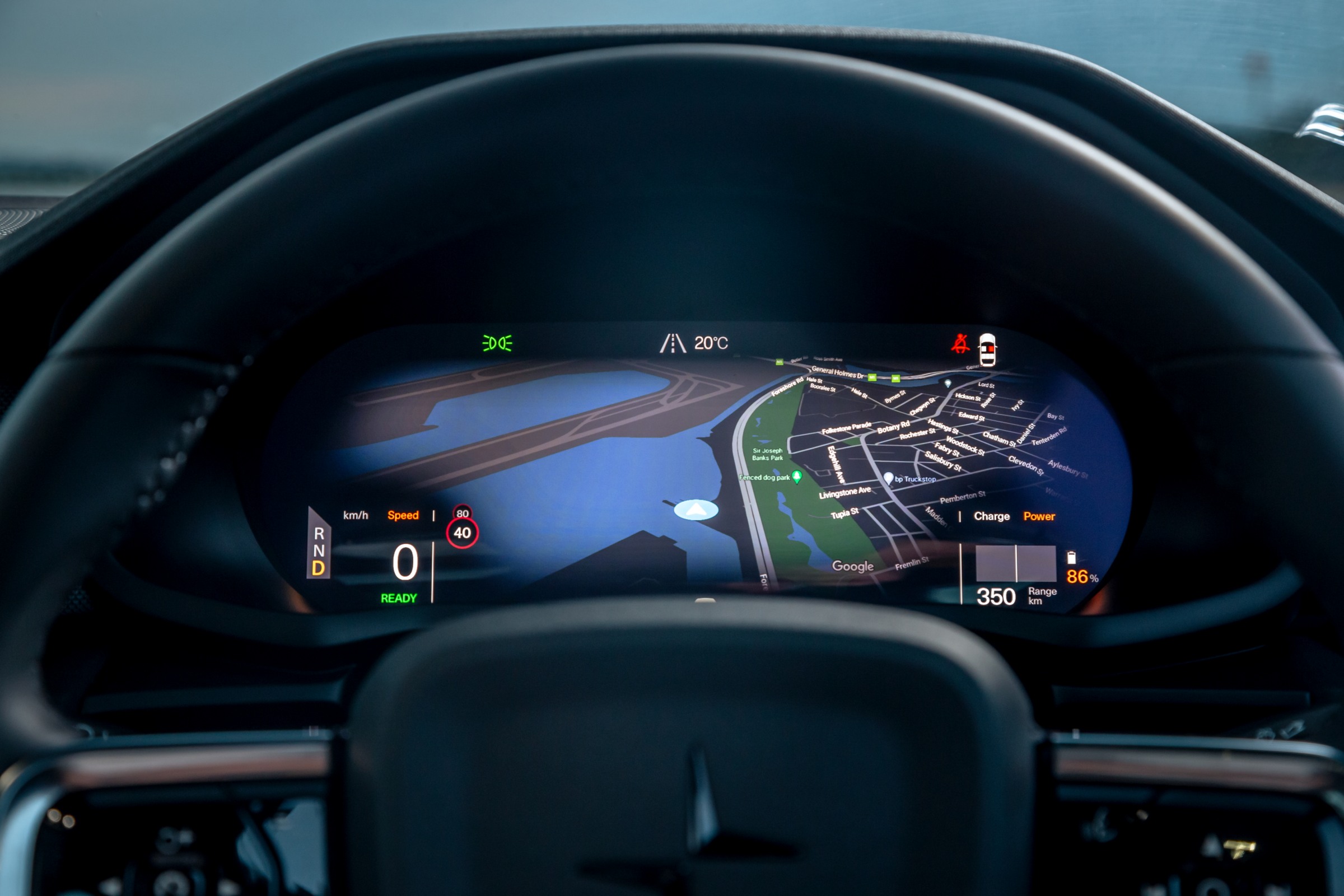 Safety
Polestar 2 now has a five star ANCAP safety rating. However some safety features are included as options from base models.
General
8 Airbags
Seatbelt pretensioners
Central Locking – Once Mobile
Remote/Keyless entry
Alarm – Motion Sensor
Tyre pressure monitor and alarm
Driver assistance
Lane Departure Warning, Lane Keeping – Active Assist
Alert/Warning – Collision Forward and road sign display
Warning – Driver Fatigue and Driver Attention Detection
Front and rear parking distance
Reverse camera
Emergency Vehicle assistance
ABS (Antilock Brakes) with EBD (Electronic Brake Force Distribution)
Traction control and Electronic Stability
Brake Emergency Display – Hazard/Stoplights
Active safety bonnet
Crash avoidance with low speed braking
Hill holder
Collision mitigation functionality.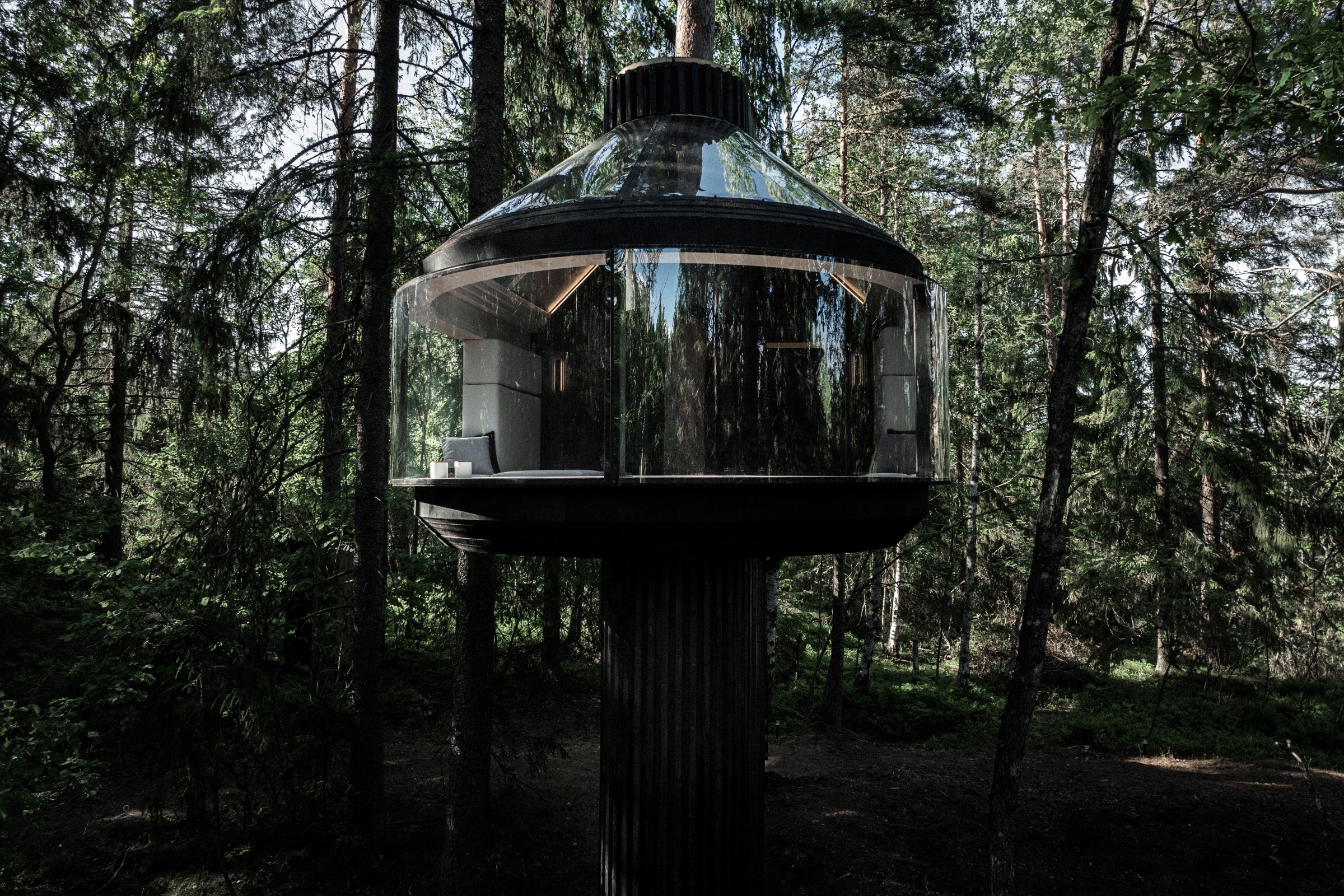 Polestar 2 Environmental sustainability focus
Polestar is a company that recognises that having an electric car on its own isn't a solution. Its part of the solution only.
Some simple examples of the lengths Polestar are going to for environmental footprint reduction.
CO2e footprint reduced thanks to implementation of renewable energy in aluminium component sourcing and production
Polestar's partnership with Circulor now includes blockchain traceability of mica, in addition to cobalt that is already traced in Polestar 2 batteries.
The blockchain technology allows Polestar to trace risk minerals from material source to finished product.
The aluminium tray that carries the battery casing for all versions will see a CO2e reduction of 750 kg per car, thanks to the decision to only purchase aluminium for this component from smelters that use renewable energy.
replacing the aluminium in the wheels with low-carbon aluminium that is produced using renewable energy
Programme updates that take action on improvements that can make a positive sustainability impact quickly, rather than traditional mid-cycle facelifts.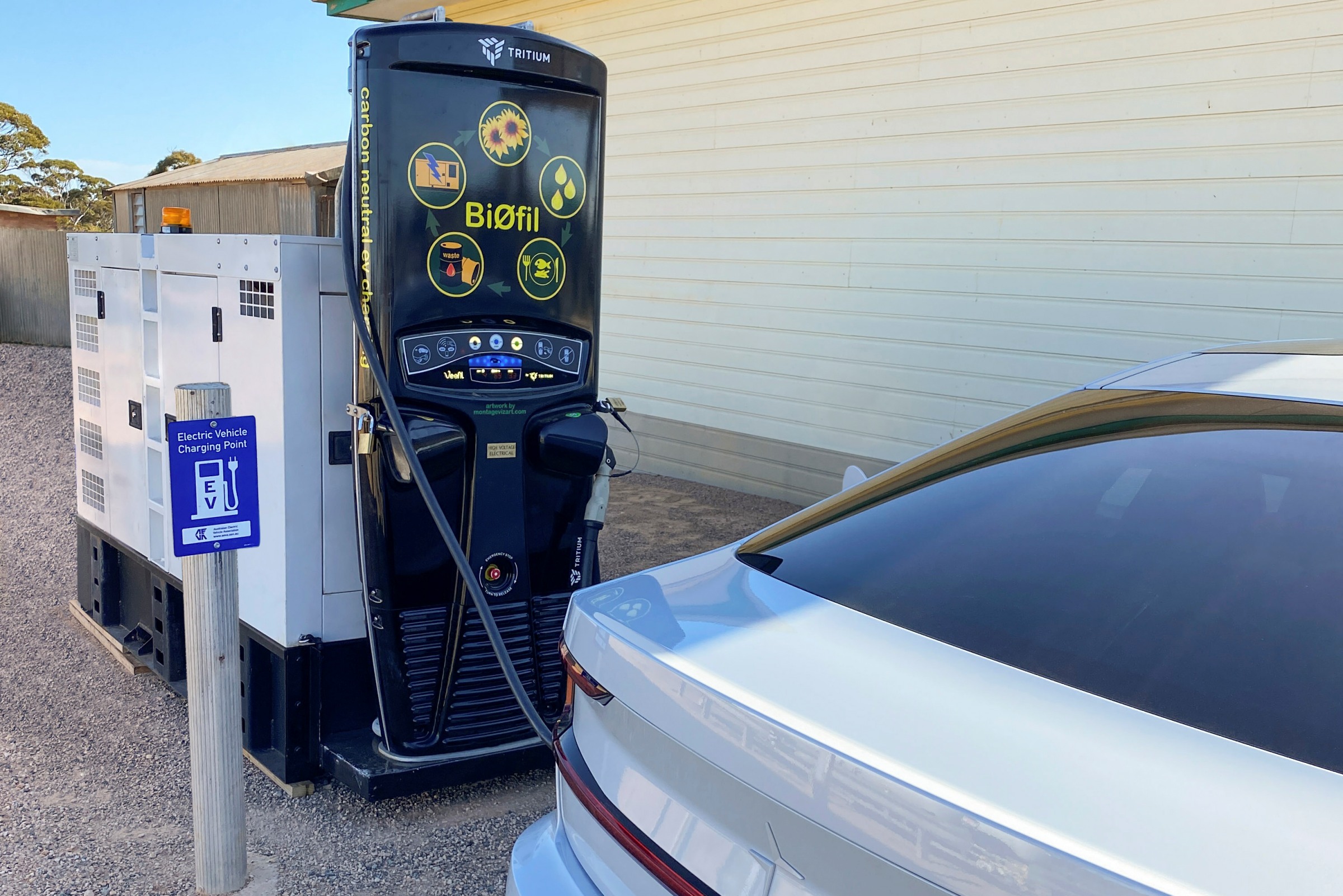 Polestar 2 final thoughts
As mentioned above I really liked the Polestar 2 and the company philosophy.
It's fast, rides and handles beautifully and is well priced.
The exterior design is stylish and practical. Interior design misses some important opportunities to further the cause of the practicality of BEVs.
Driving the Polestar 2 was a breeze, better than some other BEV and coped well with deluging rain and Sydney traffic jams.
I'm looking forward to the Polestar 3 and more.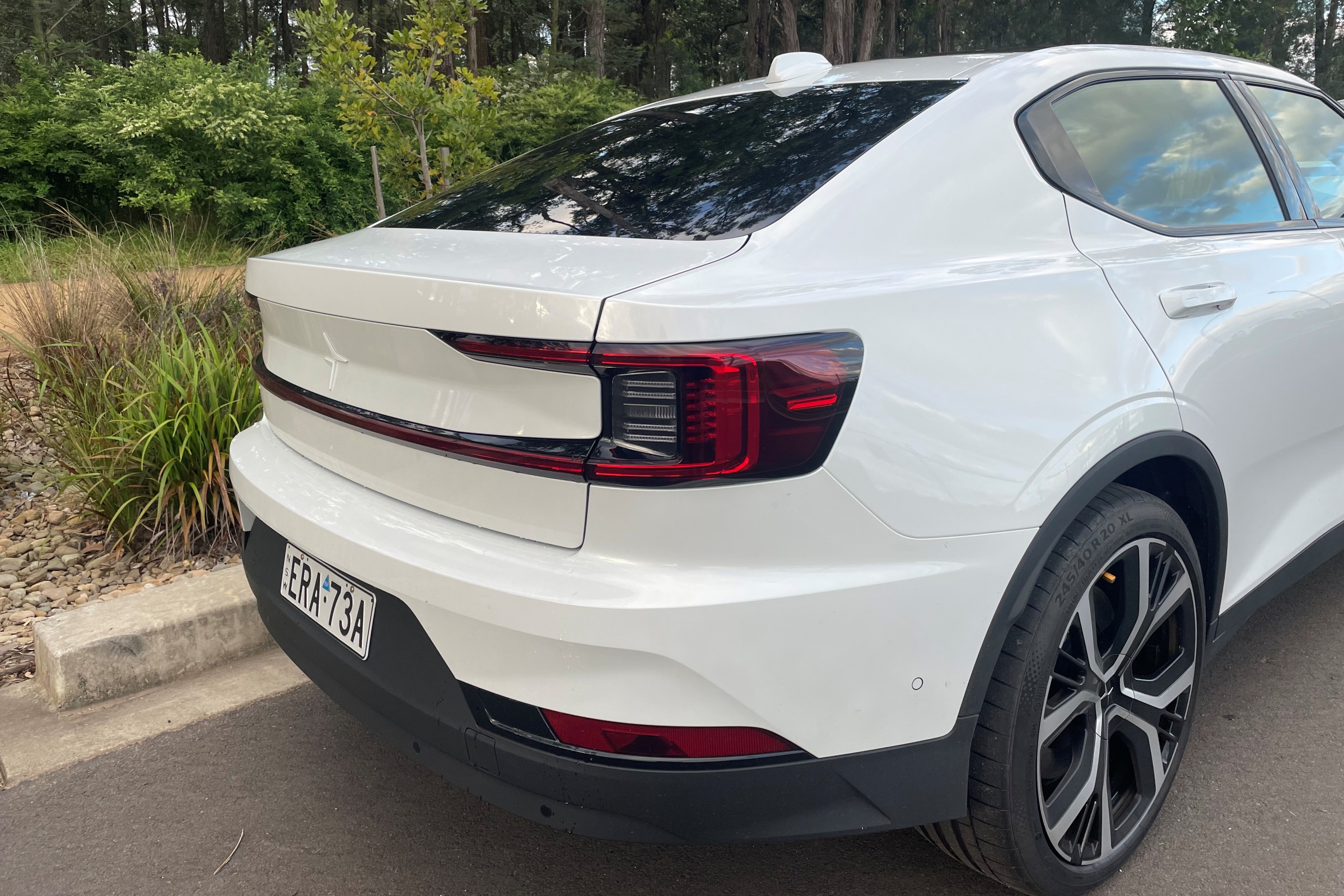 | | |
| --- | --- |
| Polestar 2 version  | MY23 Pricing MLP* |
| Standard range Single motor | From $63,900 |
| Long range Single motor | From $68,400 |
| Long range Dual motor | From $73,400 |
8.6/10
Summary
As mentioned above I really liked the Polestar 2 and the company philosophy.
It's fast, rides and handles beautifully and is well priced.
The exterior design is stylish and practical. Interior design misses some important opportunities to further the cause of the practicality of BEVs.  
Driving the Polestar 2 was a breeze, better than some other BEV and coped well with deluging rain and Sydney traffic jams.
https://www.anyauto.com.au/polestar-2-twin-motor-awd-2022-review/?utm_source=rss&utm_medium=rss&utm_campaign=polestar-2-twin-motor-awd-2022-review