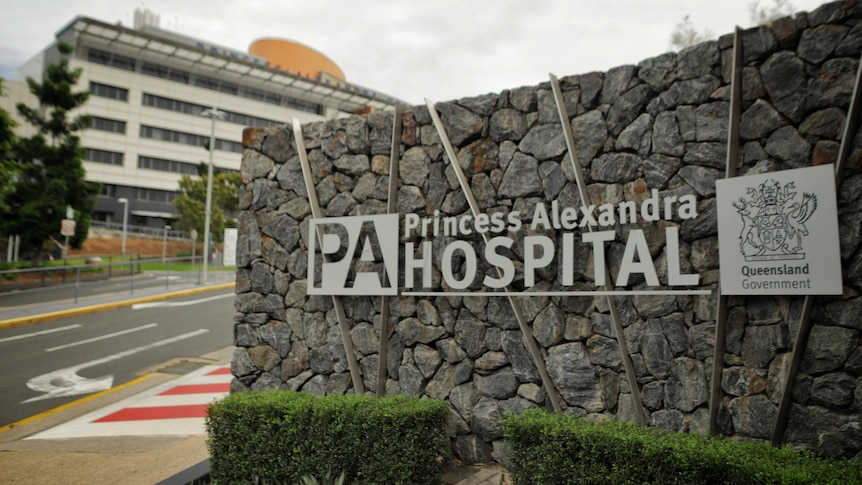 A leaked email has revealed operations at one of Queensland's top hospitals have been cut and specialists redirected to training after it was warned that trainee anesthetists were not receiving adequate supervision.
Key points:
A specialist medical college has advised hospitals to reduce the number of operations
The leaked email contains information about 1,300 people waiting longer than recommended for surgery
The PA says steps are being taken to "manage" the waiting list
An email obtained by the government opposition, the Australian and New Zealand College of Anesthetists (ANZCA), highlighted problems with the anesthesia training program at Princess Alexandra Hospital (PA).
The email was sent in September by PA chief of surgery Adrian Nowitzke to staff.
"In short, [ANZCA] showed us that the way we ran the department before their visit was unacceptable to them," he wrote.
ANZCA was particularly concerned that the hospital was "failing to provide adequate oversight" of anesthetist training, "excessively changing rosters" and "failing to provide sufficient time for clinical support".
Clinical support time is time spent performing duties or fulfilling roles other than providing individual patient care.
The advice resulted in fewer surgeries
Mr Novitzke wrote that ANZCA had recommended cuts to operations to ensure adequate oversight.
"We have managed the department in accordance with this advice/recommendation while we work through all other implications of the visit," the email said.
"As a result, we were not able to collect the number of listings that we did before the wave.
"We are all too aware of the approximately 1,300 people who are waiting on our surgery lists and are waiting longer than recommended."
A spokeswoman for Southern Hospital and Metro Health Services, which oversees PA, said in a statement that the pandemic contributed to surgical delays.
Mr. Novitzke said in his email that the hospital also faced staff shortages to the point where it was "unbearable" to operate at normal surgical capacity.
A spokeswoman said the PA has recruited five additional anesthesiologists – the equivalent of 1.75 full-time positions – and plans to recruit more.
Surgical activity at the hospital increased after the problems were noted in August, she said.
The hospital received training accreditation for 2023
ANZCA first inspected PA in late 2021 and conducted a second inspection in June this year.
"In August, ANZCA notified the hospital that the hospital's accreditation was under review," the PA said in a statement.
"The hospital is working with ANZCA to address staffing and supervision issues.
"The hospital is accredited for 2023."
Health Minister Yvette D'Ath told Parliament that ANZCA will conduct another accreditation visit next year.
"There is no loss of accreditation at the moment," she said.
However, shadow health secretary Ross Bates said the email was damning.
"It paints a disturbing picture," she said.
"It means Queenslanders will miss out on vital surgery … someone waiting to have a cataract removed, someone waiting for a knee replacement, someone waiting for a shoulder reconstruction."
In a leaked email, Mr Novitzke wrote that the council was developing a plan to "manage" the surgery waiting list.
https://www.abc.net.au/news/2022-10-27/qld-pa-hospital-surgery-waiting-list-blow-out/101586998