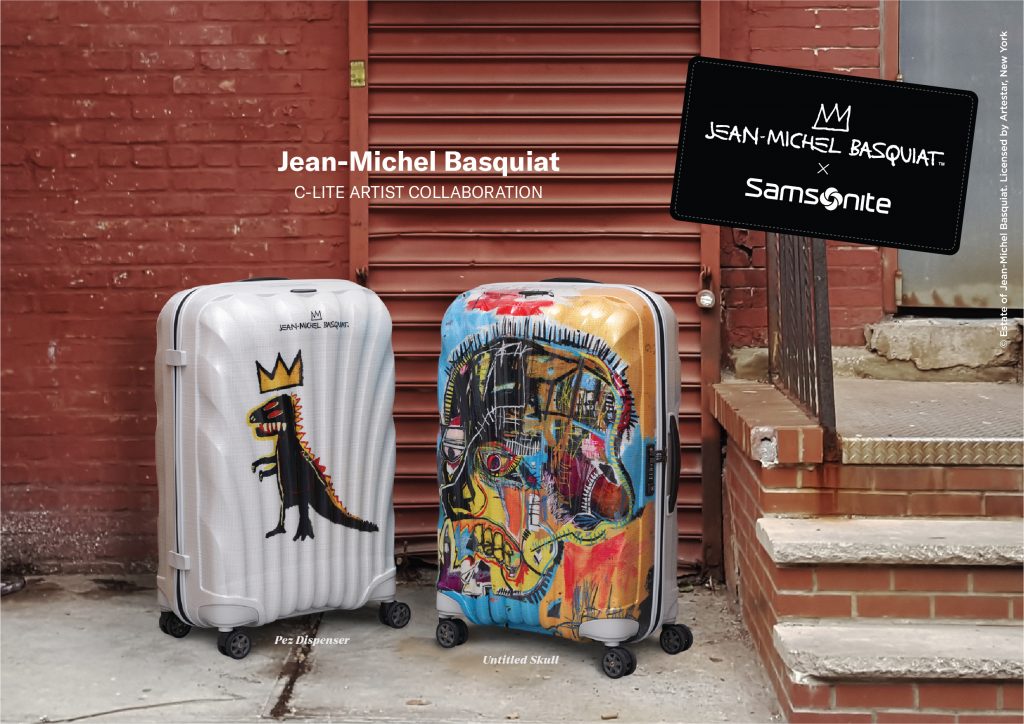 The worlds of art and travel collide in the popular C-Lite collection.
Samsonite is preparing to unveil a highly anticipated collaboration that combines the popular C-Lite luggage series with the iconic, instantly recognizable works of beloved artist Jean-Michel Basquiat. Appealing to the artsy crowd as well as Gen Z and millennial travelers who appreciate pop culture, this luggage is set to be the coolest travel companion as well as a coveted collectible to be cherished for years to come.
The joint collection, which is available worldwide in limited quantities, boasts two unique yet harmonious exterior designs – both of which celebrate Jean-Michel Basquiat's bold neo-expressionism. The first style of luggage, called the Pez Dispenser, features a dinosaur in a crown – a reference to the American candy known as "Pez", which is a pop culture symbol. The figure is painted on a minimal, crisp white background to allow the central art to take center stage. The second style of luggage, titled "Untitled Skull," features rich and textured artwork that supports X-ray vision of the head's open upper and lower jaw. This iconic image collides with different colors and graffiti details to create a powerful, eye-catching impact on any luggage carousel.
Artistic authority and cool factor aside, C-Lite luggage boasts the ultimate in functionality that world-leading luggage manufacturer Samsonite is famous for. Made in Europe, all C-Lite suitcases are shock-absorbing and impressive, with self-reinforcing construction that's perfectly scratch-resistant or withstand extreme travel conditions. Crafted from Curv® materials, the luggage collection is extremely durable, incredibly lightweight, and features dual smooth-rolling wheels that allow travelers to glide with ease, while precise maneuverability is maximized. The extended strong double tube handle makes it easy and convenient to carry a second bag on top. Each piece of C-Lite luggage is also finished with a TSA-approved combination lock and a built-in ID tag for security. Perhaps the most sought-after feature among today's travelers, the cab-sized version of the C-Lite is equipped with a built-in USB port (complete with power battery pocket), meaning charging on the go has never been easier.
The interior functionality of the Jean-Michel Basquiat x Samsonite collection is as lauded as the exterior. Equipped with a high-quality RECYCLEX™ lining made from recycled PET bottles, C-Lite luggage is especially attractive to the eco-conscious traveler. The C-Lite luggage is also equipped with a large apron pocket, lowered cross straps and dividers to keep things organized with exceptional ease. Basquiat's sharp and raw graphic style extends to the interior of each suitcase, which features the artist's signature design that displays layers of single words and short lines of text with the occasional image inserted. The result offers a clarity that interweaves the visual web that is synonymous with Basquiat's creative style. Each Jean-Michel Basquiat x Samsonite suitcase features a collaborative interior label that celebrates the special project.
The Jean-Michel Basquiat x Samsonite C-Lite collection is available in three sizes, including one cabin size, two check-in sizes, and boasts a 10-year warranty. The unique result of this collaboration is a celebration of travel and art based on creative trust and high practicality.
The partnership is in collaboration with Artestar, a global licensing and creative consulting agency representing renowned artists, photographers, designers and creatives.
Available at Samsonite stores and Samsonite.com from October 20, 2022
https://beautynews.com.au/2022/10/26/samsonite-collaborates-with-the-estate-of-jean-michel-basquiat/