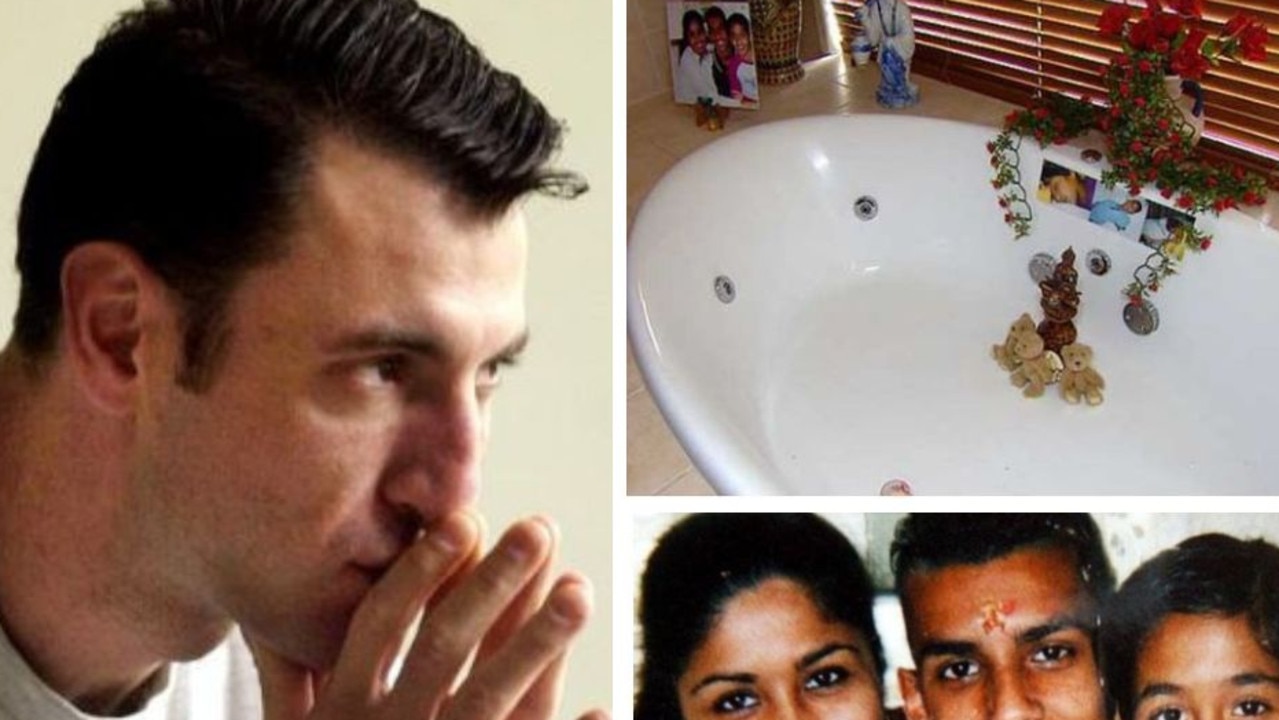 When Shirley and Vijay Singh kissed their children goodbye, they never thought it would be the last time they would see each other.
It was April 2003 and the parents had left their children Neelma, 24, Kunal, 18, and Siddhi, 12, at their home in Brisbane while they flew to Fiji on business.
All three siblings were brutally murdered in the family home a week later.
Want to broadcast your news? Flash allows you to broadcast more than 25 news channels in one place. New to Flash? Try 1 month free. Offer valid until October 31, 2022 >
Their eldest daughter Sonia Patik, then 26 years old, survived the massacre because she was married and lived away from home.
In court, Mr Singh testified that he "woke up screaming" from a dream about a woman in black on the night his children were killed.
Little did he know that his nightmare was about to become a reality.
"I have three bodies in the spa"
When Massimo "Max" Sica called Triple-0 on April 22, 2003, he thought he had gotten away with murder.
Arriving at the two-storey house in Bridgman Downs in Brisbane's north in the afternoon, an eerie silence reigned within the walls of the family home.
It was quiet except for the faint sound of gurgling water coming from the tub.
As he was climbing the stairs, he told police he saw the horrific sight of a trail of blood leading from his ex-girlfriend Neelma's bedroom.
When he entered the master bedroom bathroom, Sica, 33, said he saw blankets piled in the jetted tub and water on the floor.
"I lifted the blanket and saw a hand," he told police in a statement.
"Pulling back the blanket, I saw that the hand belonged to Siddha. Later, Neem's hand touched mine.
"It was cold and wrinkled."
He first called his parents, reportedly in tears and distraught at what he had just witnessed.
"Mom, it's me, Massima! Neelma is dead. Neelma is dead!" he said.
Collapsing to the ground, he scored a triple-0.
"I have three bodies in the spa," he sobbed.
Police arrived at the scene 19 minutes later, unprepared for the carnage that lay within.
A master manipulator
Max Sika and Nilma Singh began an affair in late 2001, despite the strong disapproval of her parents.
The following year, the attractive flight attendant tried to end the relationship, admitting to her mother that Sika was "possessive, jealous and clingy".
It was also alleged that there were previous incidents of physical abuse against Neelma.
In revenge, Sika had earlier circulated nude photos of Neelma to her friends and family via email without her consent.
In one particularly disturbing image, she was handcuffed to a bedpost.
Although it is known that these pictures were taken consensually, Nilma did not expect them to be shared.
This act resulted in her refusing to speak to Sika.
But in the weeks before the murders, he fabricated a story about an inoperable brain tumor and claimed he had only months to live.
Sika also said that he struggled with suicidal thoughts to win her sympathy.
"see you later"
Sika was supposed to come to the Singh family on the night of the murders to take part in a 'prayer' with Neelma to help his 'brain tumour'.
At 20:56 on April 20, Neelma sent a final SMS to Sikh saying that she would meet him tonight to talk and that she might be ill.
The last phone call between them was at 11:30 p.m.
Detectives were unable to confirm the exact time of the murders due to the scalding temperature of the bath preventing the bodies from naturally decomposing.
However, they believed the murders took place between 11.30pm on April 20 and 7.00am the next day.
While Sica never admitted what exactly happened, the indictment alleged that the pair got into an argument that turned violent.
They alleged that Sika flew into a rage before strangling and beating Neelma to death and disfiguring her face with a large garden pitchfork.
Her official cause of death was manual strangulation.
Siddhi slept in her parents' bedroom with the light on because she was afraid of the dark.
She died from a blow to the head with a blunt object.
Kunal is believed to have been the last to be killed.
His official cause of death was drowning, with the prosecution saying he was thrown into a hot tub after being beaten unconscious.
They were all attacked with garden forks that, despite being wiped, had the blood of all three siblings on them.
"rotten smell"
This was the statement made by one of the officers who entered the bathroom where the bodies of Nelma, Kunal and Siddhi were lying in the overflowing spa bath.
The water in the bath was cloudy; full of bubbles, excrement and scum, making it hard to see.
"I saw what looked like a female body lying on top of the spa," the officer stated.
"When I looked closer, I found an arm and a leg that didn't match that body, so I realized there was a second body."
Police thought there were only two bodies at the spa, which was inconsistent with what Sika told them.
But then they found Kunal sunk to the bottom, under his sisters.
Police found it strange that Sica knew there were three bodies in the spa, even though it wasn't obvious at first glance.
"The two bodies I saw were pale, sticky, like they had been there for a while," the paramedic explained.
"Leaning over the foot of the spa, I could see a pair of dark, hairy legs sunk to the bottom of the tub, signifying a third body."
The Singh home remained a crime scene for a month, the longest period in Queensland history.
Unfortunately, the bleach destroyed the forensic evidence.
A a surefire killer
For a long time, Max Sika considered himself untouchable.
He followed the case closely for years, maintaining his innocence.
During the five-and-a-half-year investigation, the police ruled out dozens of suspects.
By the end, more than 1,500 "lines of inquiry" had been registered, with nearly 100 police officers investigating.
More than 300 DNA profiles found in the home were ruled out, with the results of the last two coming a week before Sika's arrest on December 30, 2008.
The case remained indirect, because no one could find him at the scene of the crime.
The breakthrough came after the court heard that Sikka had once confessed to killing the Singh siblings in March 2008.
Andrea Bowman was a friend of Sika's as a teenager who reached out to him again after hearing about the killings on the news.
She claims that after their friendship was rekindled, she went to his house and he asked her a terrifying question before confessing to the murders.
"Do you know how hard it is to kill a person when someone says, 'Please don't, please?'
Andrea told the police about the confession, and a month later she wore a wire in an attempt to get Sika to confess to the crimes again, but he denied ever confessing.
Even so, her statement was an important piece of the puzzle in the case.
"Manipulative and deceptive"
The trial began on January 31, 2012, Sika pleaded not guilty.
Jurors deliberated for more than 21 hours over three and a half days before reaching their verdict.
They found Sika guilty of all three counts or murder on July 3, 2012.
He was sentenced to life in prison with a suspended sentence of 35 years.
"These are brutal, horrific crimes in the worst categories of murder," Judge John Byrne said in his sentencing comments.
"You manipulate and deceive. You have no remorse. Your only concern is self-preservation."
Sika maintained his innocence throughout the trial.
"I did not kill anyone," he declared in court.
"Queensland's justice system is corrupt".
Now the Singh family
Shirley and Vijay Singh still live in the house where their three children were killed 19 years ago.
The spa bath has been transformed into a shrine to their beloved children, and pictures of Neelma, Kunal and Siddhi are displayed everywhere.
A loving mother still kisses pictures of her children and tucks them into bed every night before bed.
Due to the brutal nature of the crime, the victims' faces were reportedly so disfigured that it was difficult for Shirley to recognize them.
"I pray to God that no other mother sees what I saw," Shirley said in her victim impact statement.
"How could anyone be so cold-hearted as to do what they did to my children?"
She said she regrets being abroad at the time of the murder and tried to take her own life because she was overwhelmed with grief after the injury.
"It gives us some peace of mind, but we will never be able to see our children again," Vijay Singh told reporters after the verdict.
Tragedy struck the family again in 2020 when their only surviving child, Sonya, fainted and died of a brain aneurysm at the age of 43.
She was a loving mother, wife and sister who was instrumental in bringing her brother's killer to justice.
How you can help
Get up is a charity that works in partnership with specialist domestic violence services across Australia.
Donations help women who have experienced domestic violence to escape the situation safely and get back on their feet to start a new life.
Dr. Diane McInnes covered the crime and the evidence presented in court. Her book Singh murdersreleased in September 2022, helped provide key information and facts for this article.
Originally published as How three siblings were found murdered in an overcrowded hot tub
https://www.dailytelegraph.com.au/lifestyle/how-three-siblings-were-found-slain-in-an-overflowing-spa-bath/news-story/4b4d64d3f9f0017beeeb602013a1aa4d