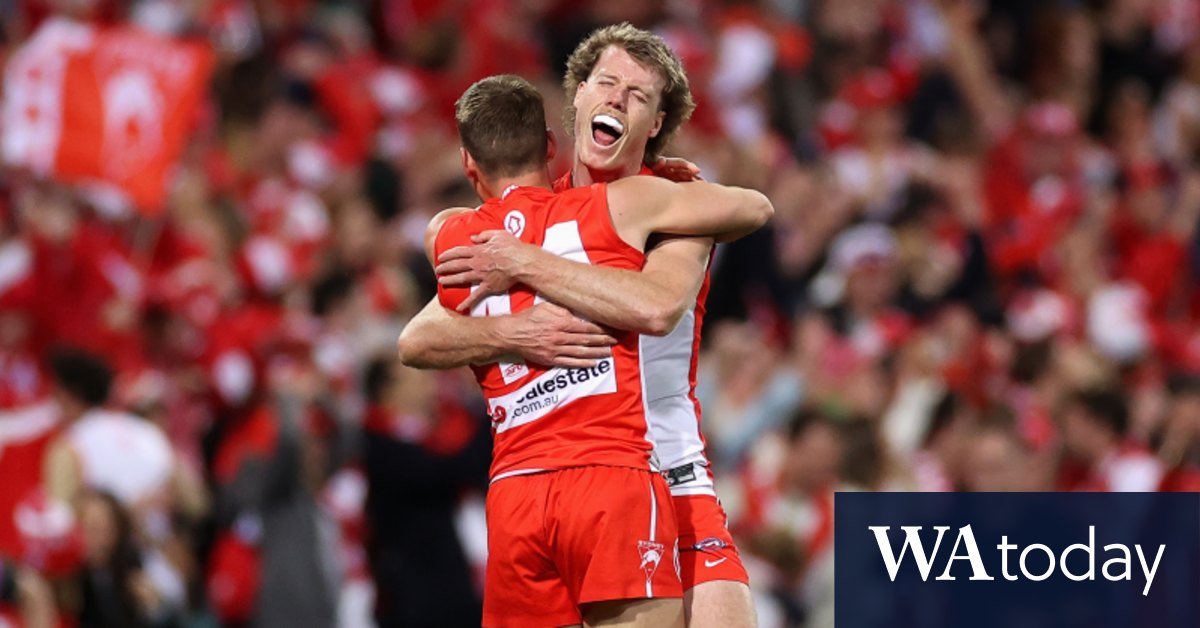 It meant the Magpies would be playing catch-up all day – a position they were not entirely unfamiliar with and, in fact, relished. They almost did it again, scoring seven of their last nine goals.
The Pies' history of stunning comebacks and magnificent narrow victories meant Sydney could never really relax. It got very nervy in the third quarter as the visitors outscored them by three goals to two and Isaac Heaney's miss after the siren left them 23 points clear and opened the door for another fantastic finish.
An eight-minute arm-wrestle followed at the start of the final before the Pies drew first blood, Patrick Lipinski's sharp strike giving Collingwood three goals in a row for the first time in the match. Panic was palpable on the field and in the stands.
But Pepley got the goal Sydney so badly needed when he scored a dubious two-on-one, despite pushing Darcy Moore in the back and side, with about 10 minutes remaining. However, the Swans couldn't find the go-ahead shot and seemed to be running out of gas.
Brody Mihocek scored and made a high-five to cut the lead to 15 points. Will Hoskin-Elliott then cut back and they needed two goals in four minutes. A smothered layup from Ollie Florent fell to Steele Sidebottom, who cut it to three points – the lowest margin of the night. But there was nothing more to give them.
Lance Franklin, who was impressed by Melbourne's Stephen May two weeks ago, defied those who spoke up early and suggested he had run out of steam. He batted 2.1, but numbers aside, he had a big impact on how things went in Sydney's forward line because of his sheer presence. The best Franklin's first-rounder Brandon Maynard could do was try to wipe the oil off his hands. Jeremy Howe and then Darcy Moore were sent off for Buddy, whose career could indeed be over next weekend – if Sydney can send him off in the right way.
The Swans, perennial finals contenders, have done an excellent job of putting themselves in position to challenge for the flag. They quickly rebuilt their roster, spending just two top-eight seasons in 2019 and 2020 as the old guard moved on and the new breed stepped up.
Only two players on their list, co-captain Luke Parker and Sam Reid, were part of the team that won the 2012 grand final – but it looks like only Parker will get the chance to add another medal to his collection, with Reid ruled out early in the third quarters with adductor deformity.
The 30-year-old has had a career limited by nagging injuries, but has bounced back from a near delisting at the end of last season to become a key member of this new Sydney side. Perhaps his body failed him again at the worst possible moment.
Collingwood also used their replacement, with Mason Cox (groin) recalled in the third term in place of Nathan Kreuger in what looked more like a tactical move.
SYDNEY
6.3 11.7 13.10 14.11 (95)
COLLINGWOOD
3.0 7.1 10.5 14.10 (94)
GOALS
Sydney: Pepley 3, Franklin 2, Stevens, Heaney, Reid, Clarke, Rowbottom, Parker, Warner, McInerney, McDonald.
Collingwood: Hoskin-Elliott 2, McCreary 2, Elliott 2, Mihocek, Cameron, Bianca, Daicos, Crisp, Daicos, Sidebottom, Guinivan.
THE BEST
Sydney: Warner, Hickey, Mills, Pepley.
Collingwood: Crisp, Moore, Cameron, Pendlebury.
THE JUDGES
Stevens, Meredith, Stevich
THE FLOOD
45,608 at the SCG.
https://www.watoday.com.au/sport/afl/swans-into-grand-final-after-heart-stopping-one-point-win-over-pies-20220917-p5biv1.html?ref=rss&utm_medium=rss&utm_source=rss_feed