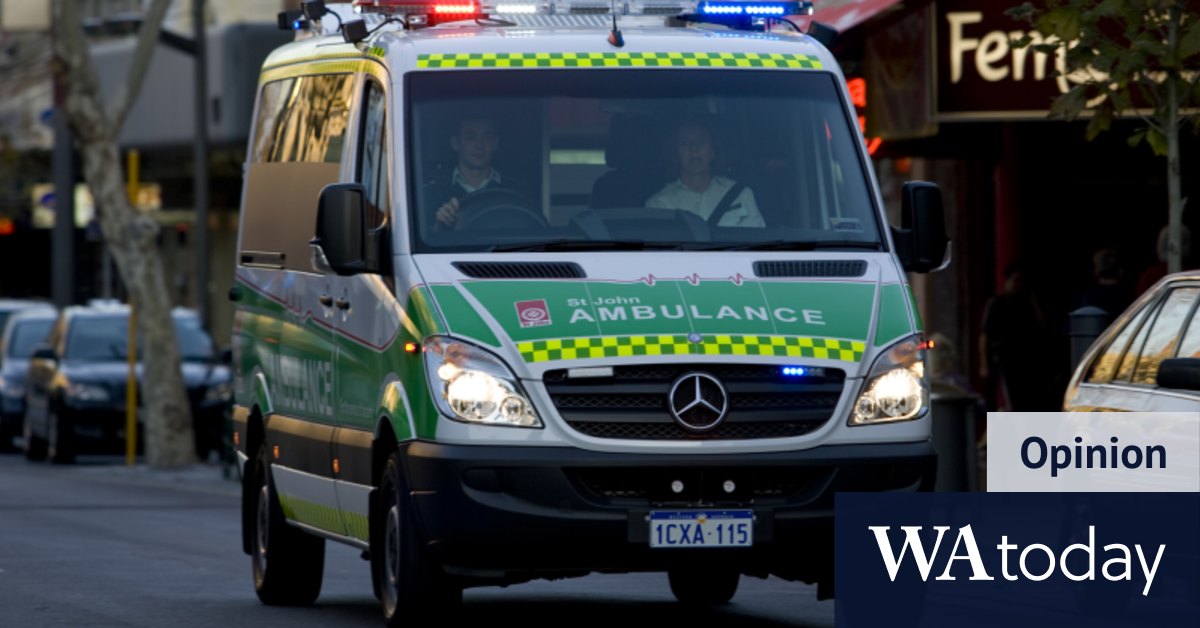 "But the fact is that all our available staff was connected either in hospitals or at work."
This is where we enter into claims and counterclaims when money passes.
Fife was unable to give an exact answer as to exactly how many crews were unavailable to COVID on Sunday, but agreed it was about 20 percent.
At a news conference, Prime Minister Mark McGowan said he had been told that St. John's was short of 40 percent.
McGowan said the government "urged" St. John to put in place important protocols for workers that would allow close contacts to return to work.
It only happened on Monday.
"It was 122 hours [ambulance] increase in that period [Sunday] because we have a system that is under pressure and stress, "Fife said.
McGowan claims there was no ramp at Jundalup Hospital, closest to Wilde's family home.
Public figures show that last week Joondalup was up 325 hours, almost double the 184-hour average and more than three times the 110-hour average last week.
Fife could not say whether St. John, knowing that he had no ambulances, should or offered alternative transportation options to Wilde, such as a family member or even a taxi, given the circumstances.
"We need to be fair and be able to conduct an independent clinical examination to really understand all the circumstances," she said.
Loading
McGowan said there are protocols that allow St. John to call qualified DFES firefighters to help with backfill in the event of staff shortages, and hinted at disappointment that they were not activated.
"We are exploring what further involvement the government can have in these matters and what further management we can create to ensure the better functioning of our ambulance service."
With a darkly ironic time, a politically motivated parliamentary inquiry into the ambulance service is due to be handed over on Thursday.
It is headed by Pierre Ian, a fast-growing MLC who is affiliated to the United Workers 'Union, which represents paramedics and wants the service to be handed over to the public.
"We don't run St. John's, we don't control St. John's, it's a contract agreement," McGowan said yesterday.
At the moment, this contract is subject to re-conclusion, but when it was last signed in October 2020, a McGowan government press release welcomed the deal, which will ensure "continuity and confidence."
"The new agreement will increase transparency and confidence that St. John's Ambulance has adequate resources to continue to provide a high level of service to society," the release said.
It was two months after St. John's medical director Paul Bailey first drew attention to the fact that the ambulance quietly crept up to 1,700 hours a month, compared to the 500-hour "crisis" in 2016 that pushed the former Liberal Health Minister Kim Heims (failed) to "ban" the practice. Since then, he usually breaks 5,000 hours a month, and there are no easy solutions.
Just too many ambulances are waiting too long to transfer their patients to crowded hospitals.
Loading
The problem needs to be attacked from both the supply and demand sides, but only recently has the government recognized the reality.
The first wave of COVID in WA certainly didn't help, but in fact it revealed the fine boundaries of the system as a whole.
It was an opportunity to prepare for two years without COVID, and it was wasted.
Someone in the system, who, like almost everyone in the system I'm talking to, watched the slow car crash unfold before them in real time, said so only last week.
"Ramping and overcrowding ED are canaries in a coal mine with a broader health care system. The canary died years ago and we replaced it with a plastic canary. Some dude just went into the mine and lit a cigarette. "
The Morning Edition newsletter is our guide to the most important and interesting stories, analysis and understanding of the day. Register here.
https://www.watoday.com.au/national/western-australia/the-opportunity-to-fix-razor-thin-margins-in-wa-s-health-system-was-squandered-20220517-p5am7y.html?ref=rss&utm_medium=rss&utm_source=rss_feed