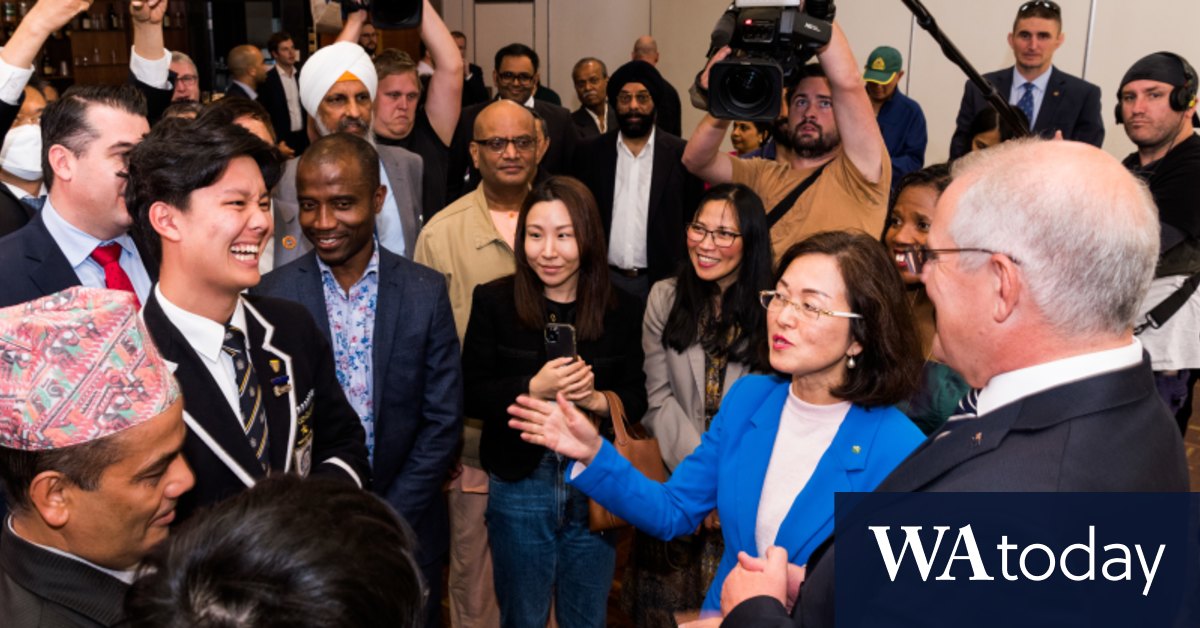 May 6
How do you convince Australians, in the privacy of the voting booth with their stubby pencil, to write the number one next to your name on the ballot paper?
One of the ways in the ultra-marginal seat of Chisholm might be by attending candidate forums of one type or another – and there has been a proliferation of them in this seat, held by Liberal MP Gladys Liu by a margin of just 0.57 per cent.
Four forums have been held so far, and another three are planned before election day.
MPs and candidates in neighbouring electorates say they will have one, or perhaps no forum to attend.
Independent Chisholm candidate Wayne Tseng will attend them all, and was even the sole attendee on the ballot at a Scouts event on Thursday.
"It wasn't political, it was more like a, y'know, show-and-tell thing. Like, 'What we do in an election?' Because it was only kids," he said.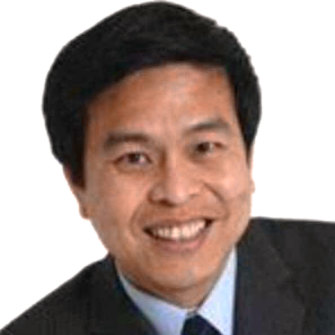 The Age is partnering with the Chinese community on the evening of Tuesday, May 10, to host The Chisholm Candidates Forum for the Chinese Community.
But among the forums held so far, a theme is emerging: the absence of Liu.
ABC Radio Melbourne held a forum last Friday, at which Liu agreed to attend, then declined, then agreed after host Raf Epstein said she'd pulled out.
The Eastern Community Legal Centre held a candidate's forum on Thursday night that Liu didn't attend.
Chief executive Michael Smith said Liu's office said in April the MP was unlikely to be able to make it. Two subsequent emails to Liu went unanswered.
"If you're too busy that's fine, but where else are you [during an election campaign]?," Smith asked.
Last Saturday, the Chisholm chapter of School Strike for Climate put on a candidate forum. Tseng, Labor's candidate Carina Garland, the Greens' Sarah Newman and another independent went. Liu was an apology.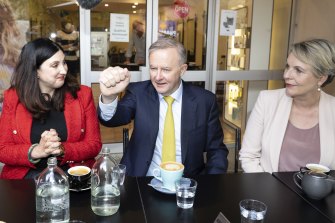 The Chinese Interpreters and Translators Association of Australia last Sunday also hosted a candidate's forum that Liu did not attend, angering organisers as they had ensured specialist translators were there for the 80 or so crowd members. Garland was quizzed for an hour on a variety of issues.
Perhaps the most important forum Liu will miss is St Luke's Uniting Church candidates forum in Mount Waverley, held every election since 1990 and planned for next Thursday night.
"It's less like a debate than just giving people a chance to ask some questions," the church's reverend, James Douglas, said.
But the church has abandoned the event this election because neither Liu nor the Greens' candidate can attend.
At the church's 2019 event, Liu and the Labor and Greens candidates all came. "This time, we would only have had Carina Garland," Douglas said.
"In 2019 I got accused of spruiking for the Liberal Party because they got one or two more questions in than Labor," Douglas recalled ruefully. "So if I ran an event only including Labor, it wouldn't look good."
Garland will go to almost all the forums (though she too was an apology to the Scouts). Asked what the events were like, Garland said they were "a real pleasure".
"I prioritise these events because I think it's really important to speak to the community, particularly after the pandemic where we've been really limited in the way we've been able to reach people. The people that run these events put in so much effort so it's just a matter of respect."
Liu was contacted on Friday about her attendance at forums but did not respond by deadline.
She will attend the Chinese community event on Tuesday, although she initially told organisers she would be unable to attend.
"Unfortunately, Ms Liu is unable to attend due to clashing commitments she has already made a while ago," her office told organisers of The Chisholm Candidates Forum for the Chinese Community.
Liu changed her mind when approached by The Age on Thursday, with her campaign confirming she will be there.
Tseng, a former Liberal Party member who has given his preferences to Liu ahead of Garland, said it would have been a bad look for Liu not to be there, before adding that he's looking forward to all the forums. "I'll be there."
May 5
With just over a fortnight before polling day, it's time to look back at what's been promised so far by both major parties in Chisholm during the election campaign. And the answer is: sports facilities.
By Thursday, the Liberal and Labor parties had promised to spend $35.5 million in the ultra-marginal electorate, with $33.4 million of it going towards sporting reserve upgrades.
The seat, where the result at the last election was decided by just over 500 votes out of 99,000, has seen both sides promise generous renovations at two local reserves.
First cab off the rank was Mount Waverley Reserve, followed by Mirrabooka Reserve, a popular park in Blackburn South. Both parties then pledged to upgrade Box Hill City Oval.
Liberal MP for Chisholm Gladys Liu promised $7.5 million to make the ground wheelchair accessible, create community rooms and build women's change rooms for Hawthorn's AFLW team. But the money was dependent on state Liberal leader Matthew Guy winning November's state election, at which point the Victorian government would chip in another $5 million.
Labor's candidate for the seat, Carina Garland, promised a bigger upgrade, coming in at $13.6 million and not dependent on state funding.
The strangest funding announcement in the seat thus far was $1.25 million for Blackburn Cycling Club, quietly announced by Liu on a Sunday morning with no media present, but with Angus Taylor there, for no apparent reason other than that the Industry, Energy and Emissions Reduction Minister was in town and a cyclist himself.
Political parties focus on local sporting organisations because their reach across the community through hundreds of members, and across various age and multicultural groups, is second to none.
But that doesn't mean it's money well-spent amid the many competing pressures on public funds. The Age asked Liu and Garland's campaign teams if each project had any sort of business case or quantifiable means of justifying its need in the community.
Garland said Labor had done extensive consultation with tenants of the grounds and councils.
"Our investment is based on master plans for each facility that have been endorsed by [Whitehorse and Monash] councils. Importantly, these projects focus on increased participation, particularly of women, in sport and are focussed on areas of clear community need," she said.
She said the Mount Waverley Reserve funding was part of a Monash council master plan, while the Mirabooka Reserve and Box Hill upgrades were part of a Whitehorse Council plan.
Liu said that all the projects that had won Coalition support during the campaign were responding to specific needs in the community.
"Project proponents provide a range of details to support their requests for support, including plans, costings and letters of support from other project partners," she said.
Kate Griffiths from the Grattan Institute will release research from the think-tank this year on the use of grants programs for political ends.
She said it was far-fetched that upgrades such as the ones promised to Chisholm were a federal government responsibility.
Election promises too often pre-empted legitimate grants programs, "or they are directly providing funding for something that is, in this case, clearly not a Commonwealth responsibility at all", she said.
Griffiths, Grattan's deputy program director of budgets and government, said Canberra should provide funds to state or local governments through a considered and open process.
"Why is the Commonwealth getting involved at local or state-level activities? That's never very clear in these announcements. Sometimes after the fact, they force-fit them into a grants program, because that's a means to allocate public money."
She said promises made during election campaigns were at least transparent, unlike many confidentially decided grants programs.
"It's overt, out-in-the-open vote-buying," she said. "But it's still got the question of whether the Commonwealth should be doing it at all."
---
May 3
Billionaires and babies do mix, it turns out – even in an ultra-marginal seat in the heat of a close election campaign. Billionaire philanthropist Nicola Forrest was a special guest at Goodstart Early Learning in Box Hill on Tuesday to help boost the profile of childcare and kindergarten in an election campaign that has not had much to say about education.
Forrest, the co-chair of philanthropic organisation the Minderoo Foundation, had invited Scott Morrison and Anthony Albanese to attend. In their honour came Liberal senator Sarah Henderson, Labor MP Ged Kearney and the woman who hopes to make the seat of Chisholm her own, Labor's Carina Garland. No sign of sitting member Gladys Liu.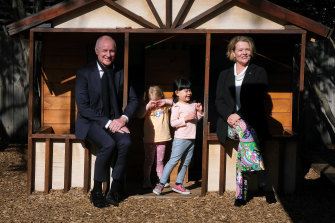 Forrest's Thrive by Five campaign seeks a revamp of Australia's early education system, including better pay for educators, higher childcare subsidies for families and 15 hours a week of funded kindergarten for three- and four-year-olds.
So, what does she think of the Coalition and Labor policies?
"Look, I think there have been some good moves by the government and some announcements by the opposition, but you know, we're not going to go away until we see this actually becoming a major part of the social infrastructure of this country," Forrest said. "I think the disappointing thing is that we're not seeing long-term vision and leadership for this country.
"And one of the biggest investments that we need to make is in our most important asset, which is our children, and the future productivity of this nation."
Henderson said the government was proud of its early education policies and the country's high workforce participation rate.
"In the next budget, we'll be providing almost $11 billion for childcare for families, and our focus remains on targeting low- and middle-income families," she said. "In the last two budgets, we've spent some $5.5 billion in our women's economic statements, across women's economic security, women's safety and women's health and, of course, childcare."
Labor has promised to boost the wages of poorly paid early educators and to rejig the childcare subsidy to make 96 per cent of families better off.
Kearney said early education was a major cost for families battling low wage growth and rising inflation.
"One of the major costs for families is early childhood education and childcare. We know Australia has one of the most expensive childcare sectors in the OECD," the Labor MP said.
"I'm sure with Tanya Plibersek as education minister – which I know she will be, and it's her absolute passion – there will be lots to say on education."
April 29
Is a federal anti-corruption commission important to voters in Chisholm? If so, a key moment on the campaign trail in the ultra-marginal seat, held by Liberal Party MP Gladys Liu by just 1100 votes, came on Thursday evening at The Glen shopping centre.
In a forum hosted by the ABC's Raf Epstein, Liu was asked repeatedly to explain an element of her government's proposed integrity commission. This is how it went.
EPSTEIN: The government's corruption commission wants to have ministers deciding whether or not investigations go ahead. Is there anybody outside of the Coalition who thinks it's a good idea for a politician to have any say in an investigation?
LIU: What we don't want to see is having the media and the public to judge before …
EPSTEIN: That's not an answer in any way to what I just asked you. Can you really stand before me as a sitting MP and tell me a politician should help determine if an investigation goes ahead, because that's the government's model.
LIU: This is exactly what I mean. These 350 pages detailed the content of the policy. It will go down to what is important, and we will see what will be done.
EPSTEIN: I will try that question once more. Do you, as a sitting MP in the federal parliament, think it is a good idea that a politician determines the course of an investigation? Because that's in your government's proposal.
LIU: I don't think that is in there. Let us get back to you on that one. What I am saying is that there are 350 pages that will be a lot of details that you can go to.
The exposure draft outlining the Coalition's proposed integrity body nominates the federal attorney-general as being able to make referrals to the anti-corruption commission if they "reasonably suspect" an offence is being committed. Government ministers would also be able to make referrals to the agency, but it would ultimately be up to the integrity commissioner under the Coalition's plan to decide whether to pursue a corruption allegation.
Research last year for The Age by Resolve Strategic found that more than two-thirds of Australians supported the creation of a powerful federal anti-corruption watchdog, with Coalition voters slightly more in favour than those who support other parties.
And the failure of the Morrison government to establish a federal anti-corruption commission has helped fuel the campaigns of independent candidates in seats like Kooyong and Goldstein.
On Friday morning, Liu gave The Age a statement saying Epstein's line of questioning was not accurate.
"Whether a matter is investigated will be a decision for the Commonwealth Integrity Commission and would depend on all of the available facts," her statement said. "Under the Government's model, the Commonwealth Integrity Commission will receive referrals from all of the existing integrity agencies, such as the Australian Federal Police and the Commonwealth Ombudsman.
"This will ensure that only the most serious types of criminal conduct are considered by the Commonwealth Integrity Commission – ensuring that the Commonwealth Integrity Commission resources are not wasted on referrals which are purely used for political purposes."
Loading
"The Commonwealth Integrity Commission will also be able to investigate a matter on its own motion where it discovers suspected criminal conduct in the course of an existing investigation," she said in the statement. "The law enforcement division will still be able to take direct referrals from the public."
A spokesman for Labor's shadow Attorney-General, Mark Dreyfus, however said that the ABC's line of questioning was accurate.
"When politicians decide who gets investigated it's not an integrity commission, it's a cover-up commission," he said. "The fake integrity commission Gladys Liu is backing would not be independent, would not be able to hold public hearings, and would not be retrospective."
"Gladys Liu knows this and, like all Liberals, is terrified of what a genuinely independent anti-corruption commission would uncover about the scams, rorts and dirty deals for Liberal mates the Morrison government has been indulging in for years."
---
April 28
It was a case of on, off and then back on again for Chisholm MP Gladys Liu on Thursday afternoon at a live candidate's event being hosted by ABC Radio Melbourne's Raf Epstein in Glen Waverley.
Epstein said in the early afternoon that the Liberal Party MP had pulled out of the broadcast of his afternoon show, live from The Glen shopping centre. Liu then agreed to come on, although her campaign disputed the details of whether she had ever fully agreed to attend the event. Her spokesman confirmed she would debate Labor's Carina Garland from 5pm.
The Age is holding its own live event in Chisholm on May 10, in partnership with a number of Chinese community organisations, at the Mount Waverley community centre, next to the railway station.
Four candidates from the field of 12 – the most crowded field in an Australian lower house electorate at the 2022 federal election – have been invited to the forum: Liu, Garland, the Greens' Sarah Newman and independent Wayne Tseng, the only other candidate besides Liu who was born overseas (Tseng was born to Chinese parents on a boat to Australia from Vietnam, but that's another story).
The forum will be moderated by Michael Bachelard, The Age's deputy editor, who was once a foreign correspondent in Indonesia and is also a former world editor. The event will give key candidates a chance to talk to voters from the Chinese community and answer their questions.
Among those at Thursday's event was Ranju, who declined to give her surname. She moved to Australia from India in 1990 and said while she had voted for the Liberal Party many times in the past, she was not sure who to vote for in Chisholm this time. She said she had emailed Liu "about vaccination for chickenpox or something about, you know, the federal government's response to COVID".
"I never got a response."
In fact, she said she had emailed her local MP several times in the years she had been in Australia. They always responded, Ranju said.
"Then we met her at one of the cafes last year when all the lockdowns had lifted. My husband told her 'You didn't respond'. So she [Liu] said 'What do you mean I didn't respond? Give me your name and number'. And she didn't respond even then."
Also in the crowd was George Euripidou, who has lived in Wheelers Hill for more than 30 years and is a member of the Greek community.
In the latest boundaries drawn up by the Australian Electoral Commission, Euripidou will now be in the seat of Chisholm for the first time. He stopped by the event because he wanted to hear both candidates, and said after listening to them both he was still undecided.
"Over my time I've voted for both parties. But this time I'm still undecided. I mean I'm concerned about the cost of living, that's my top priority." He said Liu had attended a Greek Easter event last week that he was at.
Epstein asked Liu repeatedly why the Prime Minister had broken a promise to introduce a federal anti-corruption commission. Liu said she did not think one aspect of the bill that Epstein repeatedly put to her – that the Coalition's model would allow politicians to determine the course of an investigation – was not in the laws the government had proposed. "I don't think that is in there, but let's get back to you on that one," she told Epstein.
Liu was also asked about signs that were put up at 29 polling booths around Chisholm on election day in 2019 that were in the same purple as official AEC signage. The signs instructed voters in Chinese that putting a "1″ next to the Liberal Party candidate was the "correct" way to vote.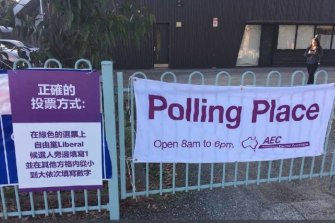 She said they had been authorised by Liberal Party headquarters, not her. "And when I was asked that morning at the polling booth, I didn't know it was signed with anything that would violate [the rules]," she said.
The signs were later challenged in the Federal Court. "I didn't have to go to court because it wasn't authorised by me," Liu said. Asked if it was the wrong thing to do, she said: "I think it has been dealt with and there will be no sign in any other colour other than blue [at May's election].".
Labor's Carina Garland struggled to answer a question put to her about how an Albanese government would have any impact on increasing peoples' wages.
"Anthony Albanese keeps on saying he can help people's wages go up … It's a bit of a con isn't it?" Epstein asked. "Well, there are a lot of things we can do to reduce those pressures on families and on all people across our community," Garland said. "I think that is a very complicated question."
---
April 26
Former prime minister Kevin Rudd joined the campaign trail in the ultra-marginal seat of Chisholm on Tuesday and dismissed Defence Minister Peter Dutton's Anzac Day warning that Australia must prepare for war as little more than "sounding off".
Rudd also said the Morrison government had badly damaged Australia's relationship with Pacific Island nations.
Joining Labor candidate Carina Garland at Box Hill shopping centre in Victoria's most marginal seat, Rudd was warmly greeted by store owners and shoppers, many of whom stopped him for a selfie.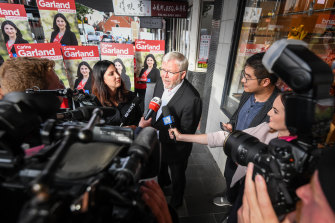 Rudd said the Morrison government had "messed up in the Solomons by doing a whole bunch of silly things like cutting Radio Australia, cutting foreign aid, not standing up for climate change, turning your back on the Pacific Island countries for nearly 10 years.
"Guess what? Doesn't turn out so well."
The Solomon Islands recently signed a security pact with China and, on Monday, Dutton warned that Australia needed to prepare for war and "stare down any act of aggression" from China.
Loading
"You can sound off as much as you like about China," Rudd said when asked about these comments, "but unless you've got your defence lined up, which he hasn't, and unless you've got your foreign policy lined up, which the Solomon shows he hasn't, then people are just scratching their head."
Among those with an itch over Australia's relationship with China was Mount Waverley resident Robert Chen, who stopped Rudd in the shopping centre and demanded of him: "Why should we vote for Labor as opposed to Liberal?"
Rudd said Labor, if elected, would "stand up for Australia's national interest and stand up for Australia's national values", before moving on.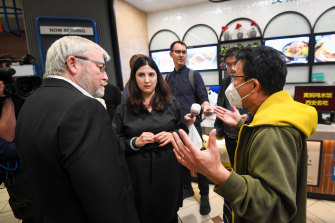 Chen later told The Age that Australia's relationship with China was terrible as a result of developments in recent years.
"Obviously, we have different policies, different value systems, but that doesn't stop us from being friendly to each other and having a working relationship. We should have at least a working relationship with China, but to get where we are today, the mismanagement of the government is incredible," Mr Chen said, adding that this didn't make a decision on how to vote easier. "Labor and Liberal, they are amazingly similar on China."
Rudd also met with Labor campaign workers who were involved in calling voters with Chinese background to discuss Labor's stance. "In their conversations with a lot of the local Chinese community, one of the questions near the top is corruption," Rudd said. "They want clean government."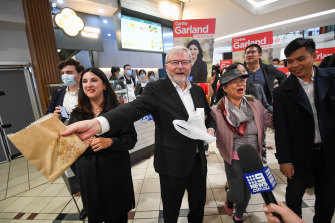 ---
April 25
Victoria's most marginal seat, Chisholm, is also the nation's most crowded for candidates at next month's election.
Twelve people have nominated for the seat, which the Australian Electoral Commission said was the biggest field running in Australia's 151 electorates.
The ballot, finalised on Friday, has seen the Liberal MP Gladys Liu selected in the lucky first spot on the ballot paper while her Labor opponent Carina Garland is last.
"Being at the bottom of a list of 12 makes it tough," said ABC election analyst Antony Green, who also noted that the donkey vote – simply voting for candidates in the order in which their names appear on the ballot paper – is generally estimated to be about 1 per cent of the final tally.
Liu won the seat by a margin of just 0.57 per cent at the 2019 election and later faced down a Federal Court challenge to the result over her use of signs at all 29 voting booths in the seat in the same purple colour scheme as official AEC banners. The signs told readers the "correct" way to vote was to put a "1″ next to the Liberal box.
Labor has nominated Chisholm as its chief target in Victoria at the May 21 election.
Along with Labor, Liberal and the Greens, other parties to field candidates in Chisholm's crowded field are Derryn Hinch's Justice Party, One Nation, the Animal Justice Party, the United Australia Party and independent and former Liberal Party member Wayne Tseng.
In all, across Australia, 1200 candidates nominated for the lower house – on average, eight people per seat. The award for the seats with the lowest number of candidates enrolled – five – was shared by eight electorates in NSW and Queensland (Barton, Blaxland, Cook, Kingsford Smith, Watson, Bonner, Griffith, and Oxley).
---
April 24
Prime Minister Scott Morrison has chastised Labor for an advertisement highlighting Liberal MP Gladys Liu's links to donors suspected to be risks to Australia's national security, claiming the opposition was engaging in racist campaigning.
"They go after Gladys Liu because she's Chinese," Morrison said on Sunday. "They're engaged in what I think is a sewer tactic here."
On Sunday, Labor released a new attack ad targeting the Hong Kong-born MP's record, including her involvement in a campaign against the LGBTI Safe Schools program and her campaign's use of controversial signage at the last election that appeared to mimic the Australian Electoral Commission.
One component of the ad stated that the Victorian division of the Liberal Party reportedly handed back $300,000 in donations because then prime minister Malcolm Turnbull's office was told the Chinese donors, invited to the 2015 event by Liu, were potential national security threats.
"What do we know about Liberal Gladys Liu?" a male voice says in the ad, with an ominous-sounding background track.
Treasurer Josh Frydenberg told reporters in Melbourne on Sunday that Liu was a "proud Australian citizen" and admonished the "desperate, dishonest, racist attack ad by the Labor Party" without specifically outlining why he believed it was inappropriate to reference Liu's links to the donations.
Read the full story here.
April 21
It's a cliche in politics that every vote counts. But in Victoria's ultra-marginal seat of Chisholm, where the result at the 2019 election was decided by just over 500 votes out of 99,000, the phrase rings true.
In these circumstances, the importance of big local sporting organisations cannot be underestimated. Their tentacles spread across the local community because of the hundreds of club members in local, senior, women's and multicultural programs. For political parties, getting these people onside can harness the cultural capital associated with the sporting club – the kind of resonance that trumps a pamphlet in the mailbox.
For this reason, both major parties are keen to promise a major upgrade for the Box Hill City Oval used by the Box Hill Hawks football club and Box Hill Cricket Club in the heart of the electorate.
But the Liberal Party beat Labor to the punch.
On Thursday morning, Liberal MP for Chisholm Gladys Liu was beaming, yellow Sherrin in hand, as she announced $7.5 million in federal funding for the site to make it wheelchair accessible, create council-run community rooms around the oval and build women's change rooms for Hawthorn's AFLW team.
"The Morrison government's strong economic management enables us to invest in local communities," she said on a wintry morning, standing on the wing of the pitch near female football players.
"Thank you to the girls for giving me a few tips on how to do the handballs and the kicks … Go Box Hill Hawks!"
Liu's rival for the seat, Labor candidate Carina Garland, a former union official, would have been gutted. Two party sources have confirmed that she and her federal Labor team were due to make a funding announcement at the ground in early May.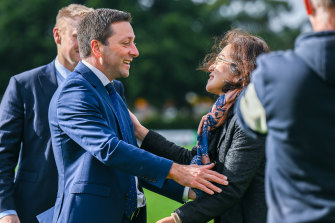 At the planned announcement, Labor would have restated a funding commitment made before the 2019 election, when it was defeated in Chisholm.
"People are right to be angry that it has taken three years and an election to be called before Gladys Liu bothered to finally do her job," Garland said in a written statement.
The near miss comes after, earlier this month, Liu made funding commitments to local reserves just days after Labor pledged money to the same places.
Liu's millions promised to the Box Hill oval were almost matched by a $5 million pledge by Opposition Leader Matthew Guy, who welcomed Liu and Menzies candidate Keith Wolahan as he made one of his first forays into the federal election campaign.
The state opposition also needs to win back the seat of Box Hill, to be contested by Liberal candidate Nicole Werner, and surrounding seats that it held before its 2018 election drubbing.
"The state government is apparently only invested in big projects. They want to build big things but they're forgetting what is so important to so many and that is our backyards, our neighbourhoods, our communities," he said.
Ed Sill, president of the Box Hill Hawks, said he had been campaigning for money for the oval for five years but had not yet received money from the Andrews government.
Former Liberal Premier Jeff Kennett, president of the Hawthorn Football Club whose VFL team is Box Hill Hawks, last year claimed the Andrews government was withholding funding from Hawthorn because of Kennett's frequent and dramatic criticism of Premier Daniel Andrews' handling of the pandemic. The state government denied this.
"I'm not going to speculate," Sill said when asked if Kennett's presence at the club was a reason the state had not allocated funding.
---
April 20
Emily Kah doesn't pay much attention to politics, but the 18-year-old engineering student, who will vote in her first election next month, has heard enough to form the view that the Australian government "just doesn't like China".
"It makes me kind of uncomfortable," she told The Age outside the bustling Box Hill shopping centre.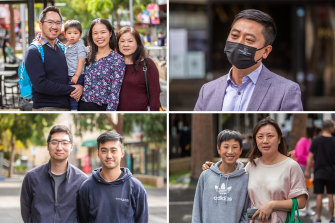 Kah, a second generation member of a migrant family is one of the thousands of residents of the ultra-marginal seat of Chisholm who lives in a Chinese-speaking household. This cohort makes up more than a quarter of the electorate in the must-win seat for Labor, and they are described by one expert as "collateral damage" in Australia's diplomatic feud with Beijing.
Like any cohort, they will vote on different issues. Some of the dozen Chinese-Australian voters approached by The Age, are, like Kah, put off the government by suggestions from Coalition ministers that Australia could go to war with China over Taiwan. Alan Qu, who moved from the mainland 15 years ago and now sells apartments in Box Hill, said he'd vote Labor "because the Liberal Party is not friendly to China". Others are more interested in hip-pocket issues, although for those whose business interests are tied to Australia's relationship with China, these are intertwined.
Read the full story here in English, here in simplified Chinese characters, and here in traditional Chinese characters.
---
April 17
Natalie Rabey lives in Chadstone – best known for its enormous shopping centre. But as all sides of politics talk about the cost of living, this 72-year-old pensioner and resident of the electorate of Chisholm, says mere survival is becoming tough.
"The cost of food has skyrocketed." She had her family over for lunch on Sunday and "It cost me $240," she says. "I didn't buy much. Cold meats, dips, carrots, not much else. I nearly died. What the hell? It's my entire pension once my bills come in too."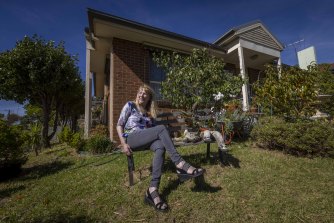 Chisholm, held by the Liberals' Gladys Liu on a wafer-thin margin, sits within Melbourne's eastern suburbs mortgage belt, with an average weekly wage and home ownership rates that reflect the national average. But its western corner contains pockets of entrenched poverty.
The polling booths in this part of Chisholm – suburbs such as Ashwood, Burwood, Chadstone and Oakleigh – vote Labor. Last election, 11 out of 12 booths in the electorate's west went to the ALP.
In this part of the electorate, inflation, housing, rental availability, petrol prices and the rising cost of food are likely to be real factors influencing people's votes.
Rabey lives in public housing in a unit she got 20 years ago and says that having a home is the single most important cost-of-living issue. Having learned how much public housing helped her two decades ago, she is part of a housing group that tries to assist other people in the area in desperate circumstances.
She acknowledges there has been some social housing construction in the area in recent years and both state and federal governments have put money into building public and social housing. "But we need more." Whoever wins the next election should use empty land in her suburb to build more cheap housing, she says.
Liu won Chisholm in 2019 by just 0.57 per cent. Rabey, a self-described "one-eyed Labor voter," has encountered Liu in meetings with housing advocates and is scathing.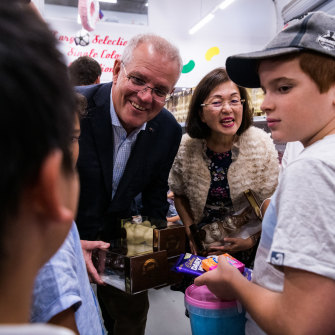 "'If you need anything just let me know,' she says to us. We never hear from her again," says Rabey, "It's all talk and no action."
She sings the praises of both Liu's predecessor until 2016, Labor's Anna Burke, and former Liberal state MP for the area, Graeme Watt. "He was such a good advocate."
Liu says she takes housing affordability seriously, noting she was born and raised in public housing in Hong Kong before coming to Australia as an adult. "I am always available to talk to local residents about their concerns and advocate on their behalf," she says, also pointing to almost $7 billion in rent assistance the federal government provides each year.
Labor is promising to create a Housing Australia Future Fund, which over five years would build 20,000 social housing properties, 4000 of them for women and children fleeing domestic and family violence and older women at risk of homelessness.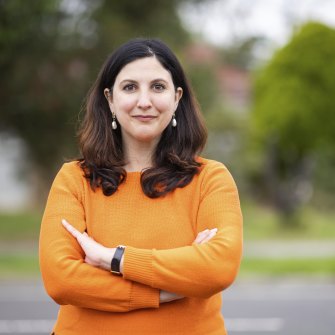 Labor's Carina Garland says the rising cost of housing is a big concern to voters in the seat and that housing affordability has got worse under the Morrison government. It needs to be a focus for the federal government, she says. "There is no easy fix, but it does require leadership."
Rabey regularly pops into Ashwood's Power Neighbourhood House, which The Age visited during the campaign's first week. There, manager Carol Berger has just finished giving out $1200 worth of free food to people in the suburb who can't afford to feed themselves or their families.
"We didn't do it prior to COVID," says Berger as she packs up food left over from that day's giveaway. During the pandemic, she says, "lots of people couldn't go anywhere and a lot of people lost jobs".
"We thought we have to do something. People needed us more than ever." The extremes of the pandemic are fading, but the centre has kept the food parcel service going. "The need for the food assistance was growing," Berger says.
Berger has run the Power Neighbourhood House for 15 years in Ashwood and lists food prices, the lack of access to bulk-billed health care and – most of all – affordable housing as the most pressing issues in the neighbourhood.
Consultant Kos Samaras, a former Labor assistant state secretary who now runs consulting firm RedBridge, says the cost of living is raised constantly at focus groups he runs for clients.
The vote in this part of the electorate is changing. At the last election at the Ashwood voting booth, while Labor's primary vote dipped by 1 per cent and the Liberal vote fell by 8 per cent, right-wing and independent candidates got a swing of 9 per cent towards them.
Loading
Monash University politics professor Paul Strangio says while the cost of living is the economic terrain most elections are fought on, there is little governments can do about it in the Australian system.
"It's not like we have price controls," he says, noting the one area it's very directly controlled is JobSeeker. "On that, we have a bipartisan agreement that they're not going to increase it."
---
April 15
Good Friday was a holy day on the campaign trail and Prime Minister Scott Morrison made a quick visit to Melbourne to perform some religious observances – Christian in the morning and Jewish in the afternoon (Passover is coinciding with Easter this year), but the day was not entirely devoid of politics.
His first stop was in the ultra-marginal electorate of Chisholm, where he hopes to woo enough voters to keep incumbent Gladys Liu in her seat as she battles Labor's Carina Garland. To that end, Morrison visited the Syndal Baptist Church, which sits within an area the 2016 census shows has 28 per cent of residents with Chinese ancestry (the Australian average was around 4 per cent).
Chris Danes, senior pastor at the church, gave some insight into the scramble to organise events on the prime ministerial campaign roster. "They rang yesterday and said, 'Would it be OK for the prime minister to come'?" Danes told The Age.
"We're inclusive, anyone can come. If Albo rang up, we'd say come on over."
It was, Danes thought, the first time a prime minister had visited the congregation in its 65-year history. However, he insisted to the political minders that the PM and his entourage of media and minders not take away from Jesus on Good Friday.
The scrum was respectful, Danes says, though he will face the real problem on Sunday: "We got some very strong Labor supporters and some strong Liberal supporters. We've got Greens too. That's why I am going to cop it in the neck," at Sunday's service, Danes said.
During the Friday service, Danes sat next to Morrison. "I leaned over and said to him, 'This is as quiet as it's going to be all day for you', and he said 'Yep.' "
Danes says Morrison was focused on the service. "The phone was in the pocket."
As for speaking, Morrison made only one short statement after stepping outside. "Easter is about faith. It's about hope," he said.
"It's about being able to look forward to the future with confidence encouraged by your beliefs. It's a very personal thing for me, and I really enjoyed the service this morning."
Church manager Clara Yeung on Friday was helping organise the first of the day's Good Friday services being run in both Mandarin and Cantonese. She says around 200 people regularly attend the Mandarin and Cantonese services the church holds on Sundays. Asked whether the church leaned either way politically, Yeung laughed and said: "We don't tend to talk about this at church."
Morrison later joined Treasurer Josh Frydenberg, the member for Kooyong, at a Passover service in Hawthorn East.
Loading
---
Outside the church doors, debate was raging over Morrison's decision to abandon a pledge to set up a corruption watchdog, blaming Labor for not supporting his preferred plan.
While integrity in politics has been a major campaign point for "teal" candidates in other Victorian seats including Kooyong and Goldstein, the heat has been less intense on the federal Liberal MP Gladys Liu.
After the church service with Morrison, The Age asked Liu why her side of politics had not established an integrity commission during the term of government now coming to an end.
"[We had] 350 pages of our policies and we really want to have bipartisan support for this very important issue," Liu replied. "Unfortunately, Labor, they only came up with two pages. There is bipartisan support needed for this very important bill to pass."
Morrison did put forward a proposal for an anti-corruption commission, and Labor and others in the federal Parliament rejected it. But Morrison never introduced legislation to the parliament or attempted to negotiate a way forward with Labor, the minor parties, or the independents.
Liu is running in Chisholm against Labor's Carina Garland, who says Morrison "hates scrutiny", and that if she wins the seat, she hopes to be part of a Labor government that introduces "a powerful, transparent and independent National Anti-Corruption Commission".
Garland says the anti-corruption commission proposal Morrison floated "was almost universally denounced as being so weak it would cover up corruption".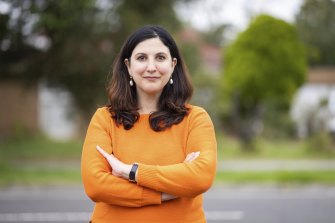 ---
April 14
Talk about awkward. It's just gone 8am on Thursday morning at Mount Waverley railway station and the Liberal MP for the seat of Chisholm, Gladys Liu, and Carina Garland, the Labor candidate trying to replace her, have just met for the first time.
Both are on the hustings, handing out flyers.
"We said hello, we are civilised," says Liu, handing a brochure to a voter, asking him to re-elect her in the marginal seat she has held for the last three years.
Two or three metres away stands Garland, handing out her flyers. "I'm Carina, I'm the Labor candidate," she tells a commuter strolling up to catch the 8.06 from platform 1.
Loading
Most greet her, and Liu, warmly enough. "People I think are really very friendly," says Garland. "They're very happy to have someone wish them good morning."
When The Age asks Liu and Garland how often they're campaigning at railway stations, both respond – within earshot of the other – that their opponent is seldom seen.
"After the last three years, people want to see someone on the ground," says Garland. "That's why we're here, so people can see an active political representative in the community."
"This is the first time I've seen my opponent," says Liu, a backbencher with a high profile because of the controversies that have surrounded her since she was elected.
Commuters appear more generous to the pair than they are to each other. "Every time I come, once a week, one of them is here," says Stephen Mackay after he arrives to board his city-bound train, and is handed a flyer on the way into the station by both.
Alongside the candidates is ABC Friends volunteer John Presley, also handing out leaflets supporting the national broadcaster. "It's a good cause," he says while handing a flyer to another distracted worker dashing for the train.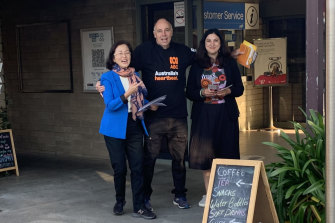 Presley got a call the night before from the ABC Friends, asking him to hand out at Mount Waverley. He loves that both candidates are there.
"One of you is going to be the local MP once this is done," he tells Liu and Garland, gathering them together for a picture. They oblige, perhaps a touch reluctantly.
Loading
Wandering past next is Mount Waverley resident Steve Pewtress, out walking his son's red heeler Razzle. The Liberal Party member stops to say hi to both candidates. He's president of the Waverley Blues Football Club; in the opening week of the campaign, both Labor and the Coalition have promised millions to upgrade the team's clubrooms. "We're somewhat pleased we live in a bellwether seat in Chisholm," he says.
For more than an hour, this scene plays out in front of Shila Patel. She runs Café Away, in a tiny nook on the railway station's city-bound side, each weekday from 6am to 10am.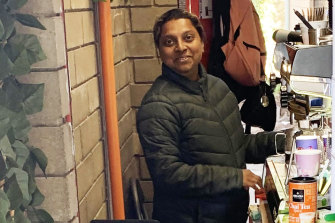 She took on the cafe two months ago, when she was selling just one or two coffees a morning. Now, as people return to the office, she's selling 15 coffees on a good morning. "Before the pandemic, the previous owner would sell 50 a morning."
Patel has seen the candidates there on previous days and says people are happy to take a flyer, and sometimes stop and talk to them. "If they are running late, they don't want to speak to anyone. Or buy coffee," she says ruefully.
---
April 13
Chisholm vital to Labor's poll puzzle. By Stephen Brook and Clay Lucas
It's difficult to overstate how much Labor needs the ultra-marginal seat of Chisholm to fall its way if it is to form government. In Labor circles it's known as the 76th seat – the seat that gets them over the line in federal parliament's 151-seat chamber.
"It's not even a bellwether; it's a necessary seat," says pollster Peter Lewis, of Essential Media Communications. "If it doesn't fall, they don't win."
With a wafer-thin margin of 0.6 per cent in favour of Liberal incumbent Liu, both sides are struggling to predict what will happen in the seat and are reluctant to make a call publicly. One Liberal Party elder doesn't expect his party to hold Chisholm, pointing to a predicted statewide swing against the Coalition that would eclipse Liu's advantage.
"We don't know what the Chinese vote will do," he adds, "And we can't find out."
A large portion of Chisholm's voters have Chinese heritage – under the seat's previous boundaries, 17.6 per cent of this electorate spoke either Mandarin or Cantonese at home. It was why the ferocious battle for Chisholm in 2019 included the first-ever candidate debate conducted in Mandarin, between the Liberal Liu and her Labor challenger at that time, Taiwan-born Jennifer Yang.
On election night it looked like Labor had won the seat until Liu pulled ahead on pre-poll and postal votes to emerge victorious. If 545 votes had gone the other way, Yang would've been elected. There was also controversy over a Liberal Party sign. Printed in Chinese and in the same purple colour as Australian Electoral Commission signage, it appeared to translate as saying the "correct way" to vote was Liberal.
On the trail with Gladys Liu
As the election campaign kicked off, The Age joined Liu at Box Hill Central shopping plaza, where she mingled easily with voters. Some she approached, others sidled up to her for a chat after recognising the MP, who has a particularly high profile among Chinese-born voters. Among them was a self-confessed fan, Jennifer Teng, who asked The Age for an introduction to the Hong Kong-born MP.
Teng, from the Gold Coast but in Box Hill visiting family, moved to Australia from Singapore 26 years ago. She can't vote for Liu but recognised her – one of the few MPs with Chinese heritage – from TV. Teng wanted to meet Liu "because she is a fighter" who helped represent "one of the minorities in our community, and, of course, we have Penny Wong too".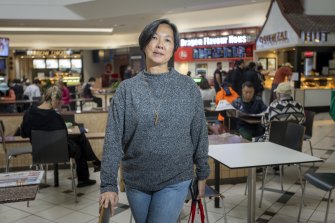 "Gladys, she's fighting very hard for us. I wish we had a voice like her in the Gold Coast as well. She works very hard for our Asian community, especially the Chinese community," says Teng, who also, without prompting, raises the issue of what she terms "scandal" surrounding Liu being a pro-Chinese "spy" before dismissing it. "It has to be supported by evidence. If there's no evidence, you have to leave people alone," she says.
Liu, 58, has weathered controversy over claims she used WeChat to air anti-LGBTQ messages and persistent allegations over her links to Chinese organisations. Her membership of a Coalition that has stridently condemned the Chinese government also adds to the unpredictability of how this electorate might vote.
"She could be caught as a victim of government-friendly fire as Peter Dutton and Scott Morrison attempt to wedge Labor on China," says Essential pollster Lewis.
Even former Labor campaign workers respect Liu's skill, particularly her at-times controversial use of Chinese-language social media. "Despite her air of incompetence, she is a pretty brutal operator," says one former ALP operative. "You have got to respect the hustle."
The challenger
One certainty in Chisholm is that the winner of this seat will be a woman. Liu faces a challenge from Labor's Carina Garland, a former Victorian Trades Hall Council assistant secretary who holds a PhD in gender and cultural studies.
Garland, 38, lives in Clayton. Her Italian heritage mirrors another aspect of this area's ethnic diversity. Her grandfather migrated from Italy in the 1950s and trained as a teacher at Burwood Teachers College. It paved the way for her father to become a doctor. Together with Garland's mother, a nurse, the couple ran a local GP practice in the south-east.
"It's a positive migrant story that mirrors others in this area," says Garland, who graduated with an honours degree in English literature at Monash, and worked as an academic at the University of Sydney.
Garland says Labor also stands shoulder to shoulder with the Chinese-Australian community against racism and racially motivated attacks. "I will work to unite communities, not divide them," she says.
The Greens candidate is Sarah Newman, a full-time university student who works at JB Hi-Fi. The party has no chance of winning the seat, but last election it polled 12 per cent of the primary vote. If Newman can maintain that, the preferences of her voters will be key to deciding the result. Liu and the Liberal Party must suppress the Greens' vote to avoid Labor taking the seat.
The candidates will be seeking the support of voters not particularly engaged in the electoral process, and many voters who don't care about government. Thus, the campaign will be fought at shopping centres, weekend markets and during the morning commute along the two major train arteries, the Lilydale and Belgrave train lines that pass beneath Box Hill Central, and the Glen Waverley line that terminates at the giant The Glen shopping complex to the south.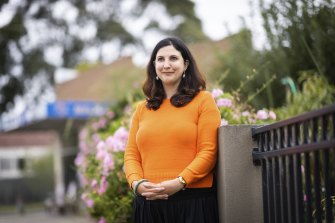 Apart from transport and road arterials, the electorate is also divided geopolitically, the Liberal-majority Whitehorse City Council in the north and the Labor-dominated Monash Council in the south. Adding to the uncertainty is a redistribution that slashed Liu's majority from 0.6 per cent to a nominal 0.2 per cent. Polling is even more difficult because, while there are 109,000 eligible voters at the time of writing, there are an additional 19,000 adults living in the electorate who are ineligible to vote.
A sample of modern Australia
This electorate's wealth falls squarely in the middle, according to the 2016 census. The average weekly wage for the area in 2019 was $1472 – marginally above the national average at $1431. A third of voters own their home outright, also in line with the national average.
Housing affordability and the cost of living, along with national security, will form the key concerns for voters, says Theo Zographos, a Liberal councillor on Monash Council.
"It's a good sample of modern Australia, and it's obviously a very competitive seat. It's multicultural Australia," he says. While close to one-fifth of the electorate has mainland Chinese or Hong Kong heritage, almost 8 per cent were born in India and Sri Lanka, and 4 per cent Malaysia.
Issues like fuel prices will be front of mind, he says. "In a seat like Chisholm, which is more a mortgage-belt type of seat, these are the issues that voters have been expressing."
Let's not forget the impact of the pandemic. Christo Christophidis has been the force behind local cafe Mocha Jo's on the Kingsway at Glen Waverley for more than 20 years.
"In the last couple of years, the business community has taken second place to people's lives. They have not been focusing on their neighbours. It has been all about you," says the president of the Glen Waverley Traders Association.
The pandemic took its toll and there is an undercurrent of fear among local shop owners. There are 12 vacancies out of 58 shops on the local strip and in a sign of how a key local issue can impact on a federal campaign, traders worry about how the looming Suburban Rail Loop will further hurt trade when a massive construction tunnel opens at the end of the street. Labor is banking on the transformational multibillion-dollar state government project being an electoral asset as it will improve transport links in the area.
The old high street shops on the Kingsway are still well patronised. Two locals nominate Mocha Jo's as the place to meet when The Age visits, and his cafe is humming. Outside, a Buddhist monk sits sipping a cup of tea. But there is no denying the impact of the massive shopping complex The Glen, and its three gleaming luxury residential towers, fresh from a $490 million redevelopment. "It's like Singapore; you can go shopping there and live upstairs. It's amazing," says Christophidis.
Opposite Mocha Jo's at the Piatella Cafe, real estate agent Ming Xu sits outside and orders a green smoothie. He moved from China to study IT at Monash University about 20 years ago and never moved back to China.
In those days, Ming says his Chinese language skills were a disadvantage when he was starting out in the industry. But now, as a director of the Biggins & Scott real estate agency in Glen Waverley, catering to a clientele that includes Chinese, Indian, Malaysian and European, the opposite is true.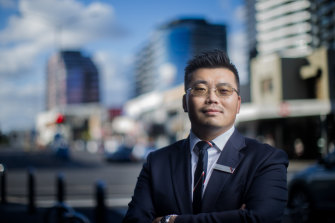 So, how does he describe himself? "In terms of being part of the community, to that extent I am Australian, but at the same time I still have Chinese blood in my body," he says.
"We are looking for a government that can keep our community safe, that's why people are coming here," he says, also nominating education and small business assistance as priorities.
First-generation immigrant families move to the area attracted to high-achieving schools such as the state Glen Waverley Secondary College. They have helped to push the premium for houses in the school's central Glen Waverley catchment area by up to anywhere between $100,000 and $1 million. "It's amazing – some of these houses behind the Kingsway go for $2.3 million or $2.6 million. You can still find a house on the edge of Glen Waverley for $1.3 million," Xu says.
A bridge to the community
To the north of where Xu sits lies The Glen, and a series of modern residential towers dominate the skyline. In 2012, the Village Cinemas near The Glen provided the stage for the launch of the 267-apartment Galleria development. And when the complex's developer, John Castran, needed a bridge to the Chinese community to sell the off-the-plan scheme, Gladys Liu stepped forward.
Then a multicultural adviser to Victorian Liberal premier Ted Baillieu after working as a speech pathologist, "she was certainly an incredible cohesive force in the Chinese community", Castran recalls.
While some electors will vote against the government for its rhetoric against the Chinese government, many Hong Kong-born Chinese will support Liu for her criticism of the China-sponsored crackdown in Hong Kong, accusing Beijing of undermining its autonomy.
Real estate agent Xu says, while he does not want to get too political about the Australian government's relationship with the Chinese government, many Chinese-Australians like what Liu represents. "It is good we can see that the parliament accepts an Asian voice," he says.
"With a Chinese background, I also wish the Australian government and Chinese government will be friends – that will be more beneficial for the economy."
The Age asked Liu how she would win the seat again, and whether she would campaign this time around using WeChat, in particular, to reach Chinese voters. Liu said she had been in or near the electorate of Chisholm for three decades and knew its issues well. She had a plan, she said, that would "deliver local jobs [and] better local facilities".
She would be "using every means available to communicate the benefits of my local plan", she added.
By Tuesday, both Liu and Garland had promised millions of dollars to rebuild pavilions at two reserves, one in Blackburn South, the other in Mount Waverley. In both cases, Garland made her promise to sporting clubs first, only to see Liu days later make the same offer – but with an extra million dollars in funding thrown in.
---
April 11
The battle for Chisholm, Victoria's most marginal seat, has begun with both Labor and Liberal candidates promising millions of dollars to rebuild sporting clubrooms at a popular Blackburn South park.
Chisholm is held by the Liberal Party's Gladys Liu, on a margin of just 0.6 per cent. Labor's Carina Garland is trying to take back a seat held by the ALP for the six elections until 2016.
On Saturday, Garland met cricket and soccer clubs at Mirrabooka Reserve and promised $2 million to rebuild clubrooms there. On Monday, Liu met the clubs and promised $3 million.
"If it's a tie, we will take $5 million," joked Drew Sinclair, the president of the Blackburn South Cobras cricket club.
Stuart Baird from Blackburn Newhope Football Club, which also plays at the reserve and uses the clubrooms, also joked that members of the two sporting clubs were "all single issue voters; our fear is a hung parliament".
Whitehorse Council has been in discussion with both clubs about rebuilding the rooms for several years, and Liu met the football club last November to discuss funding for the project.
"The local clubs in our communities have been so persistent in their requests for funding and so passionate about the needs of their members," she said.
Garland, however, said that despite knowing the request for new clubrooms had been around for some time, it had taken Liu three years since being elected to make the promise.
Liu was "scrambling to fix three years of inaction, not because she cares about locals, but because she is desperate to hang on to her job".
Labor has also promised $3 million to upgrade the Mount Waverley Reserve, also in Chisholm and home to 38 cricket and 16 Australian rules teams. Garland said it would improve the sporting pavilion there, providing men's and women's change rooms, more storage space and better social facilities.
Email Clay Lucas (clucas@theage.com.au) and Paul Sakkal (paul.sakkal@theage.com.au) to tell them what's happening in Chisholm during this election campaign.
Jacqueline Maley cuts through the noise of the federal election campaign with news, views and expert analysis. Sign up to our Australia Votes 2022 newsletter here.
https://www.watoday.com.au/national/the-must-win-seat-why-chisholm-will-make-or-break-labor-s-hopes-20220412-p5acse.html?ref=rss&utm_medium=rss&utm_source=rss_feed