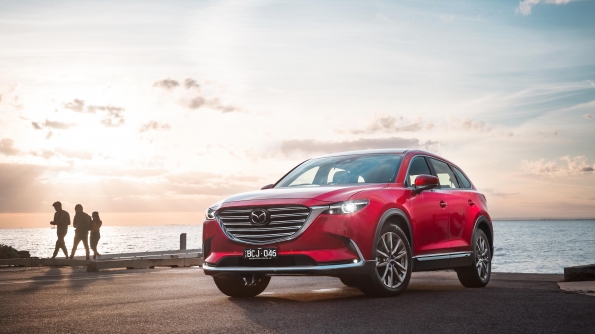 MyDrive | Mazda – Mazda Australia today announced a series of updates to its flagship large SUV Mazda CX-9, which goes on sale.
The new model adds advanced speaker technology, enhances safety, comfort and functionality, and welcomes changes to the finish that enhance its stylish appeal.
Strengthening the human-centered design approach, the Mazda CX-9 adds G-Vectoring Control Plus (GVC Plus). Building on GVC's existing feature, GVC Plus uses brake control to help stabilize and return the car to a straight line when exiting a turn. As a result, steering is not only safer, but also relaxes the driver, providing a greater sense of communication.
The all-wheel drive system adds the latest version of Mazda's Off-Road Traction Assist system, which makes it easier to drive on undulating roads by preventing tires from slipping.
Safety and tranquility while driving at night are improved with the addition of an advanced automatic braking system that detects pedestrians in the dark. In addition, improved adaptive LED headlights provide excellent visibility without dazzling other road users.
All models also add an auto-hold feature to the electric parking brake, which keeps the car stopped even if you take your foot off the brake.
The daily use and comfort of passengers have been improved by the addition of a hands-free trunk that allows customers to open and close the trunk with a simple foot gesture. Inside the Mazda CX-9 the central infotainment screen has been enlarged to nine inches.
In the third row, access has become safer and easier with a switch that tilts the seat forward from the seat cushion side, where third row passengers, often children, can easily reach it. Adding USB ports further improves the functionality of the third row.
By simplifying the range, Azami will replace the Azami LE at the top. In the update Azami has improved, smoother, better quality seat with Nappa leather, which is offered in two color options; The nutty brown color exudes depth and warmth, while Pure White provides a modern, refined look. Both options are combined with black to get a two-tone image and with it a new level of sophistication.
Exterior changes include a new shiny dark 20-inch wheel trim and a new bright 18-inch wheel trim.
In line with updates to the Mazda range, the 2020 CX-9 also received a new keychain design and updated car badges, which were first introduced on the Mazda3.
The updated Mazda CX-9 will be available at Mazda dealerships nationwide from January 2020.
| | |
| --- | --- |
| Variety | Manufacturer's price list |
| Mazda CX-9 Sport FWD | $ 45,920 |
| Mazda CX-9 Sport AWD | $ 49,920 |
| Mazda CX-9 Touring FWD | $ 53,310 |
| Mazda CX-9 Touring AWD | $ 57,310 |
| Mazda CX-9 GT FWD | $ 61,720 |
| Mazda CX-9 GT AWD | $ 65,720 |
| Mazda CX-9 Azami FWD | $ 64,893 |
| Mazda CX-9 Azami AWD | $ 69,303 |
Reviews and links
Feedback or questions on this article, please use the comments box or click for contact information.
Connect to MyDrive
MyDrive's social media network now includes Facebook, Twitter, Instagram, YouTube, LinkedIn and an RSS feed. You can access MyDrive social networking sites by clicking on the relevant social networking icons below and in the right sidebar on any page of the MyDrive Media website.
https://mydrivemedia.com.au/cx-9-continues-flagship-role-for-mazda/