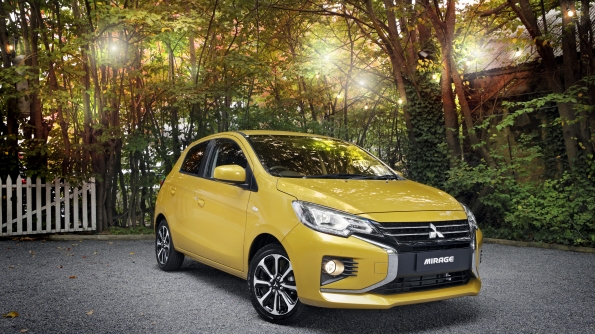 MyDrive | Mitsubishi – Presented Mirage 2020 with a new look and greater safety.
"Customers looking for style and reliability will enjoy the new Mirage 2020. We have made some significant and thoughtful changes to improve the ownership experience. I believe we have considered all the key areas that we know our customers value in this segment, "said Owen Thomson, Senior Product Strategy Manager.
A small car … a big presence on the road
In 2020, the Mirage underwent significant upgrades to introduce the Mitsubishi Dynamic Shield, sleek aerodynamic lines and new chunky bumpers with large angular recesses at each corner to expand its position and give it a more solid look.
The rear has a wider look and more presence thanks to the square processing of the bumper corners and the colored key of the rear spoiler and high-mounted LED stop lights for increased safety. In addition, the LS has received new LED headlights with headlight alignment, LED daytime running lights and LED taillights.
New 15-inch alloy wheels on the LS have increased road presence. A turning circle of 9.2 m makes overall maneuverability and outdoor parking easy.
The Mirage is equipped with a responsive 1.2-liter MPI MiVEC petrol engine, which means excellent performance and excellent fuel economy, ensuring fewer trips to the service station and lower overall fuel costs. Its maximum power is 57 kW at 6000 rpm and maximum torque of 100 Nm at 4000 rpm.
There are two transmission options. A five-speed manual transmission is available on the ES model. Alternatively, the ES's optional automatic transmission (CVT) allows the car to move efficiently depending on driving conditions. The LS is equipped with a CVT transmission only.
Small enough for city parking, big enough for daily driving
The Mirage may be a small car, but it's big enough for everyday driving. Five-seater compact car, it also has flexible rear seats that allow you to get extra luggage when the driver needs to carry extra luggage. The capacity is 235 liters in the usual configuration or 599 liters with the rear seats folded. The cargo cover is standard as well as a 12V outlet at the back.
The revised interior includes a 7-inch Mitsubishi smartphone display, audio connectivity with DAB, Apple CarPlay / Android Auto and hands-free voice control.
The ES also sees the introduction of a combined meter with an ambient temperature display, and an additional high-contrast meter has been added to the LS.
More security
Frontal Collision Mitigation (FCM) and a rear view camera are now standard in the range, and the LS also receives lane departure warning (LDW) technology.
Mirage LS
Moving from the ES, the LS class brings extra style and convenience with new 15-inch alloy wheels with two-tone diamond trim, climate control, air conditioning, cruise control, rear window for privacy, LED headlights (with automatic remote control). headlights and taillights.
Reviews and links
Feedback or questions on this article, please use the comments box or click for contact information.
Connect to MyDrive
MyDrive's social media network now includes Facebook, Twitter, Instagram, YouTube, LinkedIn and an RSS feed. You can access MyDrive social networking sites by clicking on the relevant social networking icons below and in the right sidebar on any page of the MyDrive Media website.
https://mydrivemedia.com.au/new-mirage-gets-the-green-lights/