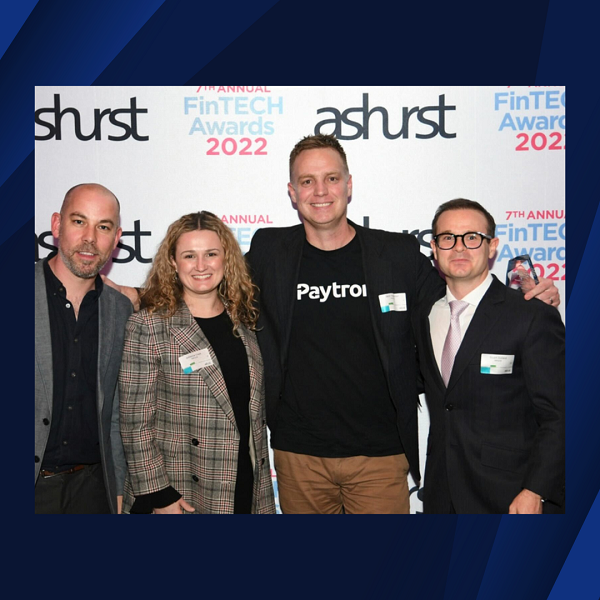 Paytron co-founder Jacka Veldsman (2th right) pictured with (left to right) James Cameron of AirTree Ventures and FinTech Start-up of The Year 2022 category sponsors Rebecca Cope and Stuart Dollard of Ashurst.
Winner of FinTech Start-up of the Year 2022 – Patron, has a long list of accomplishments for a company that is only 2 years old. The duo, founded by Jacques Veldsman and Francois Henrion in 2020, sought to eliminate the pain points of accountants and companies dealing with too many disparate programs when it came to managing business expenses.
Fast forward to 2022, Patron raised $4.3 million in funding while establishing itself as a leading workflow and expense management platform with a full suite of applications. The company represented Australia at UK FinTech Week in London in May, was identified as one of Australia's top 50 startups raising millions and is currently growing at over 20% monthly. Paytron also recently won Xccelerate22, launching a partnership with the Commonwealth Bank of Australia's venture business scaling arm, x15ventures.
The growth of any FinTech is not groundbreaking news, but the speed of Paytron's growth in such a short period of time has attracted significant global attention. Co-founder Jacka Veldsman reveals the three traits that have created a winning formula for Paytron since its inception.
1) Striving to make things better for customers
"We always think about taking care of the end customer. If you look at the financial industry as a whole, very often there are solutions in the market, but the solutions don't completely solve the specific problem. At Paytron, our team strives to understand the customer's core problem and, more importantly, how we can best solve it.
Paytron didn't give accountants and businesses their first corporate credit card or their first payment service, but what we do do is provide the best solution to their pain points. That's what we care about – the desire to provide the best solution for our customers. How can we help get them to their destination faster, easier, with less friction and less work. And it resonates with customers because we experience a high conversion rate for our demos."
2) Warm and compassionate team
Behind every successful company are talented people who are constantly proving themselves day in and day out and giving their best. For all of Paytron's success, Veldsman and Henrion never drew attention to themselves, but were always the first to acknowledge their team's contributions to Paytron's success. "We've only been able to achieve the growth we've had because of the people on our team. You can't implement industry-leading ideas without the right people. Especially when you're in the early stages of a startup – it requires people to be passionate about their work to keep things running smoothly.
On top of that, when you have a team that is also empathetic and cares deeply about the customer, about their experience, about their problems… that shows in the growth of our product capabilities, and customers can feel that. Every feature, every button, every element in Paytron is designed to help our customers and their stakeholders get work done. Too often when you're in the business of delivering software, you can get caught up in building your product based on what other software can't produce, but at the end of the day, we don't solve problems for computers, we solve problems for people. Our team cares about the "why". Empathy is the key to unlocking the ability to create a product that truly has a lasting impact."
3) Obsession to keep worrying about the problem
In an industry where innovation is rampant, staying relevant to your customers can be a challenge. However, Veldsman is confident that staying relevant will be an easy task for Paytron. "It's easy to stay relevant. Just keep taking care of the problem and that's it – there is no secret. It's very simple. I think the rewards will come as we continue to naturally solve problems and excite people. Our focus will always be on our customers, what problems they face and how we can solve them. Winning awards like FinTech Start-up of the Year shows that we are on the right track and really bringing value to our customers and the industry."
https://australianfintech.com.au/the-paytron-difference-3-traits-that-create-a-winning-formula-for-success/