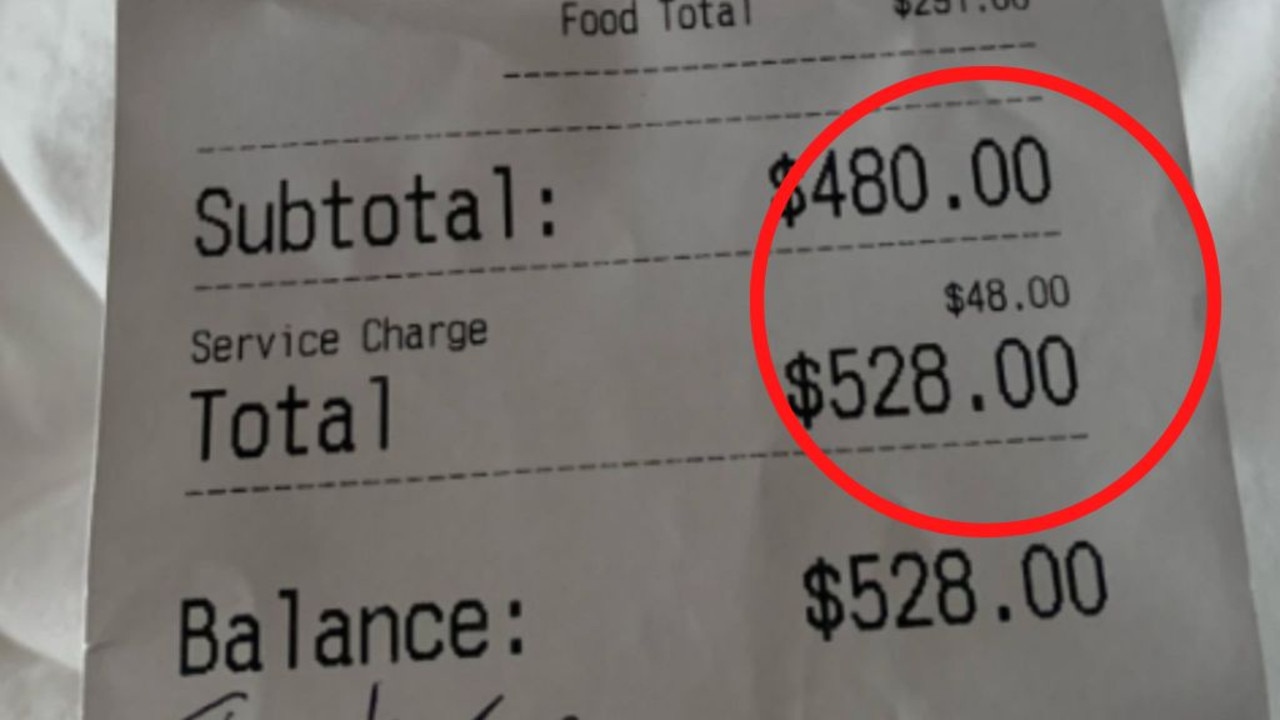 An eatery has taken to social media to shame a trendy Sydney restaurant after they added a hefty service tax to their final bill.
The Australian was out to dinner with five friends on Friday night but was shocked by an unexpected surcharge added in the fine print on their receipt.
"Shameless service charge and no menu notices in half the size font," the diner wrote along with a photo of the bill, which included an additional $48 service charge.
The eatery claimed there was no reference to a surcharge on the menu, while the restaurant's website says groups of six or more will be charged an extra 10 percent.
Other social media users were equally annoyed by the insidious surcharge.
"Are 'Service Charges' Just an Optional Rebranding of Tipping? Like, I was under the impression that the service charge was included in the price of the meal and that's why we don't tip in Australia…but it seems everyone and their dogs are doing it lately," wrote one.
"Yes, this is a growing trend. Must ask before ordering. This week I received an unknown service charge at a restaurant at Westfield Sydney. The waiter couldn't explain what it was for, but it's obviously a forced tip," agreed another.
"And there's a place to leave a tip… Unbelievable," said another.
"Yes, there is no such thing, it 100% should be on the menu. I would report it to the ACCC," another recommended.
However, not everyone was opposed to the inclusion of a service charge, with some Redditors who worked in the hospitality industry defending the extra money.
"Depending on the situation, that's fair IMO. Working in restaurants at Rosehill and Randwick racecourses, we had two to four bartenders doing all the drinks for tables of 20-30 people, while there were only a couple of waiters [of] at the tables, everything went only for the table fee, and it could be a lot of drinks, because each person had a package of drinks.
"Tips were pooled and shared among all staff, although sometimes waiters were tipped separately. However, all advice was passed on to the staff," one user explained.
Originally published as Diner calls restaurant 'trend'
https://www.dailytelegraph.com.au/lifestyle/food/diner-calls-out-infuriating-restaurant-trend/news-story/882b38fe0f935079273fdb9bbd66a8b7