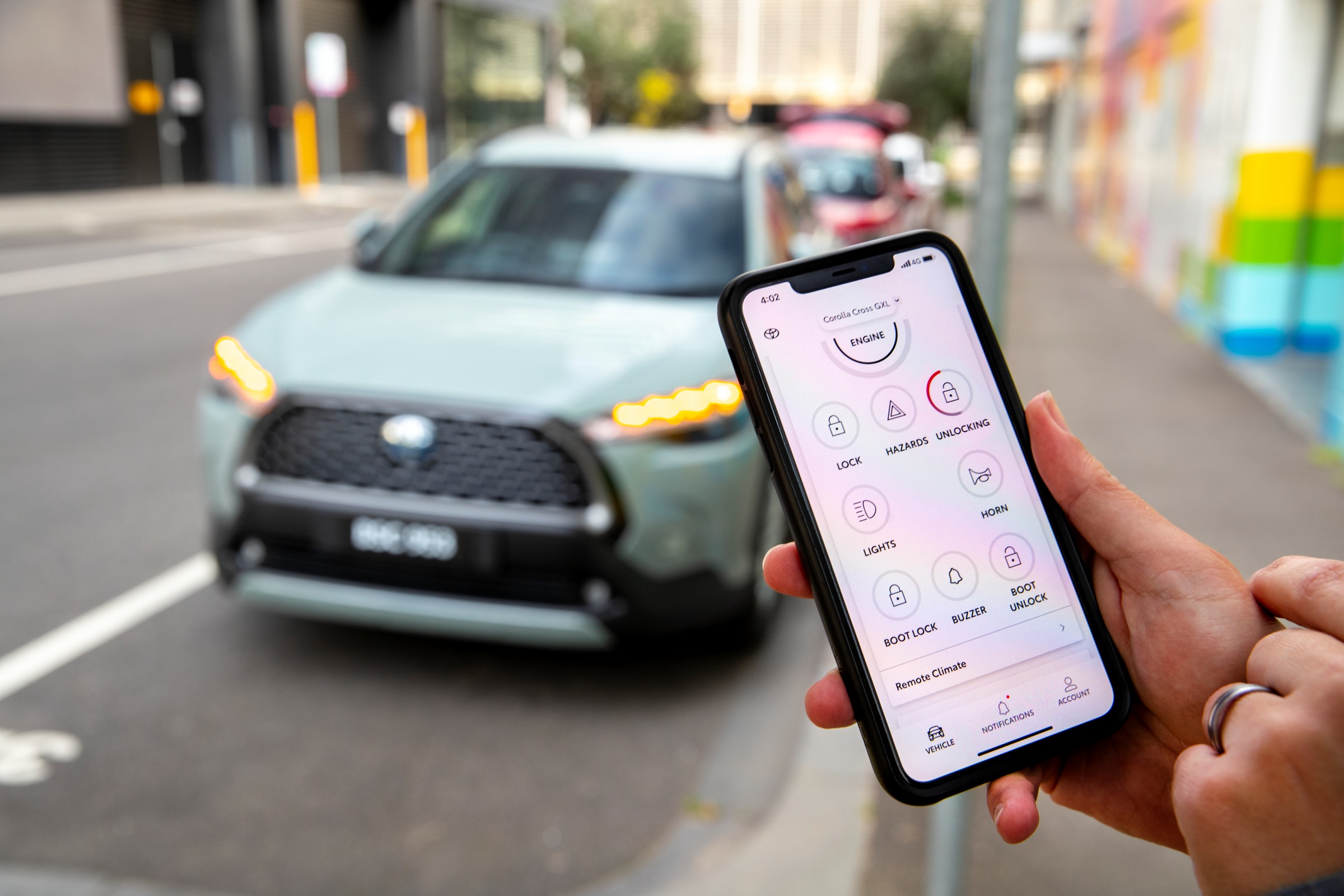 Toyota Connected Services – Toyota Australia has introduced a wide range of Toyota Connected Services, which provide rich vehicle information and remote control functions that can be accessed from a smartphone or tablet.
Extensive features designed to enhance safety, security and convenience
Remote access to selected vehicle operations
Free access for the first 12 months
Safety, security and convenience features available through the myToyota Connect app include the ability to lock and unlock the doors and activate the engine, headlights or climate-controlled air conditioning.
The full range of new services introduced with the Corolla Cross SUV will be rolled out gradually as new models are introduced, free for the first 12 months.
Choice of Toyota Connected Services package
After the free period, owners will be able to choose from three packages1:
• Toyota Essentials, which will remain free (Apple CarPlay and Android Auto will also remain free),
• Toyota Connect+,
• Toyota Connected Multimedia.
Toyota Essentials:
• SOS emergency call,
• Automatic collision notification,
• Basic Vehicle Information: Access vehicle information from your smartphone/tablet (eg fuel level, odometer reading, distance to empty vehicle, and whether doors are locked or unlocked, windows are open or closed).
Toyota Connect+
Toyota Connect+ will offer the following services in addition to Toyota Essentials for a $9.95 monthly subscription:
• Tracking stolen cars
• Remote connectivity: the ability to remotely lock/unlock the doors and trunk, start the engine and control the climate control system.
• Connect status:
o Enter notification settings when the vehicle is being used by other drivers,
o Access driving and vehicle information that can support safety and fuel efficiency, helping to improve your driving style,
o Access details of recent trips and vehicle location.
Toyota Connected Multimedia
Toyota Connected Multimedia will unlock the full suite of Toyota Connected Services for a monthly subscription of $12.50 with the following additional features:
• Connected navigation,
• Connected voice assistant activated by commands like "Hey Toyota".
• Connected Trip, providing start and end navigation to and from your vehicle.
• Multimedia profiles, adding navigation and trip settings for three drivers.
Model series
Seven models are already equipped with the initial release of selected Toyota Connected Services for a three-year free period: Camry, HiLux, LandCruiser 300, Fortuner, Yaris Cross, HiAce and Granvia.
After the first three years, these models will retain free access to Toyota Essentials, as well as a $4.95 per month subscription option for stolen vehicle tracking and Status Connect.
Toyota Australia vice president of sales, marketing and franchising Sean Hanley said driving a connected Toyota car gives customers the freedom to choose what services they use and when.
"Our new Toyota Connected Services are designed to deliver an even better driving experience with a range of technologies aimed at making ownership even easier, safer and more enjoyable," said Mr Hanley.
Full details on Toyota Connected Services are available here.
1The features of myToyota Connect depend on the capabilities of the vehicle. Please check with your dealer about your vehicle's capabilities.
https://www.anyauto.com.au/toyota-connected-services-released/?utm_source=rss&utm_medium=rss&utm_campaign=toyota-connected-services-released