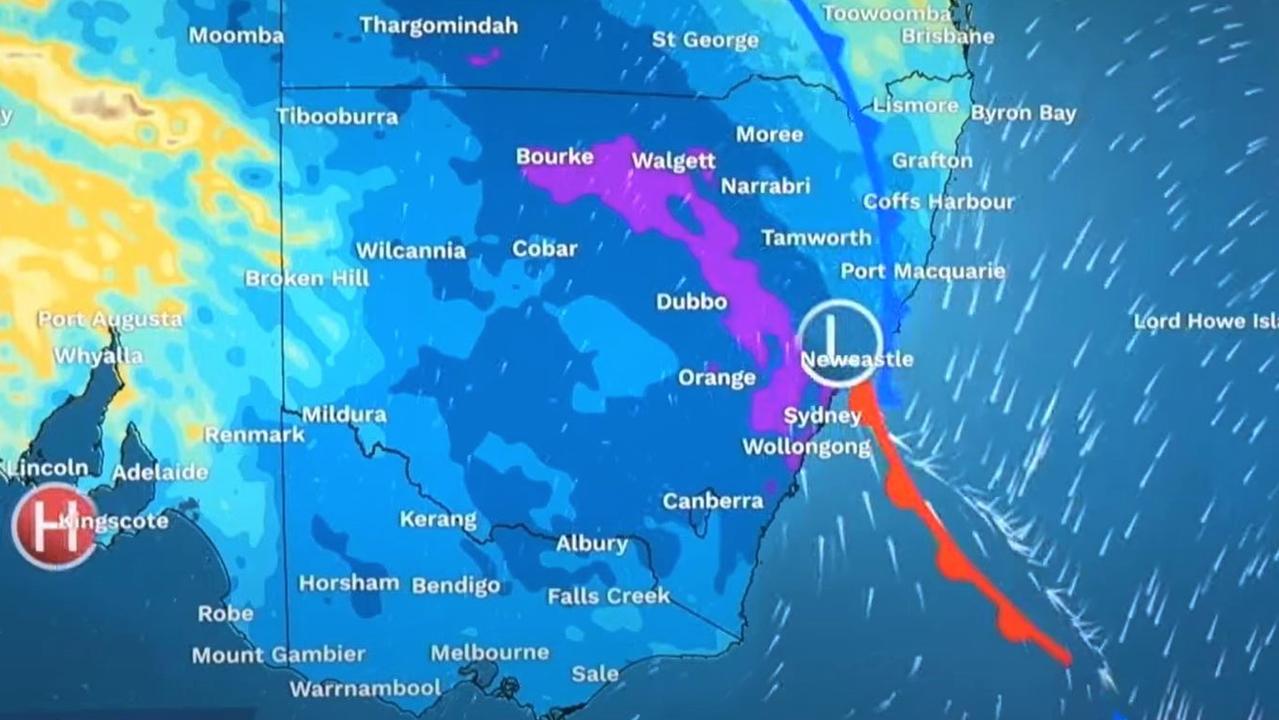 A miserable week of weather shows no signs of abating in eastern Australia.
A month's worth of rainfall fell in just a few hours in one outback town on Wednesday.
Rainfall totals may drop for a couple of days along the NSW coast on Thursday and Friday, but it will still be very wet.
Sydney could see 30mm between today and Friday during this heavy rain.
And then on the weekend it the weather the drama escalates again with 60mm to almost 100mm falling in Sydney and potentially heavier falls elsewhere.
There are serious concerns now for the Bathurst 1000 on Saturday with 25-40mm in the gauge forecast along with thunderstorms for Mt Panorama.
Commenting on the system that spread rain across New South Wales on Wednesday, weather website Weatherzone summed it up saying "this thing is huge". And it will likely increase as a rain front approaches over the weekend.
Dean Naramore of the Bureau of Meteorology said forecasters were particularly concerned about the state's already soggy ground.
"Many of our data in inland New South Wales are experiencing minor, moderate or severe flooding… these have been increasing over the past few days.
"And that's before the predicted rainfall has even occurred. That is why we are so worried about precipitation in the coming days."
Mr Naramore said the rain that hit New South Wales on Wednesday would taper off a bit on Thursday and Friday.
"But then, unfortunately, another group will move through southern Queensland and northern New South Wales on Saturday, affecting eastern parts of New South Wales – and that includes around the Sydney metropolitan area and the Hunter Valley and Central Coast."
Sydney will see up to 125mm of rain by Sunday. 15-20 mm is possible on Thursday. Friday results return to 5-10mm and then 40mm is possible both weekends.
Wollongong is as humid as Sydney and most coastal cities further south.
Newcastle will see less rain on Thursday and Friday, but 15-30mm of rain is possible on Saturday and Sunday.
Inland, the heaviest rain falls toward the northwest of the state. Rainfall in Bathurst is forecast to be between 60mm and 100mm between today and Sunday, with Saturday being the wettest day.
Even Burke is expecting more rain on Friday and Saturday with 45-70mm forecast. That's in addition to the average drop in October on Wednesday.
Canberra is expecting 15-20mm on Thursday, up to 30mm on Friday and another 15-40mm over the weekend.
There will be showers in Brisbane, but the heaviest rain will not pass. Sunday is likely to be the wettest day with up to 10mm of rain.
Originally published as The "tremendous" rain causes the alarm of forecasters
https://www.weeklytimesnow.com.au/technology/forecasters-worried-by-wretched-weather/news-story/0fae5ee96c22b65ab5f5fc7e148cc299