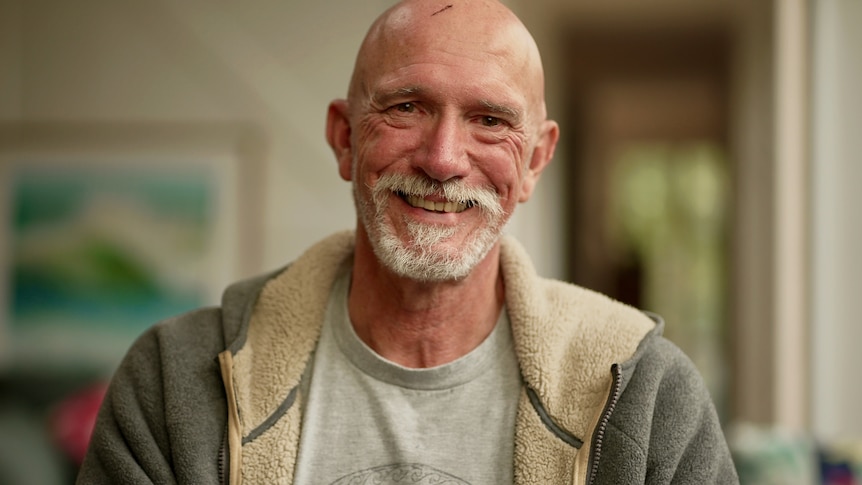 When Colin Chandler surfed the waves of Lennox Heads in his youth, dolphins often appeared near him.
This happened so often that he earned the nickname "Calfin" among his comrades.
A surname that unites a man with a marine mammal couldn't be more fitting for a surfer/artist who sees the sea as an extension of himself.
"When I paint waves, I hear the ocean," Colin said.
"I can hear the water splashing under my surfboard. I feel that lift as the tide rises. I see a small light in the setting sun—that golden glow in the middle of the wave.'
Colin started painting as a child and surfing as a teenager.
All kinds of active adventures followed.
From mountain biking and backcountry hiking to free climbing, they've all accompanied Colin through an international career in tech startups and life as a husband, father, and friend.
The lure of the ocean has always been the biggest and over the years he has surfed the waves of Australia, Indonesia, Costa Rica, Mexico, the Maldives and the USA.
Now aged 66, living in idyllic Moffat Beach on Queensland's Sunshine Coast, the ocean has become Colin's refuge and saviour.
Life with a "cunning thief"
In 2015, he was diagnosed with primary progressive multiple sclerosis (MS), a degenerative nerve disease that gradually robs Colin of his ability to move.
"RS is like a sneaky thief. It steals very valuable things, takes them and puts them somewhere you can't get to them anymore," he said.
"These things that are important to you and in many ways define you – they slowly disappear and evaporate.
"It's not something you can adapt to or solve overnight."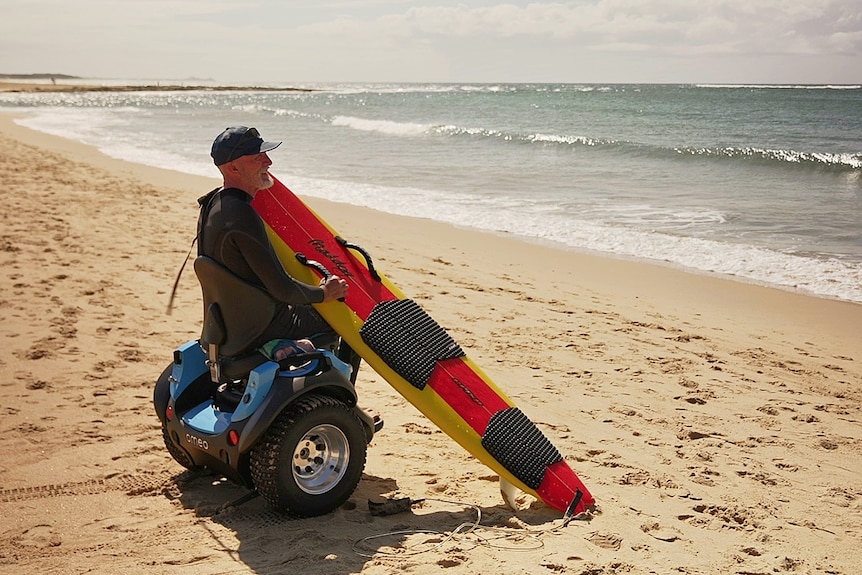 He had to give up his motorcycle, mountain bike, and now he gets around the house on a motorcycle.
He tries to shake off the pain as a muscle spasm shoots through his back, and often uses his hands to maneuver his legs into a more comfortable position.
Saved by the "bright pulse of life" of the sea
In Colin's art studio, among cans of paintbrushes and bottles of ink (complete with 35 different shades of blue), a spider-man figurine with movable joints sits on a shelf.
His arms are extended in an aggressive gesture, the middle fingers on each hand pointing upwards.
"I do it when I'm having a bad day," Kohl explained.
"I've spent my life being blessed to be able to go and do a lot of things.
"Sometimes my hands shake so much that there's a whole new texture in the wave that wasn't supposed to be there. These things make me sad.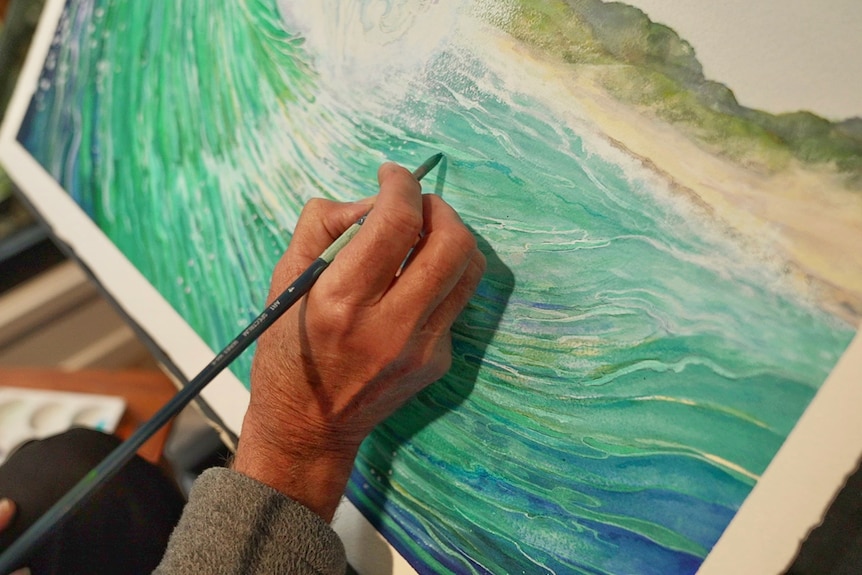 "Every time I feel like I'm spiraling, I'm saved by that bright pulse of life that comes from the sea.
"I'm often in my studio messing around and the MS will be quietly driving me crazy, I'll get in my wheelchair and go down to the ocean and just look — even though I can't get there."
Returning to the water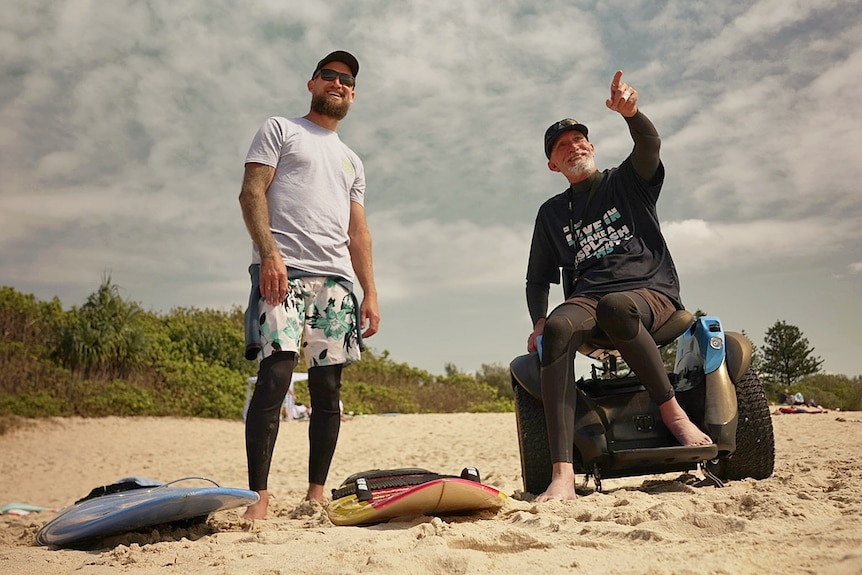 Colin can still surf lying down if someone supports him.
James "Rundy" Ball is often that person.
"I've known Cole for about two years. I started as a support worker and we became very close friends," Randy said.
"I started coaching surfing for all abilities. It was one of the things that Cole wanted to get back into his life, to get back into the water."
"He's a strong rower, but part of the difficulty for Cole is getting from the car park to the water.
"Today he caught a wave for the first time in eight months – and that will stay with him for a long time and for me too.
"I'm not allowed to use the word inspirational because the next time we go surfing together he'll probably push me under the water, so I'll just say he's very determined."
These days, Kohl gets joy out of watching other surfers ride the waves, though that wasn't always the case.
"I'm going to be honest and say that there was a period where every time I saw guys getting perfect glass waves and barrels, I was gnashing my teeth and bawling," he said.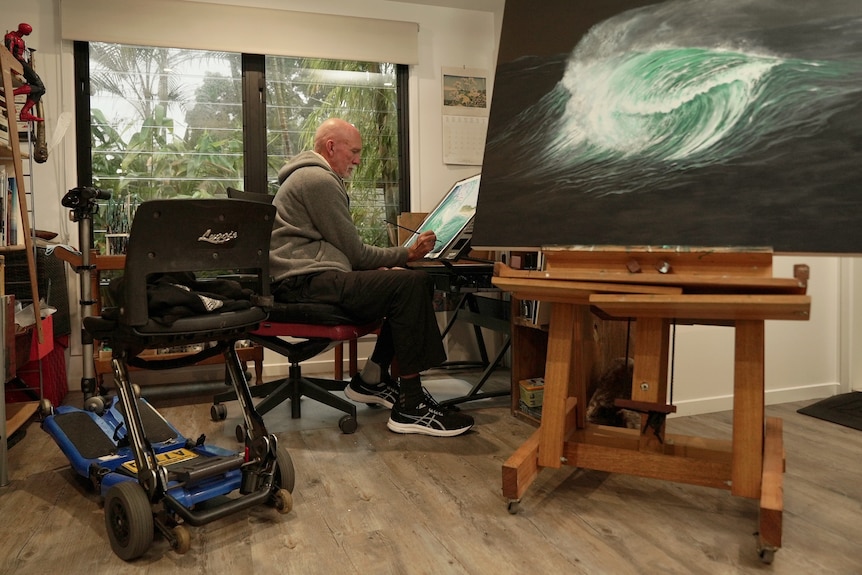 "The fact that I can come home and paint—and this sounds corny, but it's true—when I'm painting, I'm in a wave.
"These beautiful perfect shapes that kept popping out of the ocean just blew me away.
"Maybe that explains why I was never a champion surfer because I was so busy looking at the inside of the waves.
"Every wave is different. Each shape is different. Every color is different."
Buyers of his artwork also seem to feel his oneness with the ocean.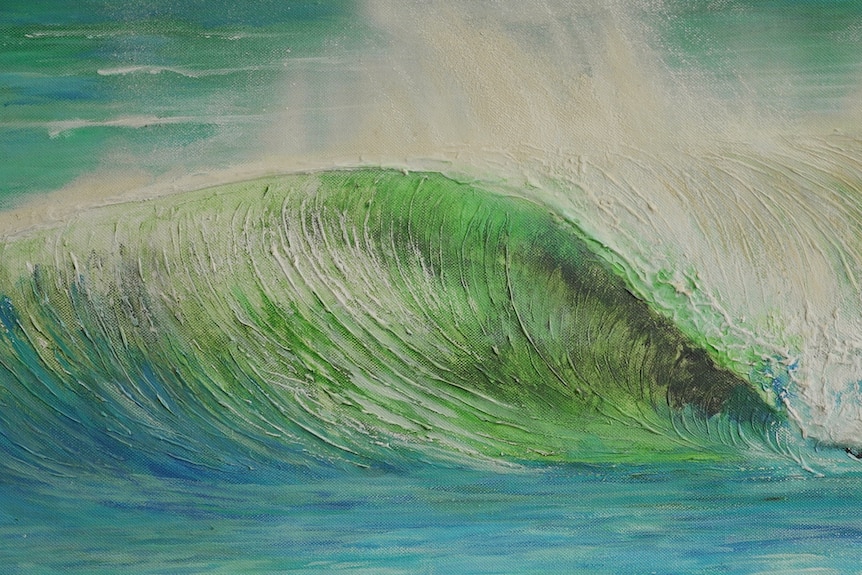 Perhaps that's why a digital image of one of Colin's paintings was chosen by legendary pop group the Beach Boys as the backdrop for their 2014 world tour.
"The feeling of seeing your art behind such a famous group is amazing. It's surreal," he said.
Get through life's ups and downs together
Colin's wife Cheryl shares his passion for the sea.
"Just breathing that salt air — just being around the ocean and the birds — it's very, very calming," she said.
Her calm contrasts with his fearlessness.
The yoga teacher met her future surfer husband in a Woombye pub in 1986.
She was dancing alone when Colin's companion said to him, "There's the girl you're going to marry."
Just before the wedding, Cheryl's mother told her, "Life will never be boring!"
And she was right.
Colin and Cheryl's life together is a partnership. They go to all heights and face every obstacle hand in hand.
"I think just having the resilience from being a couple for so long and always having a cup of tea and sitting down and saying, 'Well, how do we get around this?' How are we going to climb this mountain?" Cheryl said.
As they discuss the health issues Colin has been dealing with recently, each becomes emotional as they talk about the other.
"Sheryl was with me every step of the way," said Colin, fighting back tears.
"She has definitely made living with a disability much more enjoyable.
"You know the word 'caregiver' is thrown around so much, but I don't think it's really understood that the caregiver is more likely to struggle than the person with the condition.
"It's a bit like a boxer fighting in the ring and he doesn't notice what's going on because his adrenaline is pumping. But it's much harder for his family watching.'
Cheryl's lips tremble as she thinks about what lies ahead.
"One of the hardest things to deal with is to watch someone you love enjoy their life and give it everything they've got, and then suddenly see some of that taken away from them. these things," she said.
"Now it's all about quality of life and saying yes to the things that really matter and spending as much time as possible with my family.
"When you face these crises, it makes you think, 'Well, what have I got?' If it's playing guitar or bowling, get into it. Use whatever little gift you have," she said.
Clinging to the present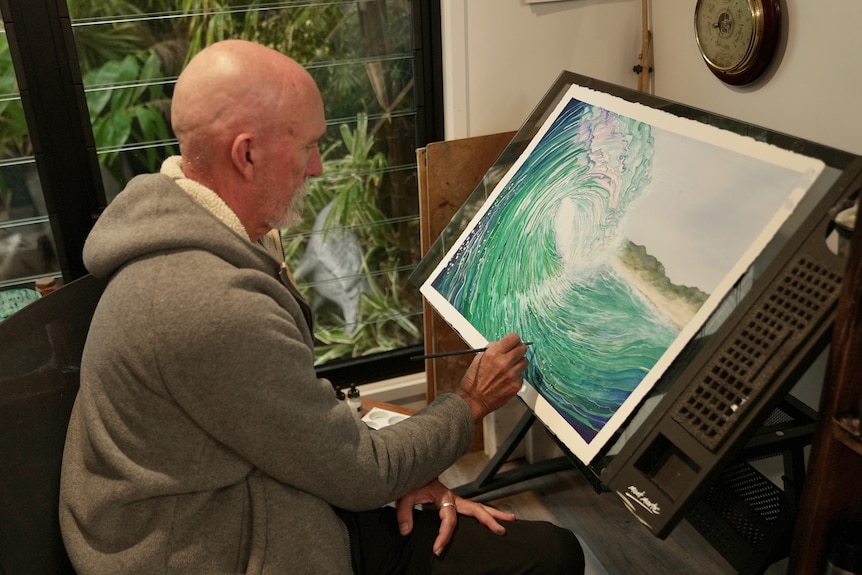 When he was first diagnosed, Colin created a spreadsheet to determine what he could and couldn't do and what he still wanted to achieve.
In addition to family and friends, in recent years he has climbed mountain trails to raise money for people with MS and held art exhibitions to highlight the impact of pollution and climate change on the world's oceans.
"I've gotten a lot of joy out of being able to jump in the ocean for most of my life, and I want to be able to give that back," he said.
Although they will always feature waves, Colin's artwork has evolved over time.
"Now MS has forced him to stay still for a long time. He used to be very active, and this immobility brought an incredible amount of strength and gave him the opportunity to try to focus on his painting and express it more," she said.
"At first there was a lot of light and color – detail after detail – and now I think it's getting a little bit more whimsical, a little bit bolder."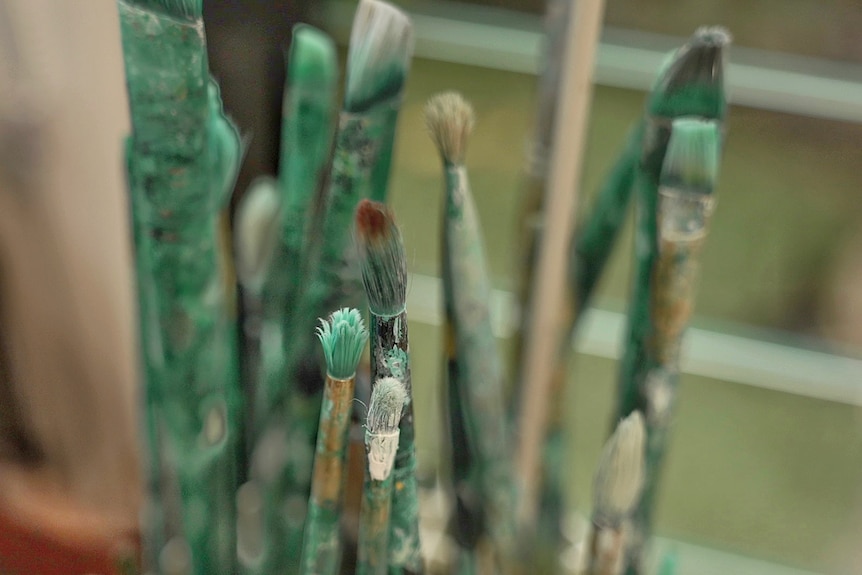 While it's hard to predict what the future holds, Colin is determined to capture as much of the present as possible.
"The way you see me today is not going to be the way you see me in two years, five years or 10 years," he said.
"I am not afraid of the future. I'm afraid of being bored. I am afraid of being useless.'
"My hope for the future is a life with a purpose."
https://www.abc.net.au/news/2022-09-18/qld-artist-colin-chandler-ocean-escape-multiple-sclerosis/101389864