Unsurprisingly, the latest moves have sparked outrage among Democrats, immigration groups and human rights advocates, who have accused Republicans of treating migrants as "human cargo" to score cheap political points.
Even Biden, who tends to be cautious about immigration, knowing it is a weak spot for his party, lashed out Thursday night during a speech at the Congressional Hispanic Institute's annual gala, describing the latest actions as "un-American," "reckless" and "simply wrong.
"Republicans are playing politics with people, using them as props," he said. "We have a process to manage migrants at the border. We are working to make it safe, orderly and humane."
There is no doubt that the US has a border crisis, with official figures showing that border agents recorded 1.9 million encounters with migrants between October 2021 and the end of July, an all-time high.
Recent research by the Missing Migrants Project and published by the International Organization for Migration (IOM) also identified the US-Mexico border crossing as the deadliest land migration route in the world.
Loading
A July study found that at least 1,238 people died during migration in America in 2021, and at least 728 of the total deaths occurred at the US-Mexico border.
The most shocking example of the dangers people face trying to enter the country was on display in June, after 53 people from Mexico and Central America died trapped inside a hot tractor-trailer in San Antonio, in what officials called the deadliest migrant ever smuggling case in US history.
Biden has been targeted because in his first days in office he moved quickly to roll back some of Donald Trump's most restrictive policies, including halting his predecessor's $16 billion border wall. Most recently, the Supreme Court gave the administration the green light to end the "remain in Mexico" program and no longer send asylum seekers back across the border pending a decision on their applications for U.S. protection.
Kamala Harris, whom Biden has tasked with addressing the root causes of migration from Central America, has also been pretty ineffective and has been criticized all week for saying in an interview with NBC that the border was secure.
But while this is far from the case, the use of vulnerable people as political pawns is ill-advised, cruel, and a sign of how ugly the political landscape is going to get in the run-up to the midterms and beyond.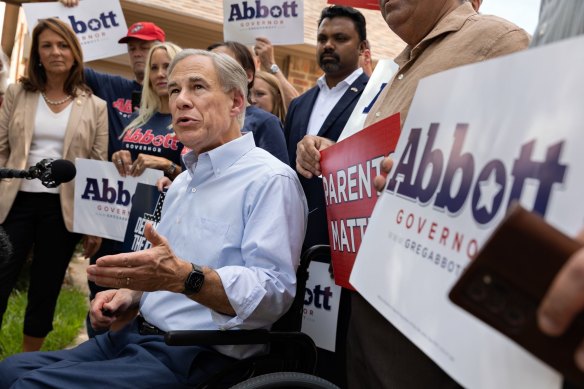 To be sure, all sides of politics have done it: During the Trump administration, Democrats have often gone to detention centers to bemoan the treatment of "caged" children — an emotive reference to children being kept in cells barricaded by chain-link fencing after being separated from their parents.
But these latest examples look more like a strategy to "own the left" and raise the national profiles of ambitious governors than to join forces to develop effective policies for a long-standing problem.
It's no secret that DeSantis and Abbott are targeting a possible 2024 presidential run — especially if Trump doesn't secure the GOP nomination.
Loading
In Texas, Abbott won praise from conservatives for delivering on a range of promises, from restricting access to abortion, expanding the ability of Texans to bear arms and launching a crowdfunding campaign to build a border wall.
In Florida, DeSantis also has a long list of policies that have made him so popular among party rank-and-file members, from avoiding mask mandates as the coronavirus skyrocketed to challenging Disney for his state's so-called "Don't Say Gay" laws and establishing penalties for big tech companies that deplatformed politicians.
Now both governors have more to add to their resumes, this time in one of the GOP's key policy battlegrounds. Indeed, a Gallup poll earlier this year found that 87 percent of Republicans were dissatisfied with the level of immigration in the U.S., the highest rate in decades.
https://www.watoday.com.au/world/north-america/using-them-as-props-why-migrants-have-been-sent-to-an-island-playground-for-celebrities-and-the-rich-20220917-p5biuu.html?ref=rss&utm_medium=rss&utm_source=rss_feed